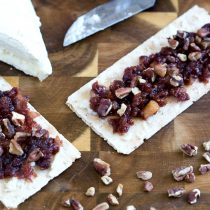 Prep time: 5 mins
Cook time: 12 mins
Total time: 17 mins
1 cup water
12 oz sweetened dried whole cranberries
1 cup chopped, peeled apples
⅓ cup apple cider vinegar
½ tsp cinnamon
¼ tsp allspice
¼ tsp ginger
¼ cup chopped pecans
Add all ingredients to a saucepan and bring to a boil.
Reduce the heat to low and simmer for 12 minutes.
Turn off the heat and cool.
Pulse a few times in a blender until you reach the desired texture.
Stir in the pecans and store in the refrigerator until ready to use.
Spread on cheese and crackers, or top meats.
Makes 1 cup