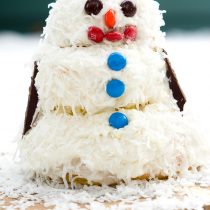 Prep time: 20 mins
Cook time: 35 mins
Total time: 55 mins
Cake
1 box Purely Simple White Cake Mix
1 stick butter, room temperature
3 eggs
1 cup milk
Frosting
1 package Purely Simple Buttercream Frosting
1 stick butter, room temperature
¼ cup water
Shredded coconut, chocolate bar and M&Ms for decoration
Preheat your oven to 350 degrees F.
Beat the butter and cake mix in a mixing bowl with an electric mixer, then add the milk and eggs.
Beat for 2 minutes.
Transfer the batter to 4 greased oven-proof bowls or mugs (1 small, 2 medium) and fill halfway with batter.
Bake for 30-35 minutes (check with a toothpick if done).
Let cool for 10 minutes, then place on a cooling rack and cool completely.
Combine the frosting mix with the butter and water with an electric mixer and cover and chill until ready to use.
Frost one of the medium cake circles and sprinkle with coconut.
Cut a circle out of one of the medium sized cake circles, frost and place on top of the other one. Sprinkle coconut on top.
Place the small cake circle on top, frost and sprinkle with coconut.
Decorate with M&Ms and chocolate bar slices.