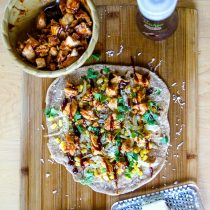 Prep time: 10 mins
Cook time: 30 mins
Total time: 40 mins
¾ cup whole milk
2 cups flour
½ tsp salt
3½ tbsp unsalted butter, melted
1 tbsp olive oil
2 boneless, skinless chicken breasts
1 cup corn
½ cup chopped cilantro
½ onion, thinly sliced
½ cup shredded Mozzarella cheese
Bibigo BBQ sauce
Salt and pepper to taste
Combine the milk, butter, flour and salt in a bowl and knead with your hands until smooth. Add more flour until not so sticky if needed.
Let the dough rest, covered with a towel, for 30 minutes at room temp.
Heat the olive oil in a cast iron skillet over medium heat.
Divide the dough into four balls, then roll each one out to an 8-inch circle.
Heat both sides for a few minutes in the skillet, until brown spots appear.
Set the flatbread aside to cool, then add onions to the skillet and cook until tender.
Spinkle salt and pepper on the chicken and coat in a little olive oil.
Heat another grill pan and cook the chicken through. Let cool then chop into bite-sized pieces, add to a bowl and coat in BBQ sauce.
Pre-heat the oven to 400 degrees F.
Top the flat bread with the onions, cheese, corn, chicken and cilantro.
Bake in the oven for 10 minutes, until warmed and cheese melted.
Makes 4 flatbreads