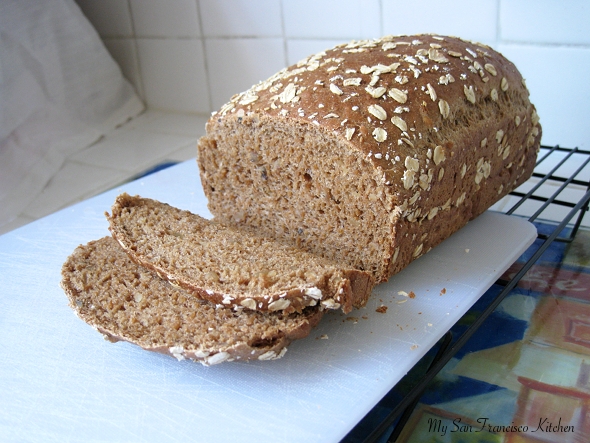 Prep time: 2 hours 5 mins
Total time: 2 hours 40 mins
2 teaspoons instant yeast
1 cup + 2 tbsp water
3 tbsp dark brown sugar
2 tbsp butter
2 cups King Arthur unbleached all-purpose flour
1 cup King Arthur whole wheat flour
1¼ tsp salt
¾ cup chopped walnuts
¼ cup rolled oats
1 egg white
Add water, sugar, and yeast to a large bowl and let stand 10 minutes (yeast should be poofy).
Add butter, salt, and 1 cup of whole wheat flour and mix with a fork or standalone mixer with hook attachment.
Chop walnuts to a coarse texture in a food processor.
Add remaining flour a little at a time, interchangeably with nut and oat mixture.
Knead by hand on a floured surface or with mixer for 10 minutes.
Place in a greased bowl and cover for 1 hour.
Punch dough down and form into a log. Brush all around with egg white and roll in oats.
Fold ends underneath and place into a 9x5 inch loaf pan. Cover and let rise 45 minutes.
Preheat oven to 350 F.
Bake for 35-45 minutes.
Turn onto wire cooling rack immediately and let cool before serving.
Makes one 1.5lb loaf
Recipe by
My San Francisco Kitchen
at https://www.mysanfranciscokitchen.com/whole-wheat-walnut-bread/