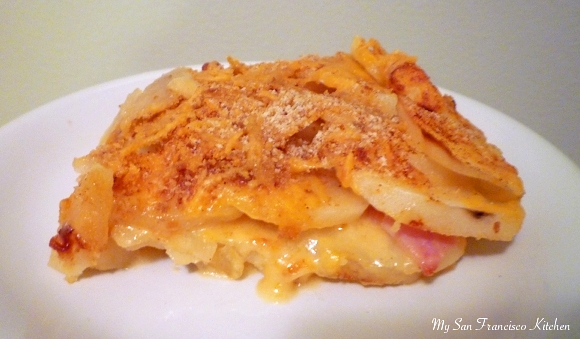 Layered with potatoes, onion, ham, and cheese sauce, this au gratin dish is great as a side for a holiday dinner, but also makes a hearty main casserole dish. The potatoes come out tender and cheesy, and the top crusted with a delicious breadcrumb mixture. Prepare ahead of time, because this dish takes over an hour to bake (but it is soo worth it!).
| | | |
| --- | --- | --- |
| Potatoes and Ham Au Gratin | | |
Cook time:
1 hour 10 mins
Total time:
1 hour 30 mins
Ingredients
4 medium russet potatoes, peeled
4 thick lunchmeat slices of ham (I use Trader Joe's Healthy Ham)
1/8 cup butter
1/2 medium onion, chopped
1 tbsp all-purpose flour
1/2 tsp salt
1/4 tsp pepper
1 cup milk
1 cup sharp cheddar cheese, shredded
1/4 cup bread crumbs
paprika
Instructions
Preheat oven to 375 ºF.
Thinly slice potatoes and layer them in 8×8 casserole dish until bottom is covered. [img src="http://mysanfranciscokitchen.com/wp-content/uploads/2011/12/P1020767.jpg" /]
Slice onions.
Melt butter in saucepan and add onions. Cook for 3 minutes, stirring occasionally.
Stir in pepper, salt, and flour and stir until blended and mixture is bubbly.
Stir in milk and almost all of the cheese (save a little to sprinkle over the top at the very end) and stir constantly until boiling (about 1 minute).
Pour 1/2 sauce over potatoes, then add 1 layer of ham slices on top.
Add another layer of sliced potatoes to cover the ham.
Pour remaining 1/2 of cheese sauce over potatoes evenly. [img src="http://mysanfranciscokitchen.com/wp-content/uploads/2011/12/P1020768.jpg" /]
Bake uncovered for 1 hour.
Mix cheese, bread crumbs, and paprika and sprinkle over top. Bake additional 15 minutes uncovered until top is golden brown.
Let stand 10 minutes before serving warm.