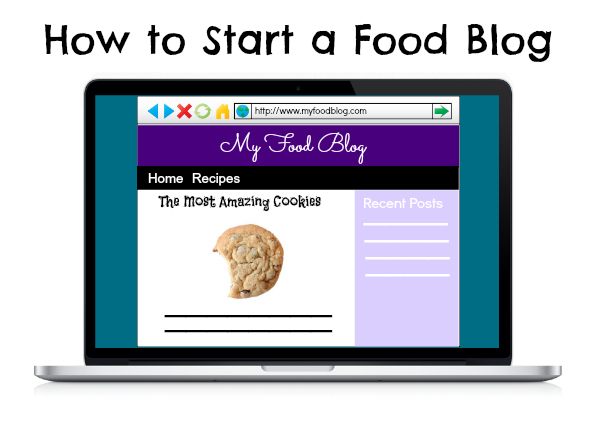 If you find yourself always looking for new recipes online, browsing the food section of Pinterest, bookmarking food blogs, shooting pictures, and/or a Food Network fan, maybe its time you start your own food blog! Here are just three simple steps to starting your own website:
Step 1) Pick an Awesome Domain Name and Get Web Hosting!
Once you have decided on starting your food blog, the first thing you have to do it sit down and brain storm a few domain names [www.yourdomainname.com], since this will be the most important feature of your website. You want to make it easy to remember and unique. This part may take you a few days, but once it pops in your head, you'll know that's the one!
Once you have your list of domain names for your food blog, now you need to check if they are available on potential hosting websites (usually web hosting companies offer free domain names if you purchase a plan). Check in their search box to see if your domain is available.
OK, so let's talk web hosting… I have been through 3 hosting companies, all with terrible support and a lot of downtime, so I was so grateful when I found InMotion Hosting! I have been using them for 3 years now, and do not have one complaint. They have an excellent support team via chat or phone to help you with any problem with your website, and my server is never down.

  InMotion Hosting has great pricing for basic hosting and VPS hosting (good for higher traffic, so you may need to upgrade eventually!), and they have a dedicated support team that is there whenever you have issues with your site! In addition, for signing up with them you get $250 in ad credits to promote your site. WordPress installation is made easy through the cPanel.


Step 2) Get WordPress – Your New Best Friend
WordPress is the CMS (content management system) platform I use for my food blog, and I have tried Blogger and others and I must say WordPress surpasses all of the rest. The easiest way to set it up is through your web hosting cPanel* (most web hosting companies use cPanel these days). Log in, then go to the Software/Services section and click "Softaculous". On the lefthand side menu click on "blogs" and then "wordpress". Click "install" at the top, and follow the prompts until you are all set up! Write down your WordPress login information because you will need it to access your blog at www.yourdomainname.com/wp-admin.

*If your host doesn't offer install through cPanel, not to worry – this WordPress installation guide is all you need to get started.
Step 3) Design and Go!
Once WordPress is installed, search for a theme. There are thousands of free themes available, and you can pay for premium themes which have more features. Once you have found the perfect theme you want, go into the settings to change the colors and fonts (some themes do not have this option, and you have to know a little CSS to code in what you want to change the appearance of your blog…there are tons of CSS tutorials on the web).
Search WordPress plugins, such as social bookmarking buttons and others to spice up your new blog.
Now you are ready to start blogging away…almost!
Other resources you'll need:
A camera: I cannot afford a DSLR, so I currently use a point & shoot digital camera with high megapixel capabilities (12mp). Update: I now own a DSLR (Sony Alpha SLT-A57
), but I used a point and shoot for my first year of blogging – it took some gorgeous pics! Although it is very nice having a DSLR, a point and shoot will give you the basics of what you need.
Photo editing software: If you don't have photoshop or another similar photo editing software, I highly recommend GIMP, a free opensource photo editing software. I currently use Adobe Lightroom.
A cookbook: Start trying out those recipes to share!
Finally…
Come back and link up to your new blog so I can check it out! Good luck, and you can always ask me questions on the My San Francisco Kitchen facebook page.
Disclosure: Some of the links on this page are affiliate links. All products I endorse on this page or products I use myself, and I am genuinely recommending them. All opinions are my own.