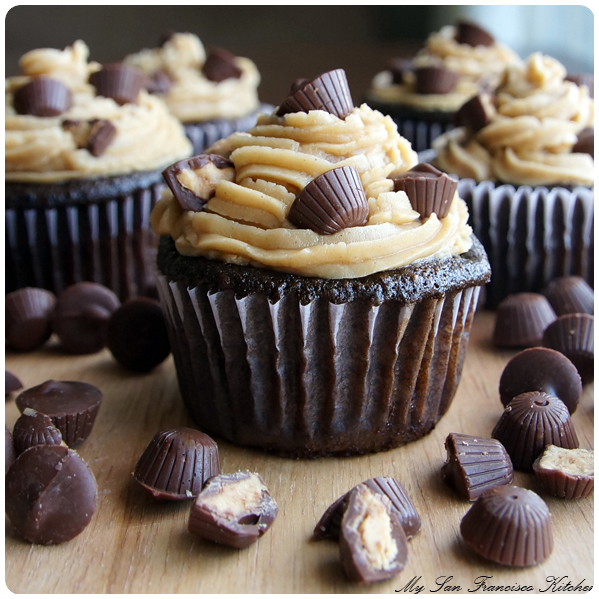 I did it. I signed up for my first Half Marathon in San Francisco next February! I am so excited to do this and start training. I have to admit the past few weeks I have been running less and less, and there have been too many "I have to study" excuses. This will definitely keep me more accountable. On a completely different note, these peanut butter cup cupcakes are AMAZING. I haven't met too many people who don't love the combination of peanut butter and chocolate *cough*my husband*cough*. I loveee peanut butter and chocolate together. Reese's peanut butter cups are still one of my favorite candies. Have you ever tried peanut butter and chocolate frozen yogurt swirled together? THE BEST. I guarantee you will love these cupcakes – the chocolate cake is so moist, and the peanut butter frosting is perfectly fluffy. The mini peanut butter cups are a must, I found these cuties at Trader Joes, but if you can't find mini peanut butter cups just chop up some Reese's peanut butter cups and sprinkle them on top of your cupcakes.
Stay tuned for my weekly diet and workout plans during my training for the Half Marathon! And if you have done one before, I would love any tips/advice! XoXo

Peanut Butter Cup Cupcakes
Ingredients
Chocolate Cupcakes
1 cup white sugar
1 egg
½ cup milk
¼ cup vegetable oil
1 tsp vanilla extract
¾ cup flour
¼ cup cocoa
¾ tsp baking soda
¾ tsp baking powder
½ tsp salt
½ cup boiling water
Mini peanut butter cups or Reese's peanut butter cups for topping
Peanut Butter Frosting
½ cup butter, room temperature
1 cup peanut butter
2 cups confectioners' sugar
4 tbsp milk
Instructions
Preheat oven to 350 degrees F.
Stir sugar, egg, milk, vegetable oil, and vanilla in a medium mixing bowl with a wooden spoon or in a standalone mixer with paddle attachment.
In a separate bowl, whisk together the flour, cocoa, salt, baking powder, and baking soda.
Add flour mixture to liquid ingredients little by little. Stir until well blended.
Line cupcake pan with paper cupcake liners.
Add boiling water to batter and whisk well. It will be thin.
Use a ladle to fill cupcake liners ⅔ full.
Bake for 25 minutes, checking a little before with a toothpick (it will come out dry if done). Once toothpick comes out dry, remove from oven and let cool.
While the cupcakes are cooling, add butter and peanut butter to a standalone mixer and beat with whisk attachment until creamed together very well.
Add confectioners' sugar a little at a time, alternating with the milk.
If you need more than 4 tbsp of milk it is fine - keep checking the frosting during this process until you reach the desired texture and sweetness.
Once cooled, frost cupcakes with a butterknife or pipe the frosting in a swirled motion over the cupcakes with a cake decorating bag.
Top the frosted cupcakes with mini peanut butter cups or crushed Reese's peanut butter cups.
Makes about 10 cupcakes
This post is sponsored by: