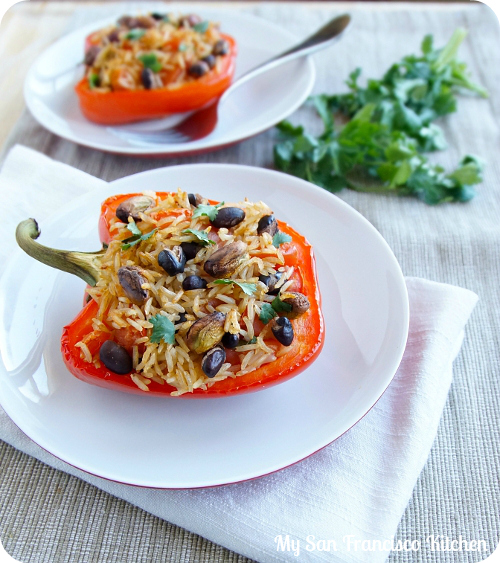 Ever since I started eating less meat, I have been experimenting with recipes that traditionally include meat by trying to make them vegetarian-friendly. I used to love stuffed bell peppers growing up, but these days I prefer making them without the ground beef. Instead, I use rice, black beans, tomatoes, pistachios (for a good protein source), and cilantro. Sometimes I will add corn in as well. The combination of flavors are incredible. I used chili lime pistachios from NatureBox, which pack a huge amount of flavor, so without them you will probably need to add some spices to the mix (think cayenne and lime juice). Top them with a spoonful of light sour cream and enjoy!
In other news…It's official! I am done with school after 20 years of studying. I can't say I will miss those sleepless nights before exams, or having to give up weekends for studying instead of going on fun trips. I will miss other things about "student life," but for the most part I am happy to start a new chapter in my life – clinical rotations! Next week is my Spring Break, so I will be vacationing somewhere (haven't decided where yet).
What is your favorite thing about Spring?? I think mine is the beautiful weather and flowers!

Vegetarian Stuffed Peppers
Ingredients
2 red bell peppers
2 cups cooked brown rice
2 tbsp olive oil
½ cup NatureBox chili lime pistachios (www.naturebox.com)
½ cup black beans
1 roma tomato, diced
¼ cup fresh cilantro
Light sour cream for topping
Instructions
Preheat oven to 350 degrees F.
Wash, dry and rub the outside of the red bell peppers with olive oil and wrap in aluminum foil.
Place the bell peppers in the oven and bake for 15 minutes.
In the meantime, add the cooked brown rice and olive oil to a large bowl and mix together.
Add the chili lime pistachios, black beans, tomatoes, and cilantro. Stir well.
Remove the bell peppers from the oven, keeping the oven on, and unwrap the aluminum foil.
Slice each bell pepper in half and remove the white pulp and seeds.
Set each half on a baking sheet lined with parchment paper and fill with the brown rice filling.
Loosely cover the tops with one layer of aluminum foil to avoid too much browning of the tops (you can remove this 10 minutes before they are done if you want a crispy top layer!).
Bake for 20 minutes.

Serve warm and top with light sour cream and cilantro.
Makes 4 stuffed bell pepper halves