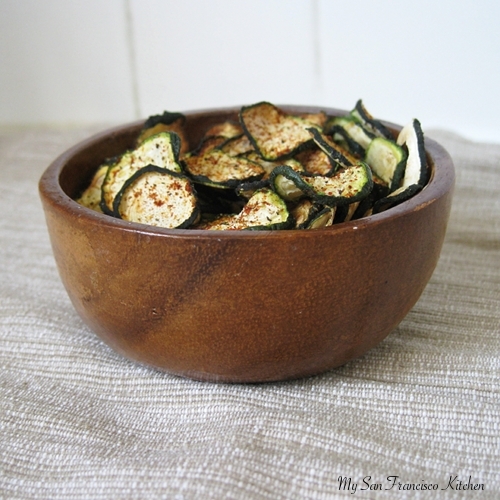 Freeeeeddommmm! I just took my last final (this quarter) and it is officially SPRING BREAK! I am flying home to beautiful Los Angeles to see my family, and I was hoping to get a nice tan going, but it looks like there will be some rain. It rained during my spring break last year too! Oh well. That just means I get to spend more time in the kitchen doing what I love best =)
I got up early this morning and popped these organic zucchini chips in the oven for a healthy study snack. You can cut them thinly with a knife, but it helps so much to have a mandoline slicer…I love mine and use it for all kinds of chopping. You can find them on Amazon for a decent price. I love making these chips because not only are they much healthier than oily potato chips, but you can spice them up however you want. I use just a little paprika, salt and pepper on mine.
Tips: Be careful with seasoning because the zucchini will shrink a lot and you will end up with very potent bites! Eat right after taking out of the oven, they get softer as they cool…


Baked Organic Zucchini Chips
Ingredients
4 medium organic zucchini
salt
pepper
paprika
cooking spray
Instructions
Preheat oven to 230 degrees F.
Wash, dry and thinly slice zucchini with a mandoline slicer or knife ⅛ inch thick.
Spread zucchini slices out onto a parchment paper-lined baking sheet.
Spray quickly with cooking spray, and sprinkle desired seasonings on top (be careful not to use too much as stated above in the "tips").

Bake for about 1 and ½ hours, making sure to check on them every 10 minutes after about an hour.
Eat immediately after removing from oven for maximum crunchiness, they tend to get softer as they cool (can reheat).

Makes one small bowl of zucchini chips
This post is sponsored by: