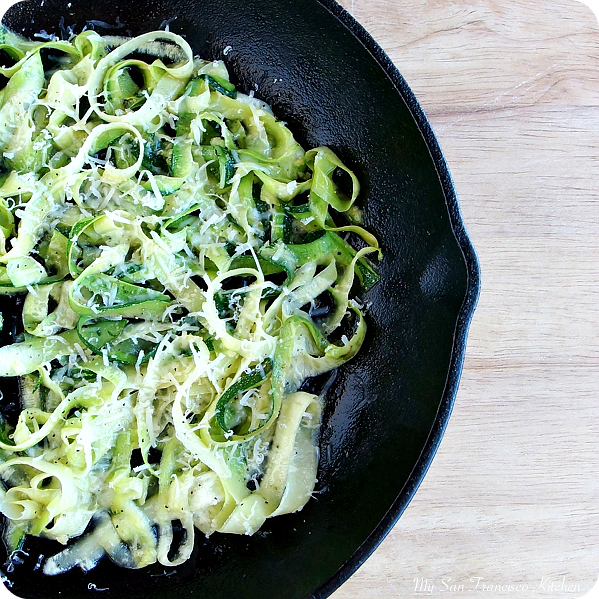 I am so excited about this recipe! I was experimenting with the extra organic zucchini I had in my fridge, and decided to try and make zucchini ribbons. Not only is zucchini healthy for you (it is packed with vitamin C, an important antioxidant), but in ribbons it has a beautiful presentation and it tastes delicious! All you need is a vegetable peeler to make the ribbons. I sautéed the zucchini ribbons in olive oil and seasoned them with freshly minced garlic, pepper, and lemon juice. I think zucchini is going to be the new pasta, these totally reminded me of noodles! The texture came out "al dente" and I topped them with Parmesan cheese. I also love how quick this recipe is – I was finished in 15 minutes. This recipe can be served as a main dish or as a side.
It's almost the weekend! What are your plans? I plan on studying, playing in the kitchen, running, and maybe going for a bike ride if it is sunny and not too cold. Most of all, I am looking forward to sleeping in and not having to go anywhere right when I wake up!
I'm off for a run before sundown (5 miles today, & I already feel sleepy right now :/). XoXo

Zucchini Ribbons
Ingredients
2 organic zucchini squash
2 tbsp olive oil
3 cloves garlic, minced
1 tbsp lemon juice
Pepper to taste
Parmesan cheese for garnish
Instructions
In a large skillet over medium heat, add olive oil.
Add the minced garlic.
Wash and dry zucchini squash.
Use a vegetable peeler to peel off long ribbons into the skillet. For thinner ribbons, try to use the 90 degree edges created by peeling in one spot for a while.
Add the lemon juice and sprinkle pepper over the zucchini ribbons.
Lower the heat a little and stir occasionally for about 7 minutes. Occasionally check the texture until it reaches the softness you want (I like mine more firm!).
Serve warm and grate fresh Parmesan cheese over the top.
Serves 2
This post is sponsored by: