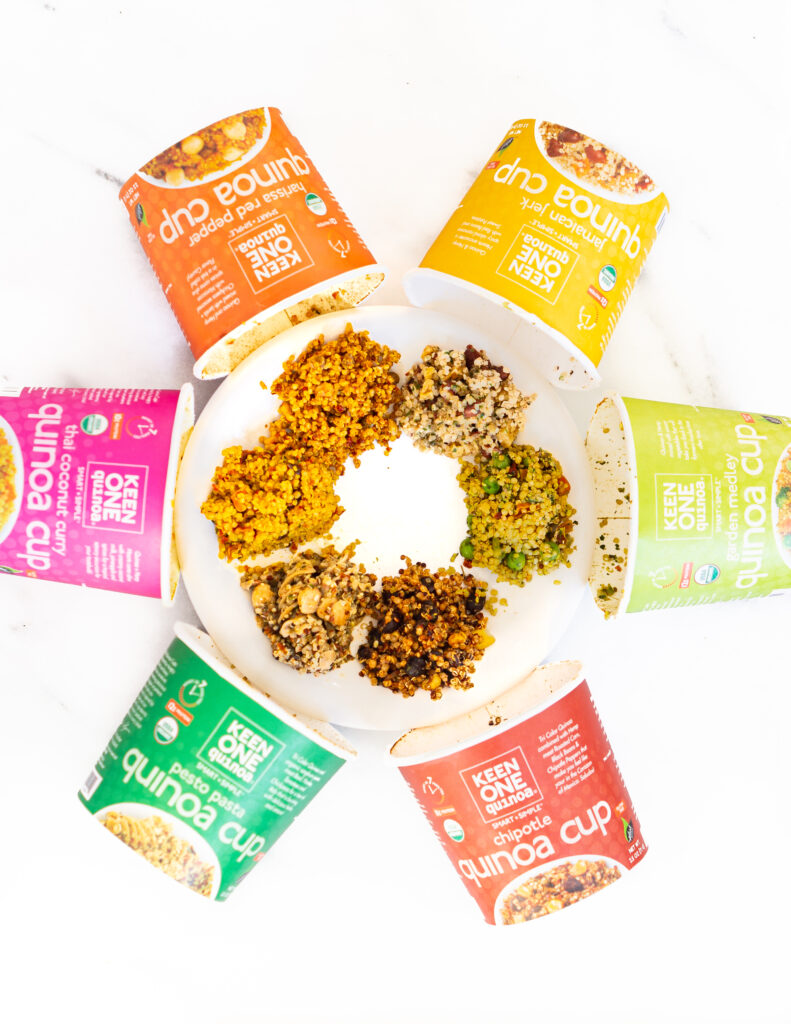 Thank you Keen One Quinoa for sponsoring this post. All opinions are my own.
If you love quinoa as much as I do, you're going to love Keen One Quinoa! They make different flavors of organic Quinoa Cups that are ready in about 12 minutes for a quick healthy meal. Keen One Quinoa Cups have made my work week so much easier, since the quinoa is par-cooked and already packed with nutritious ingredients. They are a great source of energy, and each quinoa cup has about 12 grams of protein! All you need is a little hot water (either boiling or microwave) and you're good to go. I've found that all of their flavors are delicious to eat as a quick meal on their own (even right from the cup!), but you can also add them as a side to your favorite meal or for meal prepping.
Keen One Quinoa Cup flavors include:
Garden Medley
Chipotle
Pesto Pasta
Jamaican Jerk
Harissa Red Pepper
Thai Coconut Curry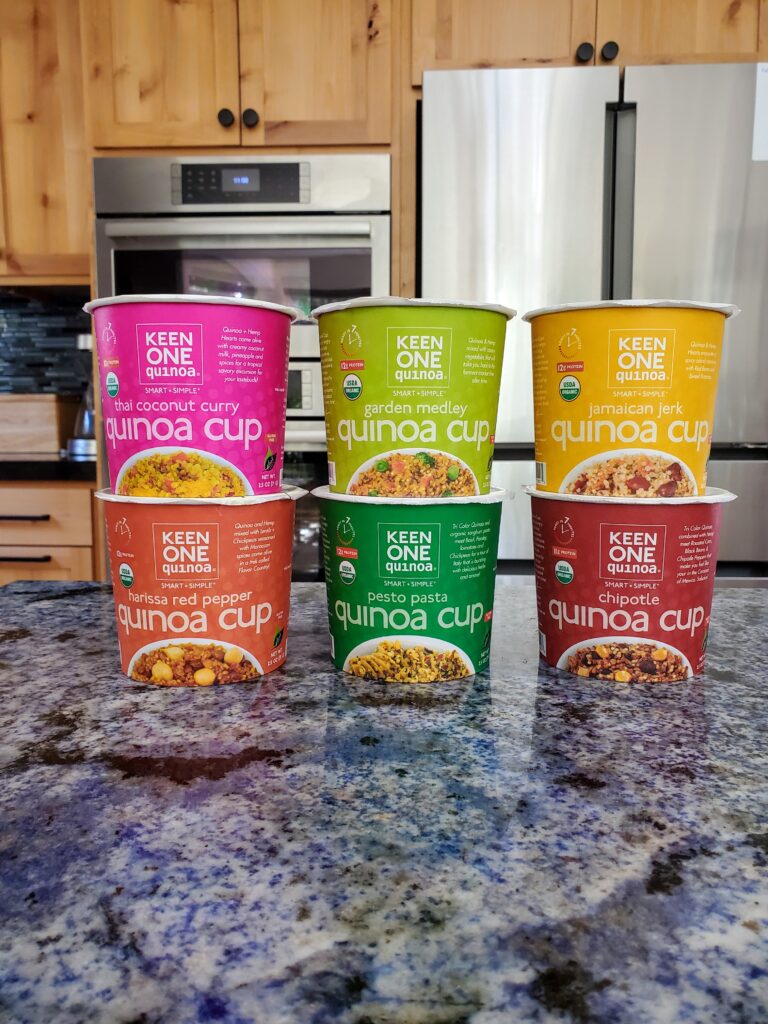 As a busy mom of two, Keen One Quinoa cups have made mealtime much easier. I feel good about serving up healthy organic quinoa to my family that is already prepared with healthy ingredients. I also love how light and easy the cups are to take on-the-go, perfect for trips since you only need some hot water or a microwave to make them.
One of my favorite quick recipes to make with the Chipotle Quinoa Cup is chipotle wraps. Since the Chipotle Quinoa Cups already have black beans, tomato, corn, hemp seeds, chipotle peppers, and spices, I just add a fresh avocado, some shredded cabbage, cilantro and a bit of salsa along with the quinoa in a tortilla and I'm good to go!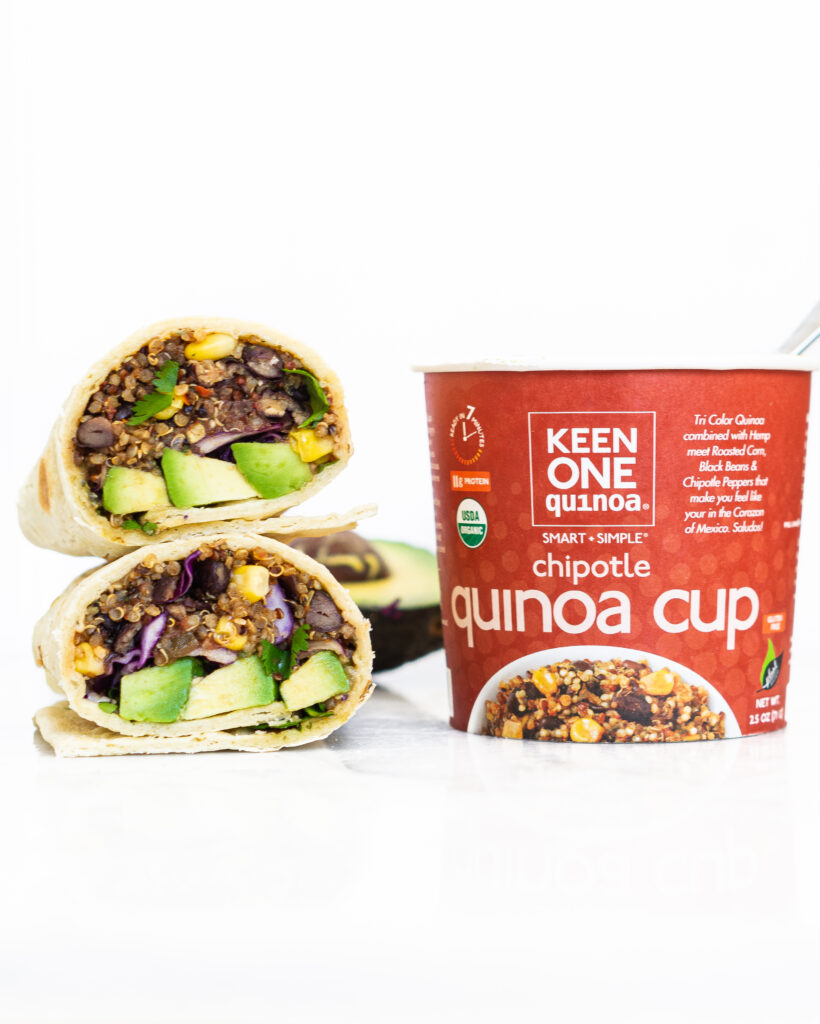 Here is step-by-step how I make my Chipotle Quinoa Wraps.
Step 1. Add ½ cup hot water to the quinoa cup, stir, and let stand 7 minutes.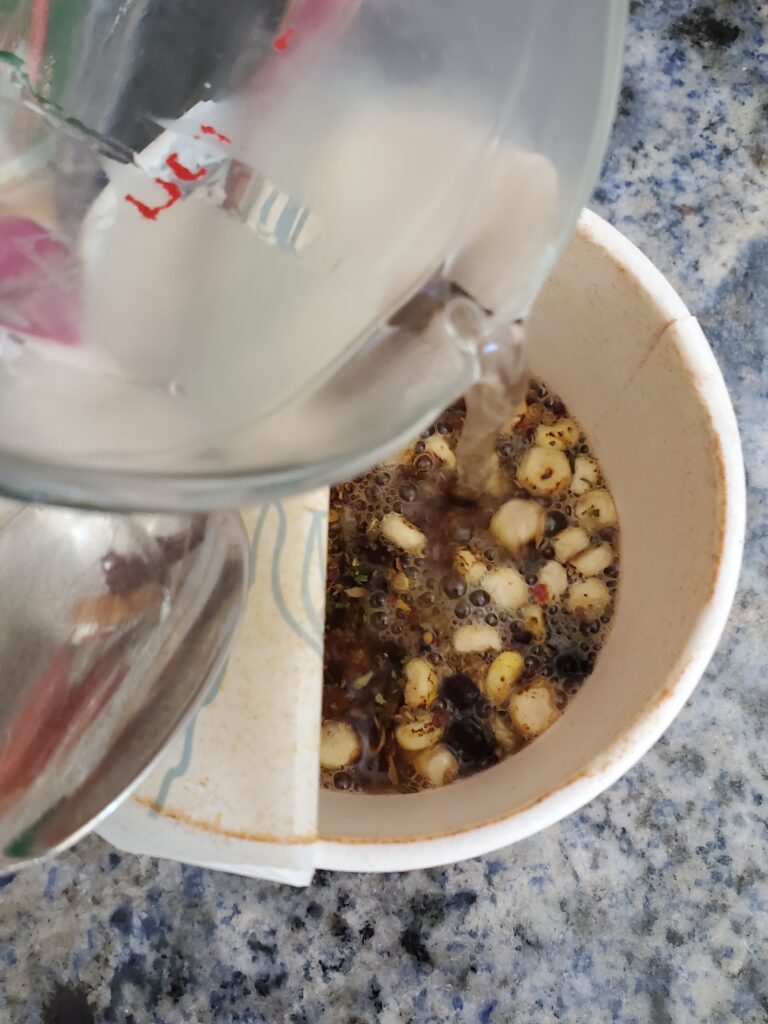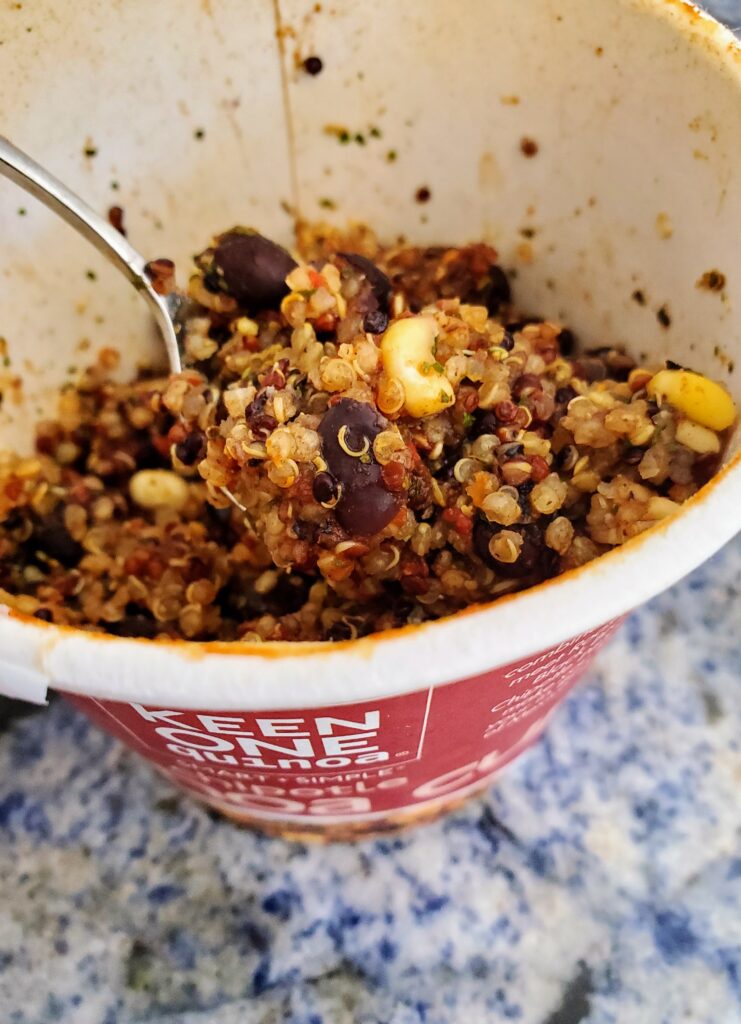 Step 2: Add the quinoa, avocado, cabbage, cilantro, and salsa to a tortilla and wrap it up.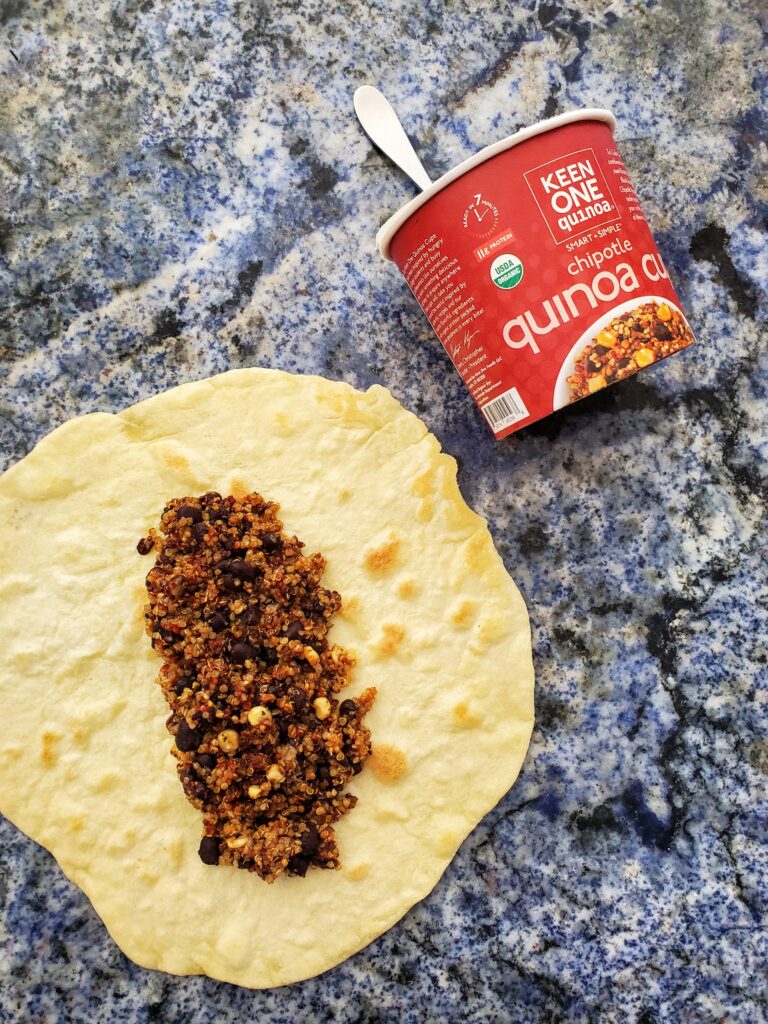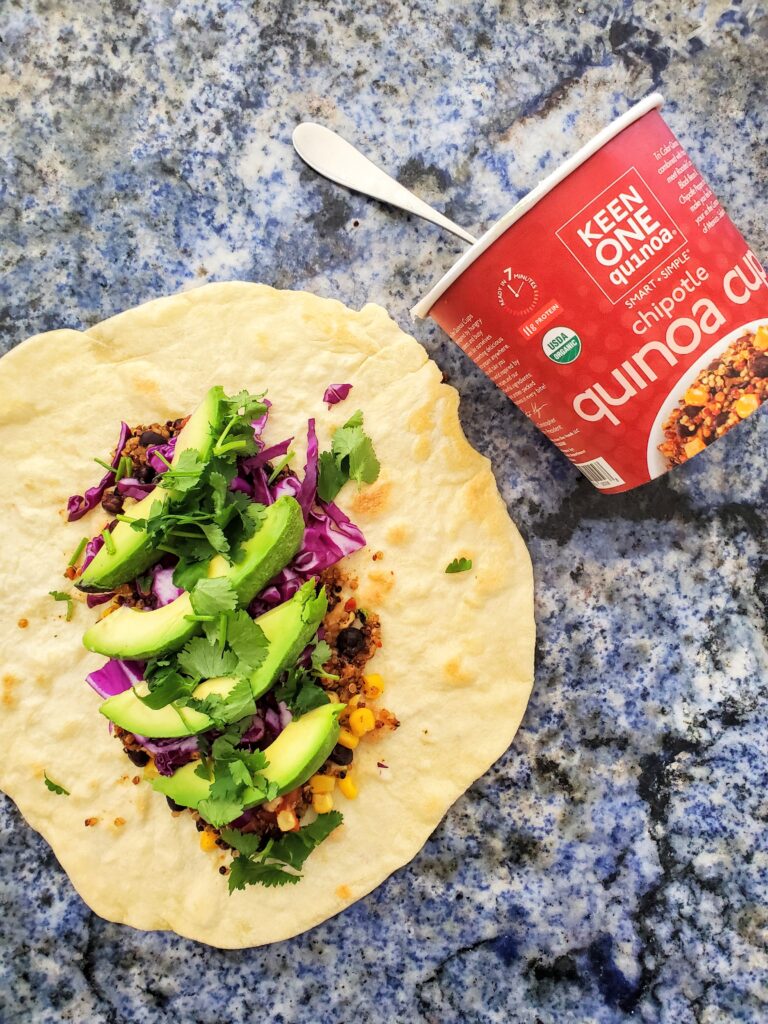 Keen One Quinoa cups are perfect for students (it was actually created by a student who wanted to make healthier, affordable options compared to typical dorm food), busy professionals, parents, kids…everyone! Head over to their website, www.keenonefoods.com, to learn more and shop.
https://www.facebook.com/KeenOneQuinoa
https://www.instagram.com/keenonequinoa
https://www.twitter.com/keenonequinoa
Keen One Quinoa Chipotle Wraps
Course: Main
Difficulty: Easy
A flour tortilla filled with Keen One Quinoa Chipotle quinoa, avocado, salsa, and cilantro.
Ingredients
1 Keen One Quinoa Chipotle Quinoa Cup

½ cup water

1 flour tortilla

1 avocado, pitted, peeled and sliced

⅓ cup chopped red cabbage

2 tbsp salsa

2 tbsp chopped fresh cilantro
Directions
Add ½ cup boiling water to a Keen One Chipotle Quinoa Cup, stir, and let stand for 7-10 minutes.
Add the quinoa to a tortilla, then top with the remaining ingredients and roll up.
Makes 1 wrap