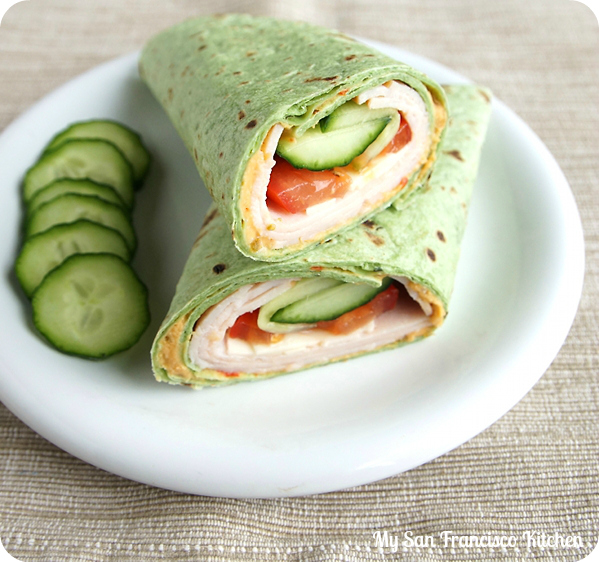 For busy days, I love making this healthy turkey hummus spinach wrap. I make it really quick in the morning and bring it with me to school when I have a long day. They don't take long to make and they are a really satisfying lunch. I never feel too full after eating them like I do sometimes when I buy takeout at school. The spicy red pepper hummus gives them a little kick.  I used a low fat, thinly sliced cheese, but you can leave it out for an even healthier wrap! For the turkey, I used Boar's Head Ovengold® Roasted Breast of Turkey. Boar's Head certified heart-healthy deli meats are great, because if you have ever looked at the nutrition information on deli meats at the grocery store, a lot of them are very high in sodium. High sodium intake has been linked to high blood pressure, which can eventually lead to heart disease and other end organ damage if left untreated. When I shop for deli meats, it is important to me to find some that are low in sodium and saturated fat. A diet low in sodium and saturated and trans fats is important for your heart health! As you probably know, I love sweets, so my biggest challenge is keeping my butter consumption at a minimum. Diet and nutrition are huge in preventing heart disease, the leading cause of death in men and women in the US. It is also important to get 30 minutes of exercise a day, and after my half marathon I have been slacking a little. I always need to remind myself that even a brisk walk for 30 minutes outside is better than sitting all day! Taking care of your heart by eating well is one of the most important things you can do.

Healthy Turkey Hummus Spinach Wrap
Ingredients
2 spinach tortilla wraps
6 tbsp spicy red pepper hummus
6 slices Ovengold® Roasted Breast of Turkey
2 slices low-fat, thinly sliced provolone cheese
1 cucumber
1 tomato
Instructions
Spread the hummus over half of the spinach tortilla.
On the other half, lay down 3 slices of turkey.
Over the turkey, place 1 slice of provolone cheese, divided into two halves.
Thinly slice the cucumber longways, followed by the tomato.
Over the cheese, place a few slices of tomatoes and top everything off with a few cucumber slices.
With two hands, grab the turkey side of the wrap and fold it over to tuck everything in.
Continue rolling until the wrap is fully rolled up. The hummus will act as a glue to keep it together.
Use a sharp knife to cut the wrap in half, diagonally.
Repeat for second wrap.
Makes 2 wraps
This post brought to you by Boar's Head. All opinions are 100% mine.