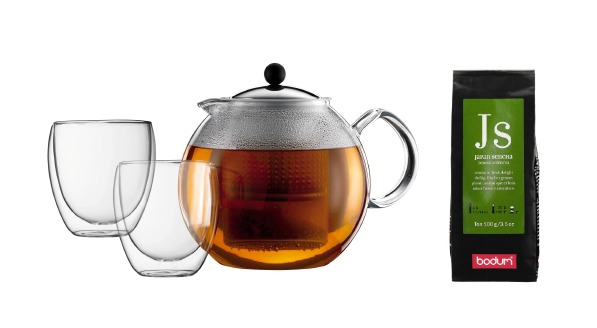 I have an exciting "Hump Day Giveaway" to share with you guys today! Bodum North America would like to send one lucky reader an ASSAM tea press (34oz) that retails for $40, a bag of Bodum tea leaves that retails for $16, and a set of double walled Bodum Pavina glasses that retail for $18. What an incredible way to treat yourself!! I think this tea press is great for having company over, because it has a beautiful presentation and makes enough for 4. It's also great for making enough tea to last throughout the day for yourself. I also love that it has a stainless steel filter inside.
If you haven't figured it out already, I am a tea lover. Did you know that I actually used to dislike tea until I started trying different flavors? I found it to be really relaxing and have been hooked ever since. One of my favorite things to do at the end of a long day is put my feet up and enjoy a hot cup of tea [with a cookie of course!]. In Germany (where my husband is from), coffee and tea time is an important part of the day. It is usually around 2-4pm, and tea and coffee is served with a platter of cakes and cookies. I found this was one way to stop what you are doing and just enjoy the day – with a delicious cup of tea!
I have a similar tea press to the ASSAM tea press and I love it. I use it everyday, so I am thrilled to give one away to one of you because I know you will love it too!
TO ENTER:
Enter via the Rafflecopter below by submitting your email address/via Facebook, and I will contact the winner (who will be chosen by Random.org) within 24 hours of the end of the giveaway. The giveaway will end at midnight next Wednesday, November 14th. There are two important rules for this giveaway:
1) Mandatory: You must "like" Bodum North America on Facebook in order to enter the giveaway!
2) You must be able to provide a US or Canada shipping address.
In addition, you can get up to 5 additional entries by completing the criteria listed on the Rafflecopter – the more entries you have, the more your chances of winning will increase!
Thank you for participating, and good luck!
A special thank you to Bodum North America for sponsoring this wonderful giveaway!