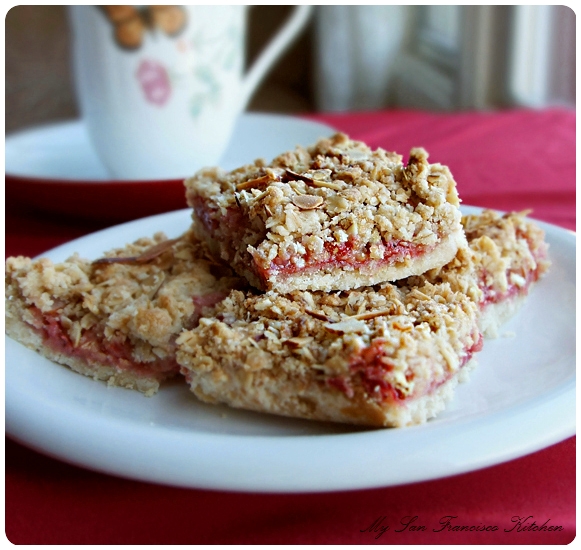 Don't forget to enter my NatureBox giveaway if you haven't yet – it ends tomorrow!
Ohhh butter why are you so good?? These strawberry crumble bars are not exactly diet-friendly, but they are buttery, flaky, and oh-so-delicious! Everything in moderation, right?! Some of you are probably thinking, wait, strawberries are out of season now… but here in California, they are grown all year round. Strawberries are my favorite fruit, so I am thankful that I can buy them from local farmers all year round. These bars are great for dessert, but I actually will eat them for breakfast sometimes too (yes, I am one of those people who eats ice cream for breakfast!).
Do you like the new look of MSFK? I can't believe it has almost been a year since I started blogging…It really doesn't feel like that long! My husband was sweet enough to design my new header for me, for free :D!
This weekend has been really relaxing so far. Yesterday was a beautiful day here in the city and I decided to go for a 5 mile run to my favorite viewpoint in San Francisco. There were so many sailboats out yesterday, wouldn't it be so much fun to go sailing for the day? I was so excited that I completed my run it in decent time because I haven't run 5 miles in like a year, and I have only been training at 4 miles max to this point. The half-marathon is just 12 weeks away now!
What did you do this weekend?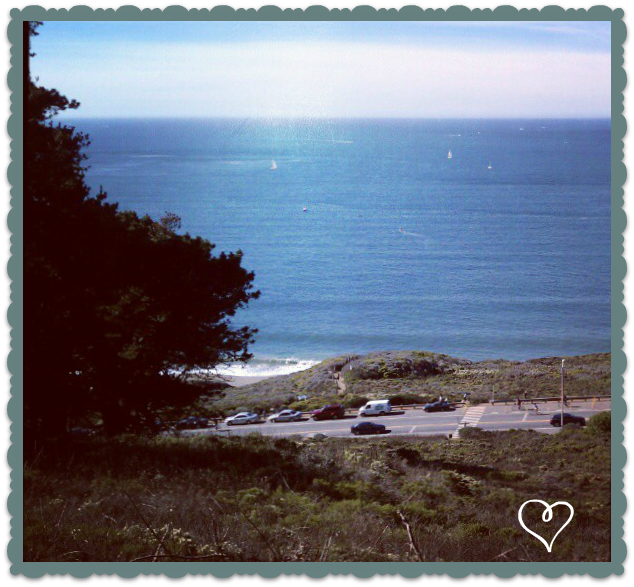 Strawberry Crumble Bars
Ingredients
Crust
6 tbsp unsalted butter, chilled
1 cup all purpose flour
⅓ cup brown sugar
¼ tsp salt
Filling
3½ cups chopped organic strawberries
⅓ cup white sugar
2 tbsp cornstarch
1 lemon
Topping
⅓ cup all-purpose flour
⅔ cup quick oats
¼ cup sliced almonds
½ cup brown sugar
6 tbsp butter, chilled
Instructions
Preheat oven to 350 degrees F.
Use a pastry blender or food processor to combine crust ingredients until crumbly.
Press into an 8x8 pyrex dish or parchment paper lined baking pan.
Place into the oven and bake about 15 minutes, until slightly browned.
Remove and set aside.
Combine strawberries, sugar and about 3 tbsp lemon juice from the lemon in a bowl.
Zest the lemon for extra lemon flavor over the strawberries.
Add the cornstarch and mix until well blended. Set aside.
For the topping, combine all ingredients listed above with a pastry blender or food processor until crumbly.
Spoon the strawberries over the crust, then top with crumbly topping and sliced almonds.
Bake for 40 minutes, or until the top is a nice golden brown.
Let cool for 30 minutes before cutting into bars.
Makes 12 bars
This post is sponsored by: