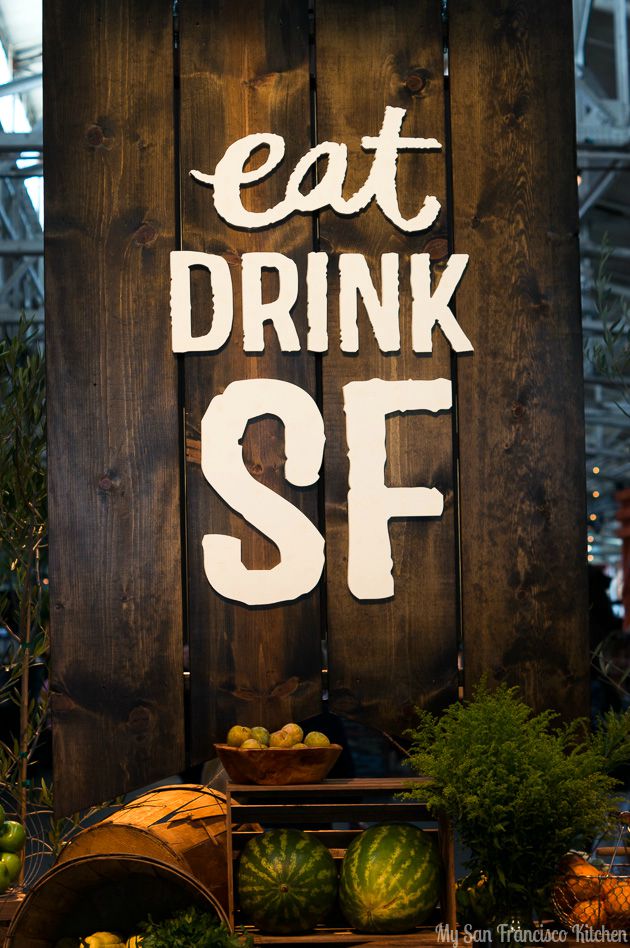 Last weekend I attended the most highly anticipated annual foodie event in San Francisco: Eat Drink SF. The food and drink festival spans over an entire weekend, and features many of the top restaurants and drink vendors in the Bay Area. This year, I attended the Saturday afternoon Grand Tasting, which included the following restaurants:
1300 on Fillmore, Aveline, Bacon Bacon, Bon Marché Brasserie & Bar, Cadence, Ca'Momi Enoteca, CatHead's BBQ, Copita Tequileria y Comida, Dragon Beaux, Emporio Rulli, Heritage Eats, Hillside Supper Club, Hops & Hominy, Huxley, ICHI Sushi, Luce, Mr. Tipples Recording Studio, Nick's Cove, Palm House, Parallel 37, Pizzeria Delfina, Pläj, Precita Park Cafe, Ristobar, Scala's Bistro, Schroeder's Restaurant, Souvla, Terzo, The Ramen Bar, The Restaurant at Wente Vineyards, Tony's Pizza Napoletana, Twenty Five Lusk, Zero Zero 
In addition, the following beverages were there:
Beer: Allagash Brewing Company, Bear Republic Brewing Company, Gowan's Heirloom Cider, Hoegaarden, Leffe Blonde, Leffe Brune, North Coast Brewing Company, San Francisco Brewers Guild, Stella Artois, Stella Artois Cidre, Stone Brewing Company, Trumer Pils
Wine: Ca' Momi Napa Valley, Domaine de Canton, Ironstone Vineyard, Jeremy Wine Co., J.Lohr Vineyards and Wines, Lodi Vintners, McCay Cellars, Meadowcroft Wines, Oak Farm Vineyards, Paso Robles Wine Country, Peltier Winery, Treana and Hope Family Wines, Viñedos Aurora
Spirits: Anchor Old Tom, BarSol Pisco, Brugal Rum, Carpano Antica Formula, Cutty Sark Blended, Scotch Whisky, Deep Eddy Vodka, Disaronno Originale, Fernet Branca, Highland Park Single, Malt Scotch Whisky, Junipero Gin, Larceny Bourbon, Luxardo, No.3 London Dry Gin, Old Forester Kentucky Straight Bourbon Whisky, PAMA Pomegranate Liqueur, Sipsmith Gin, Snow Leopard Vodka, Spirit Works Distillery,Tap 357 Canadian Maple Rye Whisky, Templeton Rye, The Black Grouse, The King's Ginger, Woodford Reserve, Zaya Rum
Non-alcoholic: FloWater, KeVita™ Sparkling Probiotic Drink, Mr. Espresso, Purity Organics, Starbucks Coffee Company
When you first walk in, there are so many booths that you think to yourself, "I can't possibly try everything," but I made it my mission to do so and I am proud to say I only skipped a few restaurants, mostly because of long lines for a few of the restaurants that, unfortunately, lasted the entire time. It was hard for me to capture every single booth, but below I will share a few highlights of this year's Saturday afternoon Grand Tasting!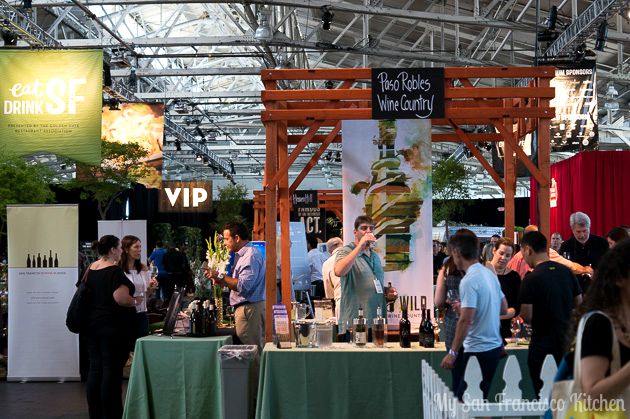 My favorite dish this year was a delicious avocado cake with toasted coconut sorbet, graham cracker and blackberry from Aveline. The flavor combination was so unique…it was heavenly. Let's start with that, shall we?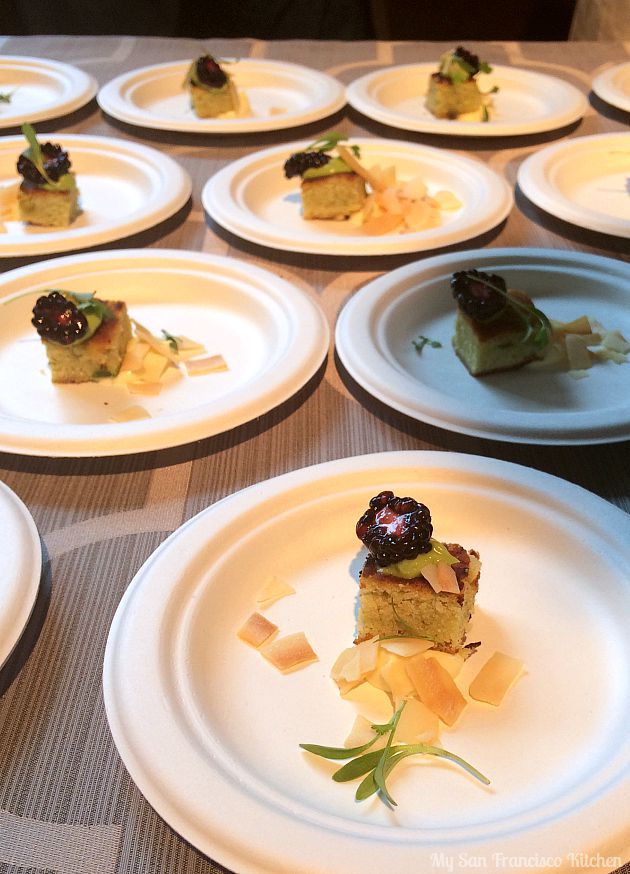 Malted chocolate gelato on a sugary bun from Pizzeria Defina: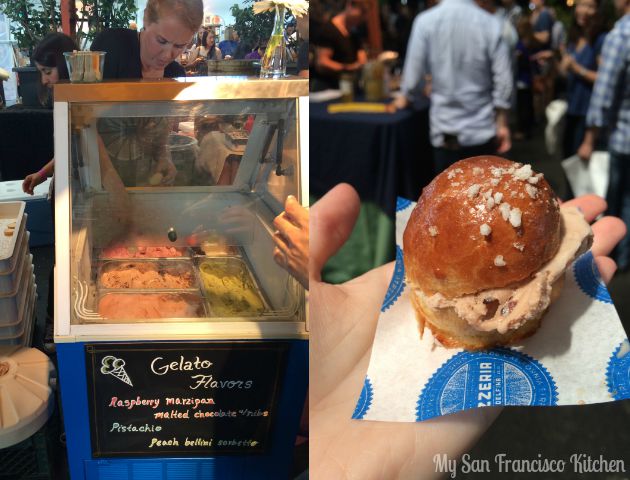 Chicken sausage sliders from 1300 Fillmore: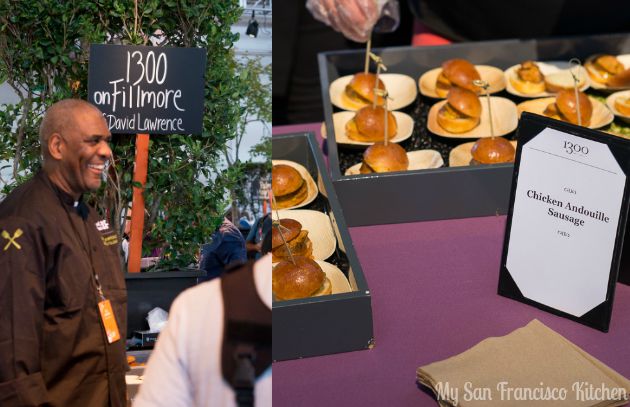 Delicious cream puffs from Ca' Momi Enoteca: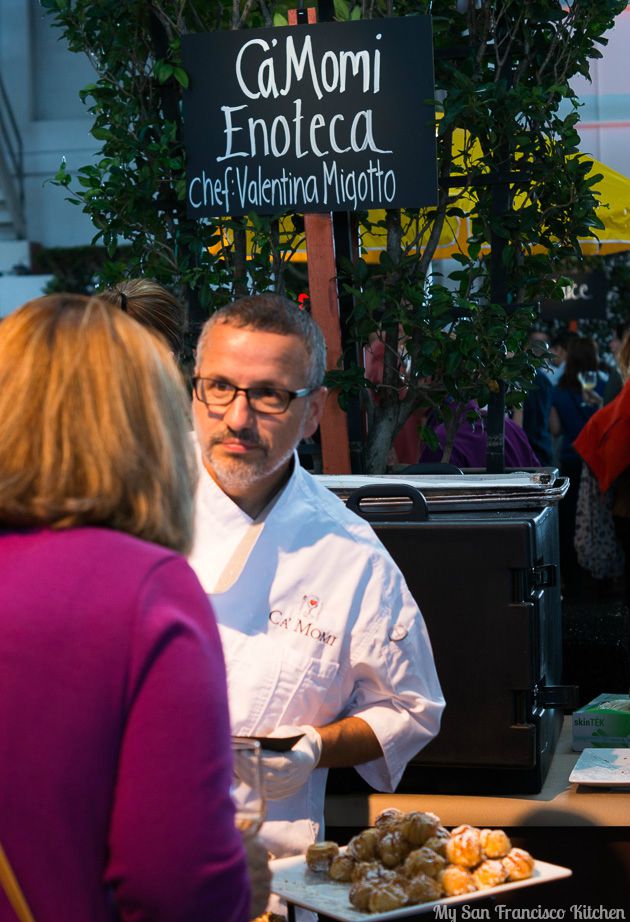 Avocado toast, sea urchin aioli, sesame and seaweed from Huxley: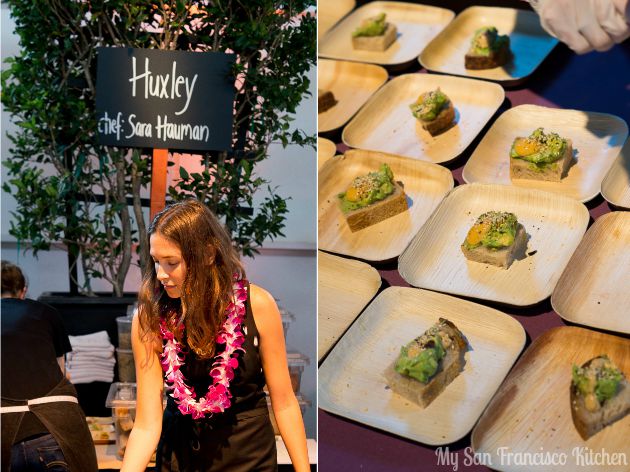 Tartar of prime beef, black garlic, smoked white cheddar from Luce: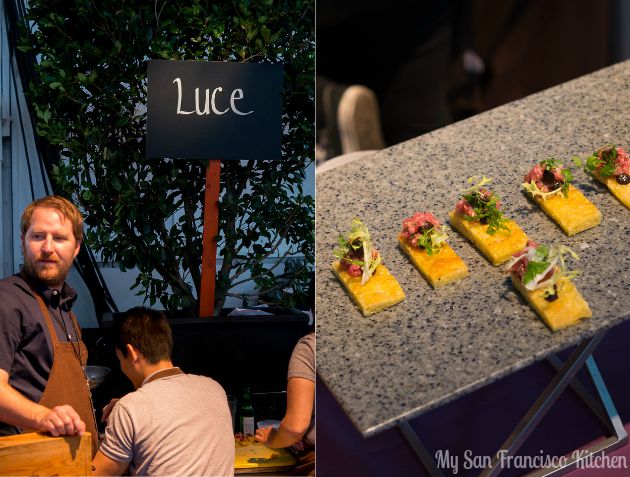 Lemonococco (limoncello bavarese cream with coconut cremosa, coconut rum soaked spongecake and coconut almond crunch) from Emporio Rulli: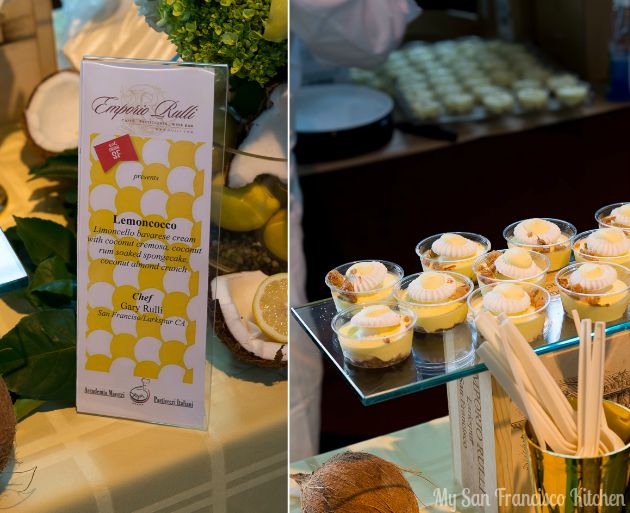 Meatballs from Tony's Pizza Napoletana: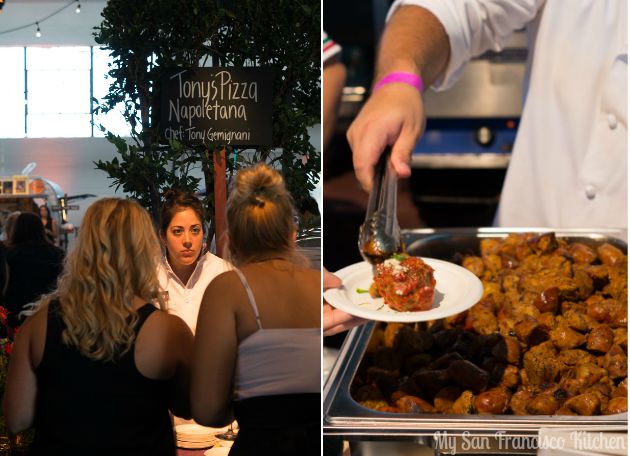 Summer Melon Salad from Palm House: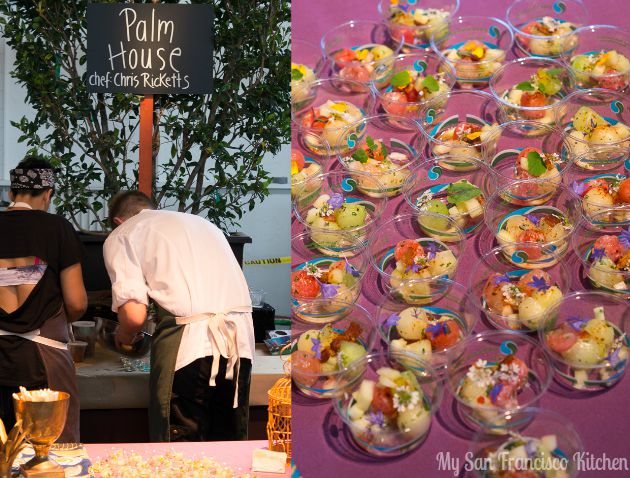 Bacon Chili topped with Goldfish from Bacon Bacon (left) and flavorful gin from SIPSMITH (right):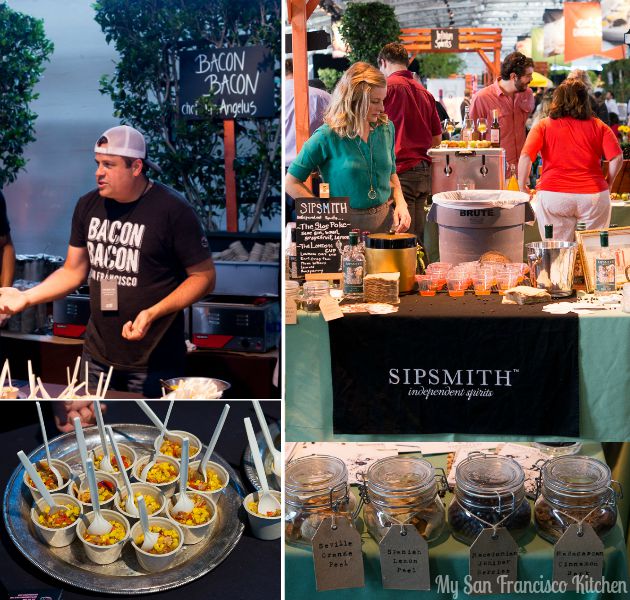 Gowan's Cider, Meadowcroft Wine and Stella Artois Beer: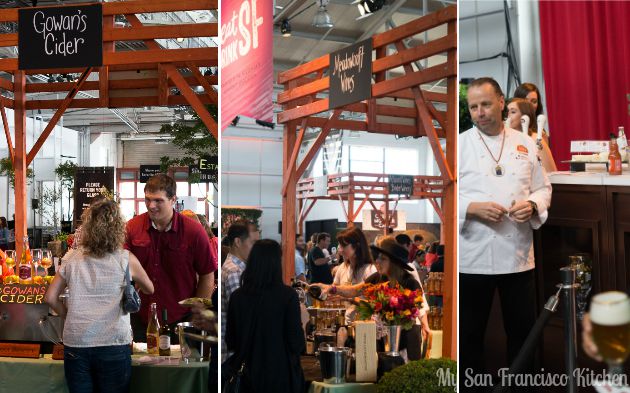 Ca' Momi wine (right) and mushrooms from Far West Fungi (left):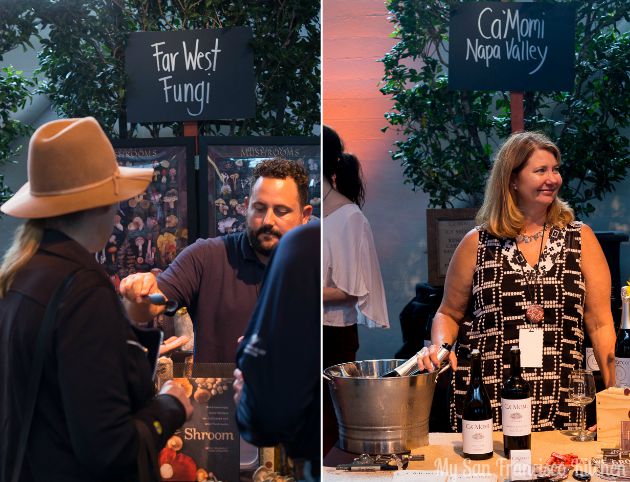 In addition to the good eats and drinks, there was also entertainment at the beverage classroom and on the main stage. I attended a pizza demonstration by world pizza champion, Tony Gemignani of Tony's Pizza, which was a lot of fun!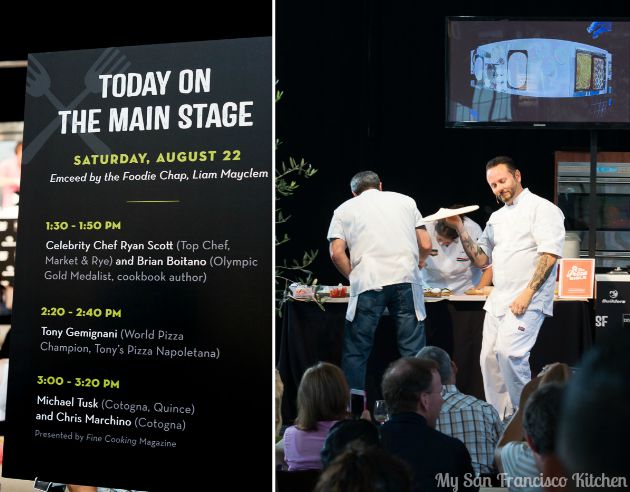 I can't wait to attend next year!
A special thanks to the Golden Gate Restaurant Association for a great time at this year's Eat Drink SF afternoon Grand Tasting event.