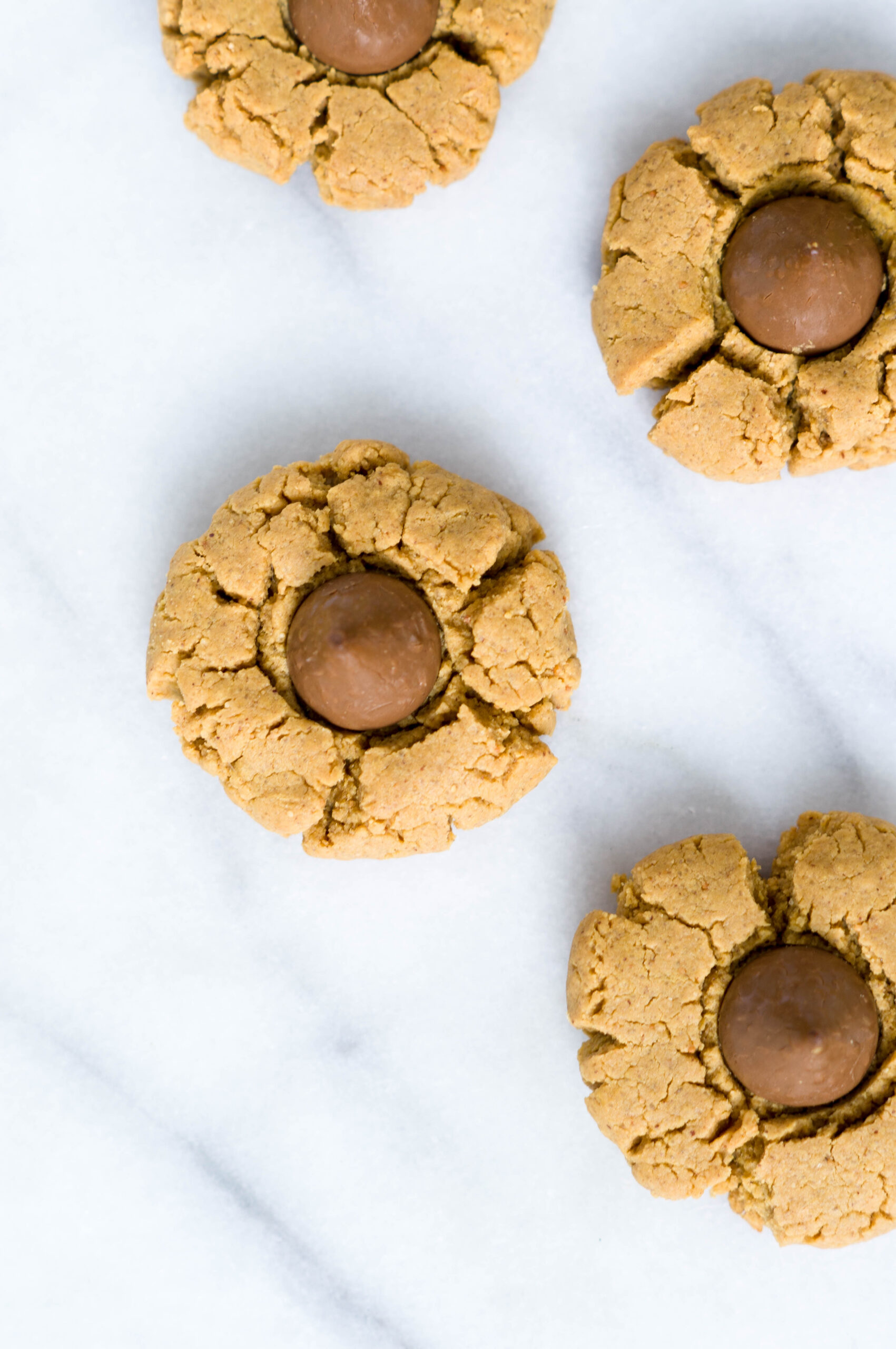 There are many names for these chocolatey peanut butter cookies: peanut butter blossoms, peanut butter kisses, peanut butter Hershey kiss cookies… My mom and I used to make them together every year during the holidays, and this year I made them with my daughter in our Thermomix®. I created a vegan peanut butter blossom cookie version, which is really easy to do if you have very oily peanut butter. You know, when you buy natural peanut butter and open it for the first time and get all that oil on top that you have to stir in. This is key – do not use dry peanut butter for this recipe! This way, you can skip the butter and still have a moist, chewy cookie.
Another tip for getting the perfect peanut butter blossom cookie is to be careful not to over-bake them – I have found that 8 minutes is the sweet spot. You can make these vegan peanut butter blossom cookies gluten-free by substituting any gluten free flour, such as almond flour or oat flour, for the all-purpose flour. I love how flexible these peanut butter blossoms are, and that they always turn out great!
Vegan Peanut Butter Blossoms
Course: Christmas, Dessert, Vegetarian
Difficulty: Easy
Ingredients
1 cup peanut butter (make sure it is very oily, not dry!)

1 1/2 tsp baking soda

1/3 cup all-purpose flour (can sub GF flours)

1/4 cup almond milk

1 tsp vanilla extract

1/4 tsp salt

12 chocolate kisses
Directions
Add all ingredients except for the chocolate to a mixing bowl and mix with a Thermomix®, stand mixer, beaters or by hand.
Roll the dough into balls and flatten with your hand.
Place one chocolate kiss in the center and press down.
Bake for 8 minutes at 350º F.
Allow the cookies to cool 5 to 10 minutes to set further.