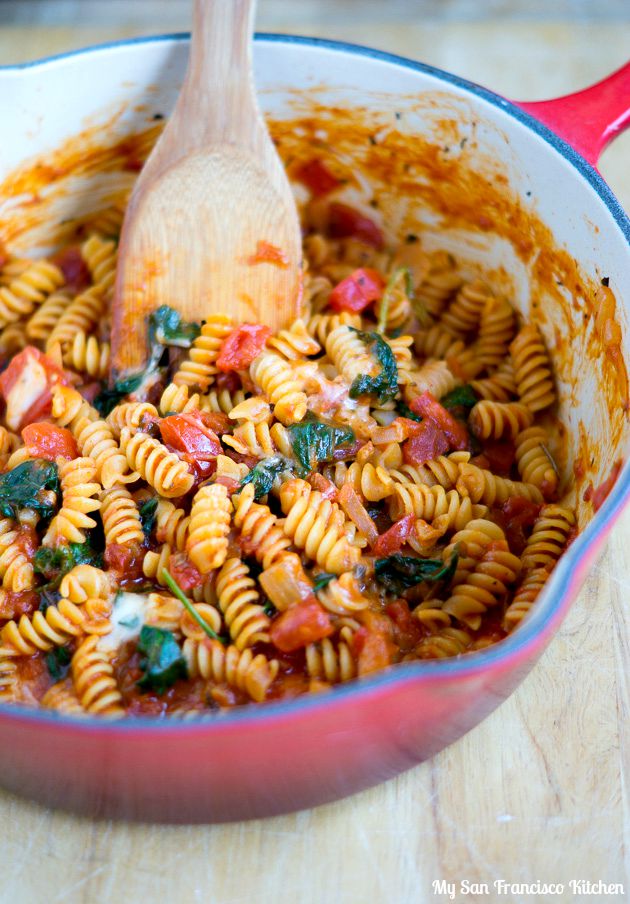 This easy cheesy one pot pasta recipe is perfect for Meatless Monday, and Mondays in general since it is so incredibly easy to make. It reminds me of my college days, when I first learned how to make pasta. I promise, this recipe is so so so much better than the pasta I used to make while I was in college. I actually used to think you could skip boiling the pasta in water and just throw everything in just one pot. This lazy thought was definitely on the right track, but my pasta always turned out soggy and gross when I tried to cook it in one pot. I finally figured out two extremely important things about one pot pasta recipes:
1. Pasta absorbs liquid. Even if you don't boil the pasta in water first, you must add enough water to dilute your pasta sauce so the pasta has something to absorb.
2. Pasta is starchy. The starch is released into liquid and makes the noodles gooey and sticky, which is the reason why you were taught to boil noodles in water first, then add to the sauce and not to do it all together.
The first one is easy to do, but when it comes to the second I find it depends on the type of noodle you use. For me, using spaghetti noodles, or any long noodles at that, always turns into a gooey mess. I have only had success so far with small noodles, like rotini. For some reason my one pot pasta recipes love rotini, and it turns out great every time! No gooey-ness here.
One pot pastas are amazing because they are so easy and fast to make. All you have to do is add a few ingredients to one pot, which makes clean up super fast. The other night I even ate out of the same pot I cooked my pasta in (be careful not to scratch your pot!). That is how lazy I can be when it comes to dinner and clean-up, especially on Mondays…
For this one pot pasta recipe, I added spinach, onions, fresh tomatoes, and mozzarella cheese. The mozzarella cheese is added to the pot at the very end, and stirred in until it is melted. That is my favorite part of this entire recipe! Cheeeeeeese <3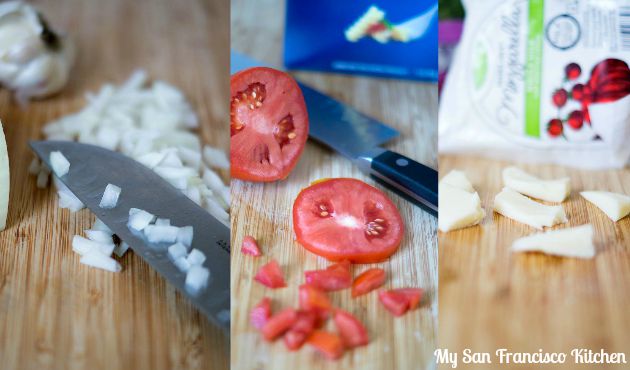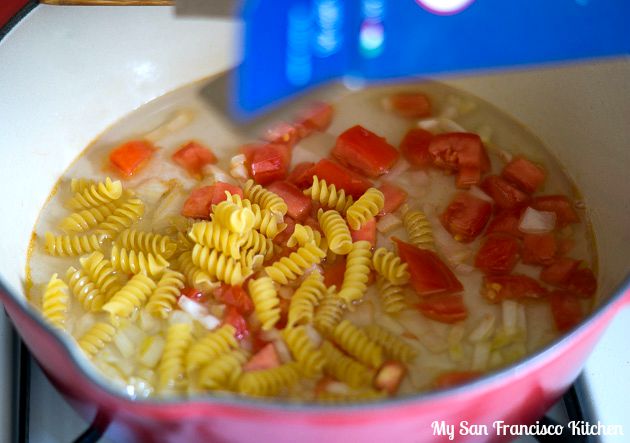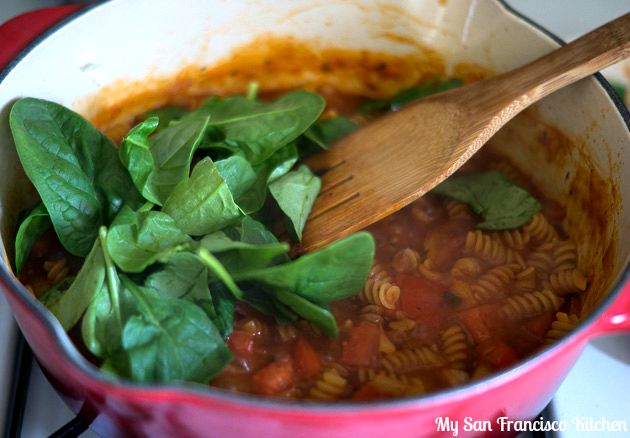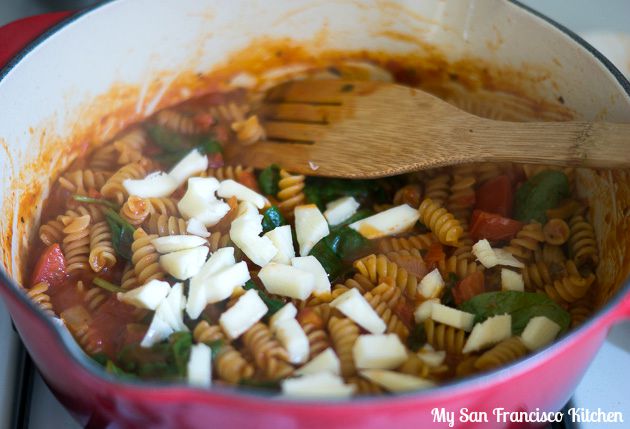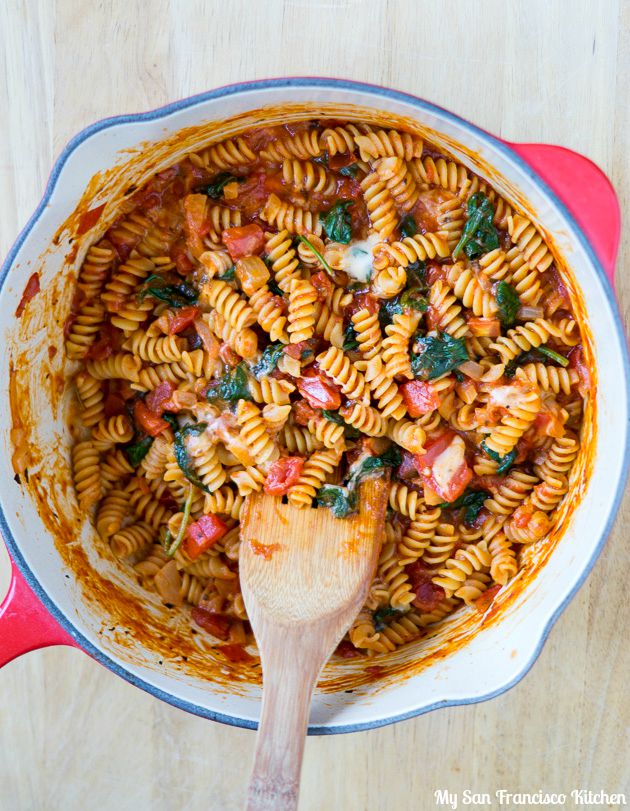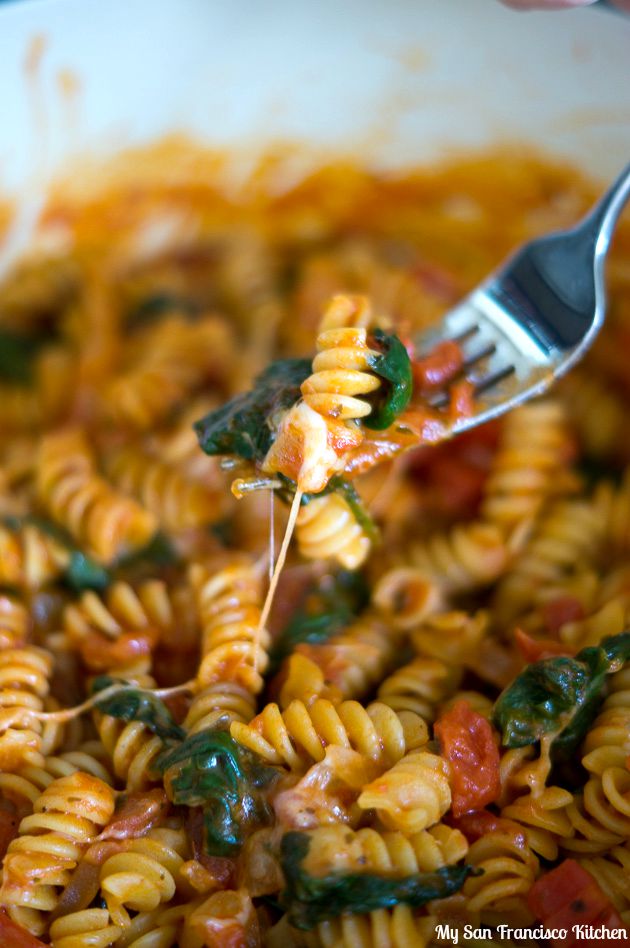 Cheesy One Pot Pasta
Ingredients
1 tbsp olive oil, plus more for drizzling
1 yellow onion, chopped
2 cloves garlic, minced
2 roma tomatoes, diced
½ tsp crushed red peppers
4 cups uncooked spinach
½ cup chopped Mozzarella cheese
2 cups water
3 cups tomato basil pasta sauce
3 cups uncooked rotini pasta
Instructions
In a large skillet, heat the olive oil over medium heat.
Add the onion and cook for 5 minutes, stirring occasionally.
Add the garlic and stir well. Cook for another 2 minutes while stirring occasionally.
Add the tomatoes, crushed red peppers, water, and pasta sauce and bring to a boil.
Once boiling, add the rotini pasta and cook for package directions (usually about 8 minutes), stirring occasionally, until al dente.
Remove from heat and add the spinach and mozzarella cheese. Stir.
Serve hot.
Serves 4
Did you make it? I'd love to see! Snap a pic and share via #mysanfranciscokitchen, or tag my social media sites!