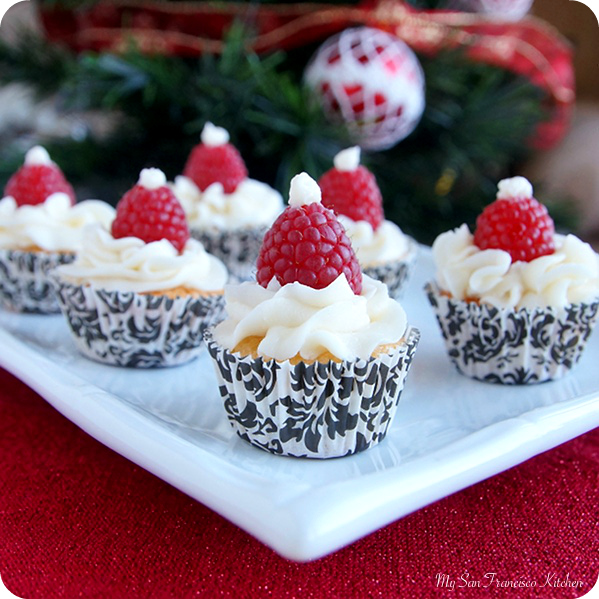 Tomorrow afternoon will finally mark the end of a long 2 weeks of cramming studying all day, eating almost nothing but chocolate, being highly caffeinated 24-7 and getting very little sleep. My last exam, the hardest exam, has been so exhausting to study for…I desperately needed a stress-baking session! I made these cute mini angel food cupcakes with "Santa hats" on top using fresh rasperries. They make me feel less guilty, except for that whole tons of sugar thing. Angel food is so much lighter than regular cupcakes though! I usually scrape the frosting off, but since these cupcakes are mini and made with no butter or oil, I ate all of the frosting on them! I love that they are mini because they don't make me feel sick after like regular cupcakes. I didn't have a mini cupcake pan, so I just set them in a regular pan and it worked just fine! The paper liners held the shape perfectly.
I used my buttercream frosting recipe, which went PERFECT with these!
Are you guys getting excited for Christmas?! Less than one week now! OK, I promise I am going back to studying pharmacy now… Sorry I haven't been around as much, but after tomorrow I am officially on Christmas vacation and I can't wait to check out what you have been baking lately.

Mini Angel Food Cupcakes
Ingredients
4 large egg whites (1/2 cup)
½ tsp cream of tarter
¼ cup granulated sugar
½ tsp vanilla extract
½ cup sifted powdered sugar
⅓ cup sifted flour (cake flour works best, but you can use all-purpose just fine)
Pinch of salt
1 package of fresh raspberries
Instructions
Add egg whites to a bowl and let them sit at room temperature for one hour.
Preheat oven to 350 degrees F.
Line a mini-cupcake pan with cupcake liners (or simply place them on a baking sheet or inside a larger cupcake pan).
Using an electric mixer, beat egg whites until they are foamy.
Add cream of tarter, then beat at medium-high speed until soft peaks form (about 5 minutes).
Add granulated sugar while continuing to mix on medium speed, then add the vanilla extract.
Whisk together the powdered sugar and flour in a bowl.
Add ⅓ of the dry ingredients over the egg whites and gently fold with a spatula until combined.
Repeat with the rest of the dry ingredients until everything is combined. Make sure you do not over-stir the batter.
Use a teaspoon to fill each liner with batter until ¾ full.
Bake for 20 minutes, or until tops are golden brown.
Let cool completely before frosting.
Frost with buttercream frosting, or frosting of your choice, and top with fresh raspberries.


Makes 24 mini cupcakes
This post is sponsored by: