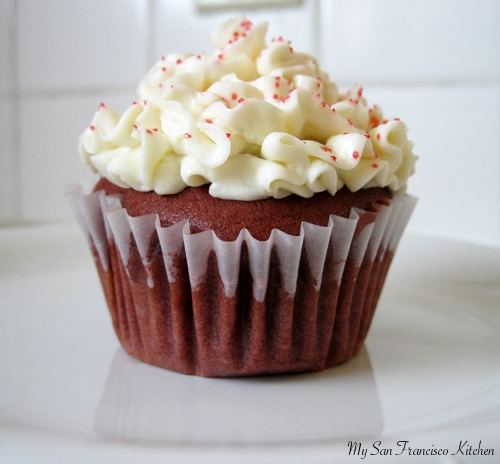 Happy Friday everyone! Any plans for the weekend? Last night Fabi and I went to Macy's to do our wedding registry, and it was so much fun. We thought we would be done with everything in an hour, but it took us a whole hour to pick out sheets and comforter colors… Ahhh. After 2 hours we still weren't close to being done, but we did do most of the big things. I still have to decide on 2 more places to register, I'm thinking Bed, Bath & Beyond and Crate & Barrel or Sur La Table?? I can't decide.
We had a bake sale fundraiser for my class the other day at school, so I tried this new red velvet cupcake recipe with cream cheese frosting. I couldn't eat too many because after seeing the amount of butter and sugar that went into making them, and only about 16 came out, I felt wayy too guilty! Does anyone have any healthier recipes to share? I have never seen any…maybe because red velvet cupcakes need all that butter to be so yummy and velvety 😉
Recipe adapted from McCormick Red Velvet Cupcakes

Ingredients
2¼ cups flour
½ cup unsweetened cocoa powder
1 tsp baking soda
¼ tsp salt
1 cup butter, softened
2 cups granulated sugar
4 eggs
1 cup sour cream
½ cup milk
1 (1 ounce) bottle red food color
2 tsp vanilla extract
Instructions
Preheat oven to 350 degrees F.
Whisk together flour, cocoa powder, baking soda and salt in medium bowl and set aside.
Cream butter and sugar in large bowl with electric mixer on medium speed until light and fluffy.
Beat in eggs, one at a time.
Add sour cream, milk, food color and vanilla and blend on medium.
Add flour mixture a little at a time on low speed until just blended.
Spoon fluffy batter into lined muffin cups, and fill each cup ⅔ full.
Bake 20 to 25 minutes or until toothpick inserted into cupcake comes out clean.
Cool in pan 5 minutes, then transfer to a wire rack and let cool 1 hour.
Frost with cream cheese frosting (recipe above).
Makes 18 cupcakes
This post is sponsored by: