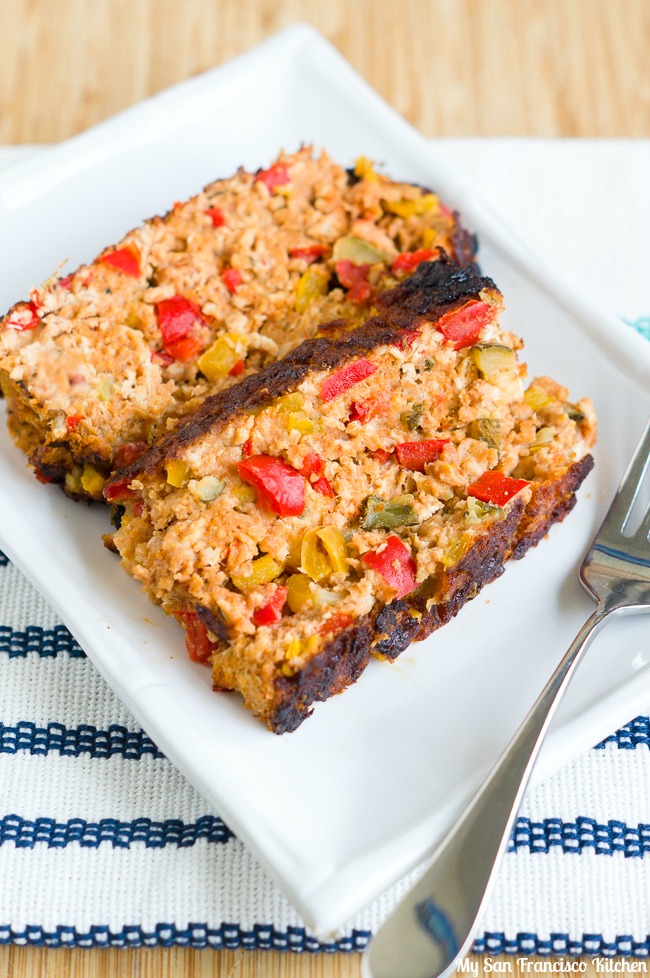 Lately I have had the feeling that I am making the same few recipes over and over again. Do you ever get stuck in a rut like that? I decided to browse the Food Network website for inspiration, and found a vegetable meatloaf recipe by Bobby Flay that looked delicious! I went to the grocery store soon after seeing it and made it for dinner tonight. It was incredibly flavorful! The special thing about this summer vegetable meatloaf is that it has a balsamic glaze on the top that bakes into a crust around the meatloaf. It gives it so much flavor in the end. This summer vegetable meatloaf is made with ground turkey, zucchini, and red and yellow bell peppers. Serve with boiled gold potatoes or rice.
I was disappointed that Leila didn't like my meatloaf very much. I had high hopes! I think it was too flavorful for her, perhaps even a little too spicy since it has crushed red peppers inside. She got a separate dinner tonight 😉
Our apartment search has not been very successful, although we have only looked at a few places so far. Everything is incredibly expensive in the Bay Area right now, it is horrible! I find comfort in not being the only one feeling stuck, since most of my neighbors are feeling the same way. I wonder if the prices will ever go back to "normal" again.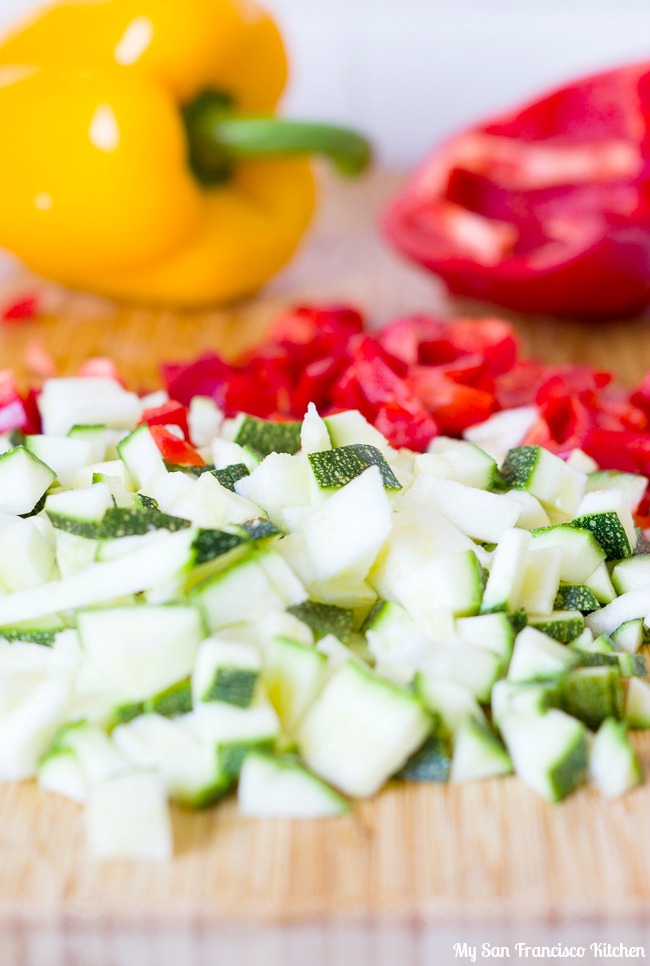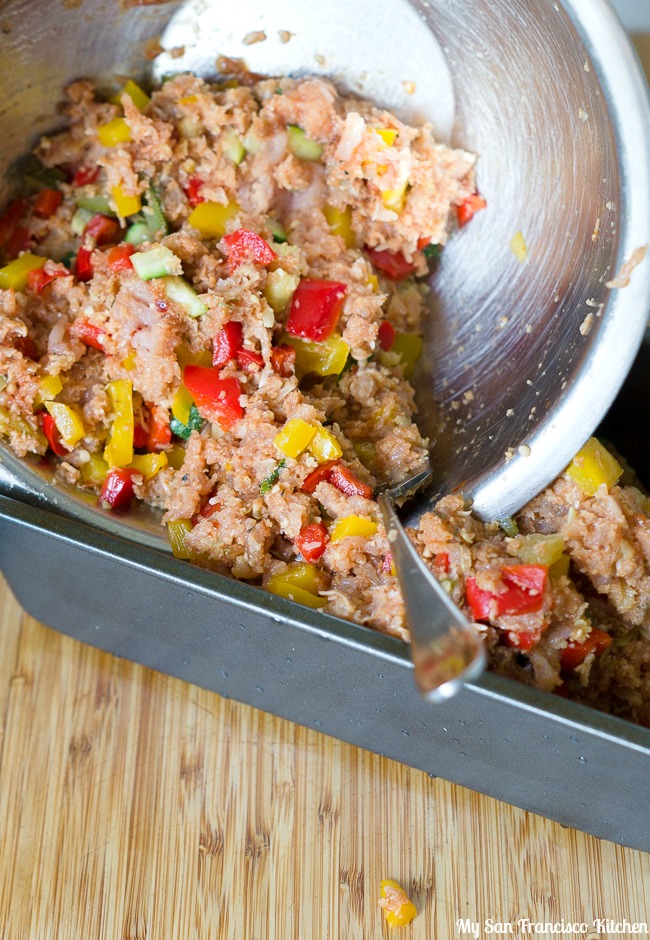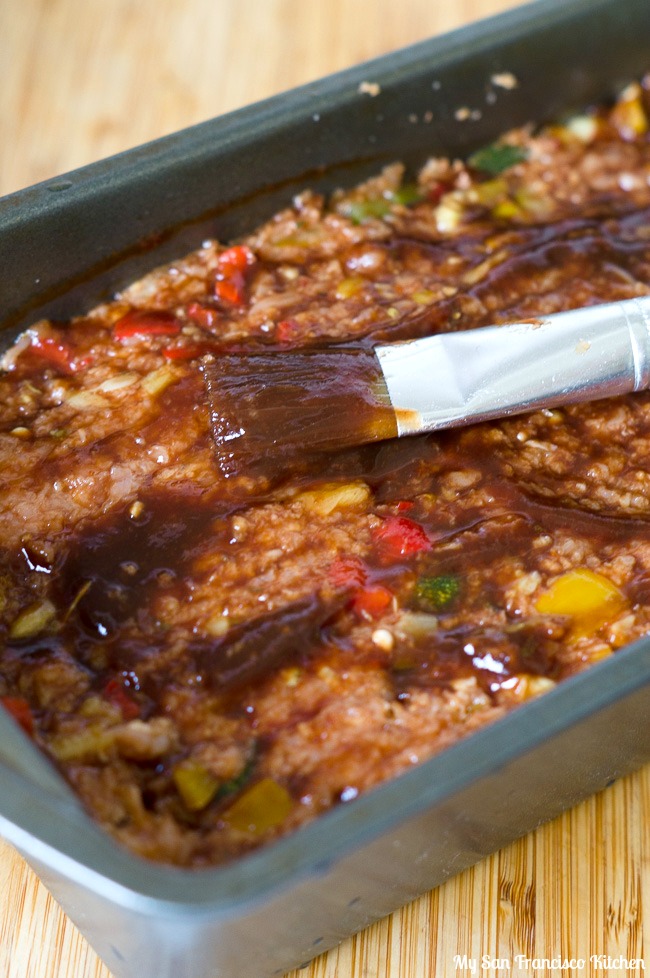 Balsamic Glazed Summer Vegetable Meatloaf
Ingredients
2 tbsp olive oil
1 red bell pepper, finely diced
1 yellow bell pepper, finely diced
1 small zucchini, finely diced
6 cloves garlic, minced
½ tsp crushed red pepper flakes
1 egg
1 lb lean ground turkey
¼ tsp ground black pepper
½ cup freshly grated Parmesan cheese
1 cup Panko breadcrumbs
2 tsp freshly chopped thyme
¼ cup freshly chopped parsley
¾ cup ketchup
¼ cup balsamic vinegar
Instructions
Preheat oven to 425 degrees F.
Heat the oil in a skillet over medium-high heat and cook the vegetables and garlic until soft (about 10 minutes). Stir occasionally.
Set the vegetables aside to cool, and add the egg to a large bowl and lightly beat it.
Add the vegetables, turkey, pepper, crushed red pepper flakes, cheese, herbs and ½ cup ketchup and 2 tbsp balsamic vinegar to the bowl and stir until just combined.
Transfer to a loaf pan and press inside.
Combine the remaining ¼ cup ketchup and 2 tbsp balsamic vinegar and brush on top of the meatloaf.
Bake for 1 hour and 15 minutes.
Makes 1 9x4-inch meatloaf
Recipe adapted from Bobby Flay's Vegetable Meatloaf recipe in Food Network Magazine