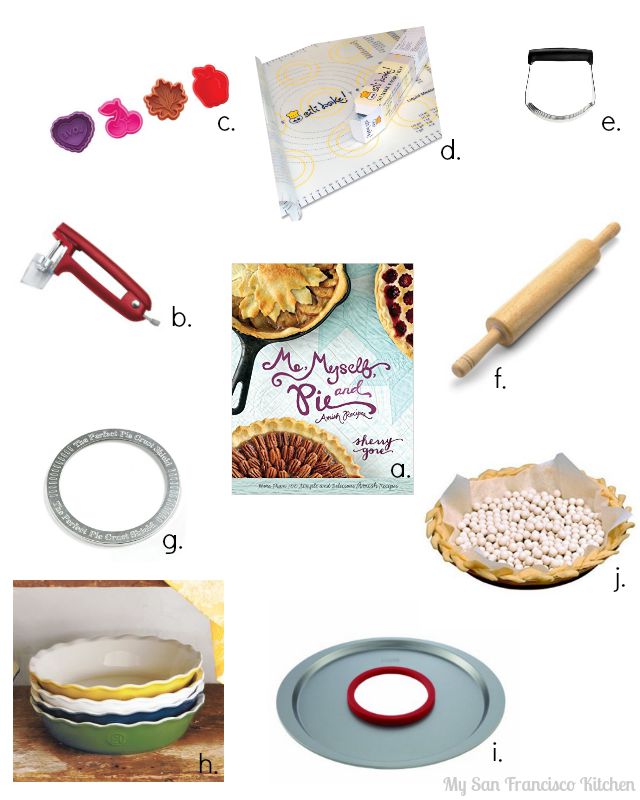 Happy Friday!
For this week's Trendy Kitchen post, I have come up with my top 10 pie baking essentials for your kitchen. Fall is quickly approaching, which to me means, "pie season!" Every Fall my grandma, mom and I bake many pies – apple, pumpkin, pecan… You name it! The season just wouldn't be complete without them. During the Summer, I also love baking cherry pies with fresh cherries. The Summer season isn't over yet, so a cherry pitter might still be handy if you don't own one yet.
I hope you find some of these items useful for your pie baking adventures!
a. Me, Myself, and Pie cookbook – A great cookbook to get you started! This 5-star reviewed pie cookbook is filled with classic recipes, like apple and pecan pie, plus more than 100 pie recipes. Inside you will find recipes for sweet and savory pies, fruit, cream and meringue pies and more.
b. OXO Good Grips Cherry and Olive Pitter – A huge time-saver when making cherry pies!
c. Mrs. Anderson's Baking Pie Crust Cutters, Set of 4 – have fun decorating your pies with these cute cutters.
d. Silicone Pastry Mat With Measurements – This nonslip, nonstick mat is perfect for rolling out dough. No extra flour required! It conveniently has measurements for different pie crust sizes, and conversion charts on the mat.
e. OXO Good Grips Stainless Steel Bladed Dough Blender and Cutter – Just in case you feel like making your crust by hand, the old-school way 🙂
f. Farberware Classic Wood Rolling Pin – Another essential item for pie-making.
g. Norpro 10-Inch Pie Crust Shield – Keep your pie crust from browning too much in the oven.
h. Emile Henry Modern Classics Pie Dish – come in many different colors, pick your favorite! I have one in red.
i. Chicago Metallic Pie Drip Catcher – I wish I had one of these from the beginning, it would have saved me hours of scrubbing my oven clean from burnt pie drippings!
j. Norpro Pie Weights – Keeps your crust from bubbling up while baking in the oven.
FTC disclosure: Some links above may be affiliate links. If you choose to purchase these products, I will receive some of the profits. I have chosen to feature these products out of my own will, and all opinions on these products are my own. I am not being provided with compensation for featuring them in this post beyond the affiliate profits.