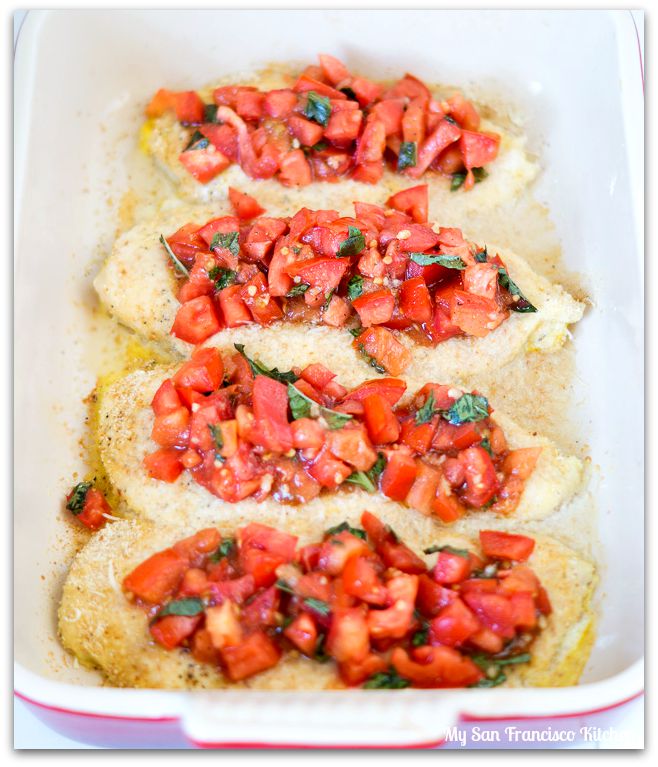 If you are like me, the middle of the week is rough for meals. By the middle or end of the week, I am always trying to pull together whatever is in my refrigerator for an easy dinner to avoid going out to the grocery store. Luckily I had all of the ingredients I needed to make this healthy baked bruschetta chicken. I like to use thinner chicken cutlets for this recipe, which cuts down the baking time. You can also fry them in oil, then top them with the bruschetta mixture and put them in the oven at a low temperature to heat through (you don't want to dry out the chicken since it is already fried). I decided to go with the healthier option and bake the chicken instead of frying it.
This recipe is really quick and easy to make, so it is perfect for a weeknight meal. You can prepare the bruschetta mix ahead of time, which gives it a more intense flavor. Just cover it with plastic wrap and chill in the refrigerator overnight. Set it out for 30 minutes to bring to room temperature before baking, so the chicken won't dry out while you are waiting for the tomatoes to heat through at the end.
Another tip for this baked bruschetta chicken recipe is to add the bruschetta on top LAST. Once I made the mistake of adding it right away and baking the entire time, which made my chicken very soggy. Bake the chicken first, then add the room temperature bruschetta mixture to the top and bake for a few more minutes just to heat through (can also broil at the end).
Yesterday I went to the gym at 5:30am for a spin class, and after waltzing in expecting to see one of the easier instructors for me, I saw my hardest one! My eyes bulged out of my head and all I could think of the whole time while setting up my bike was, "I don't think I can do this so early in the day!" I was so sleepy and she really kicks your butt. Somehow I got through it, and felt like I had 3 cups of coffee afterwards, which lasted until about 5pm and then me and baby girl conked out. I guess I should have checked if there was a sub, but it is probably better I didn't!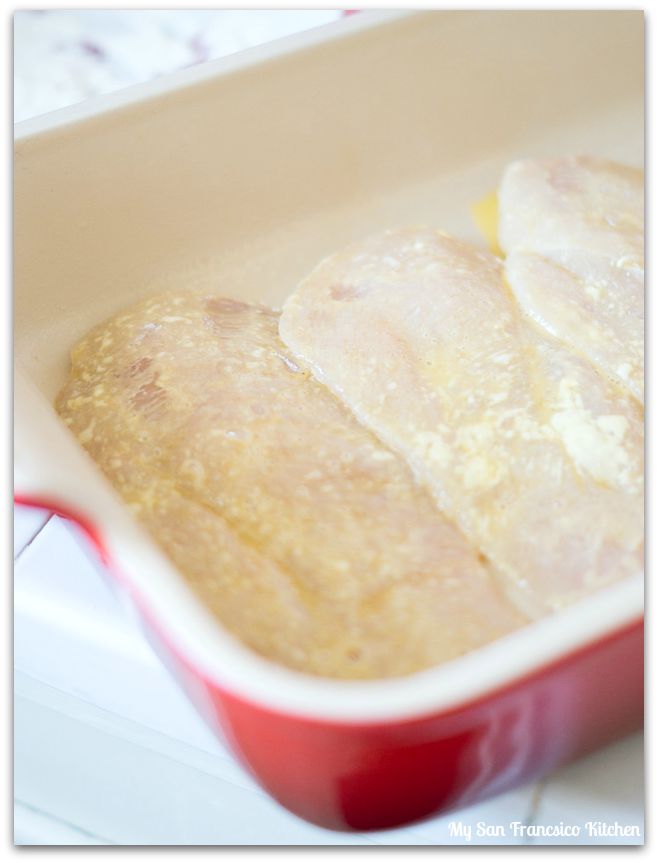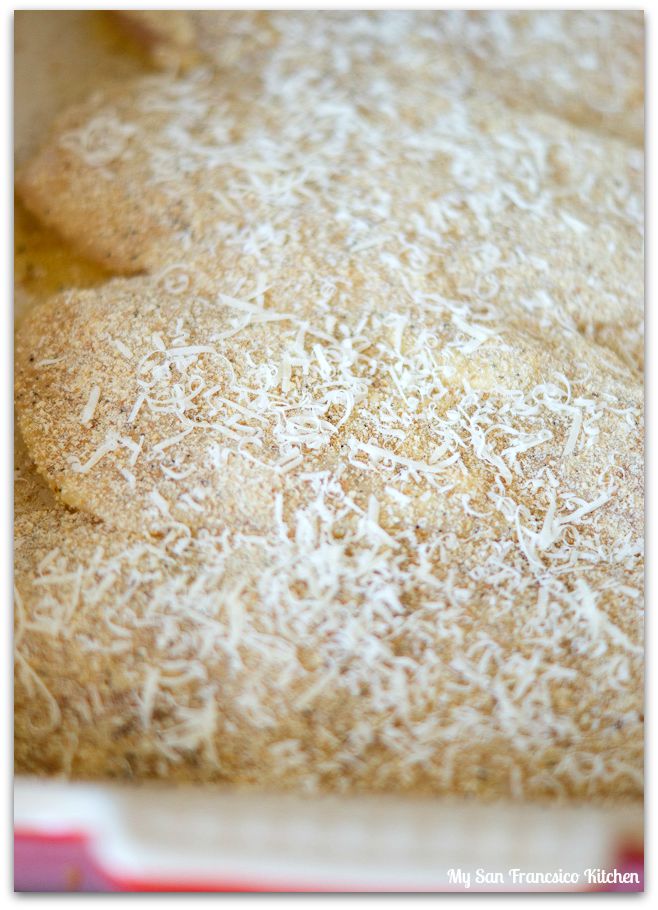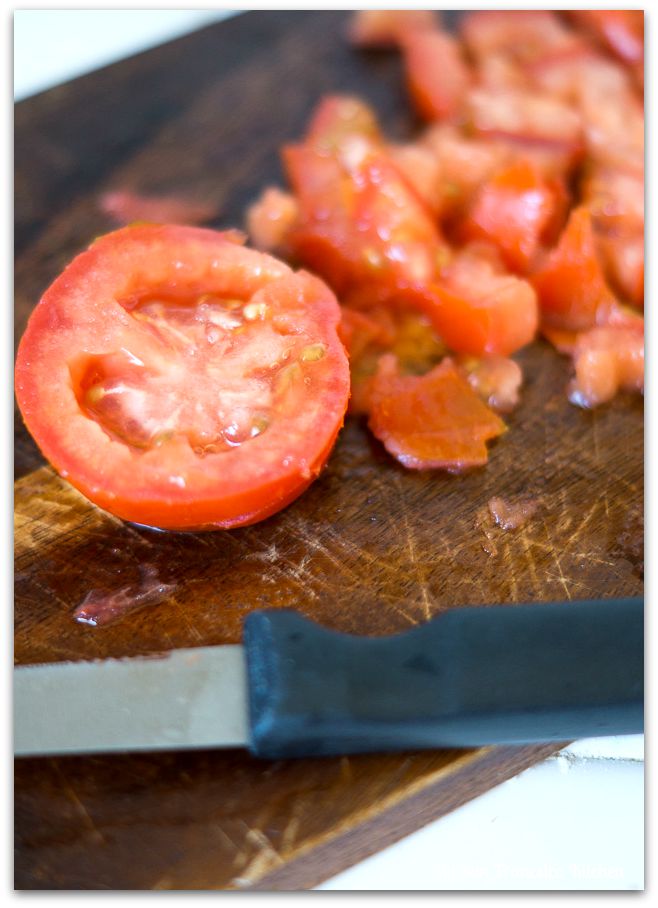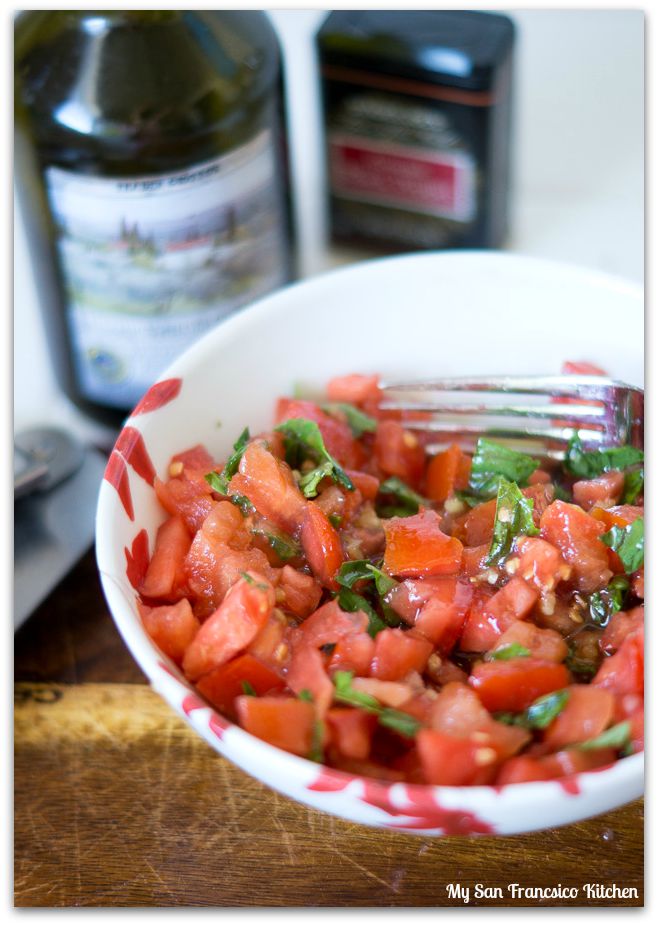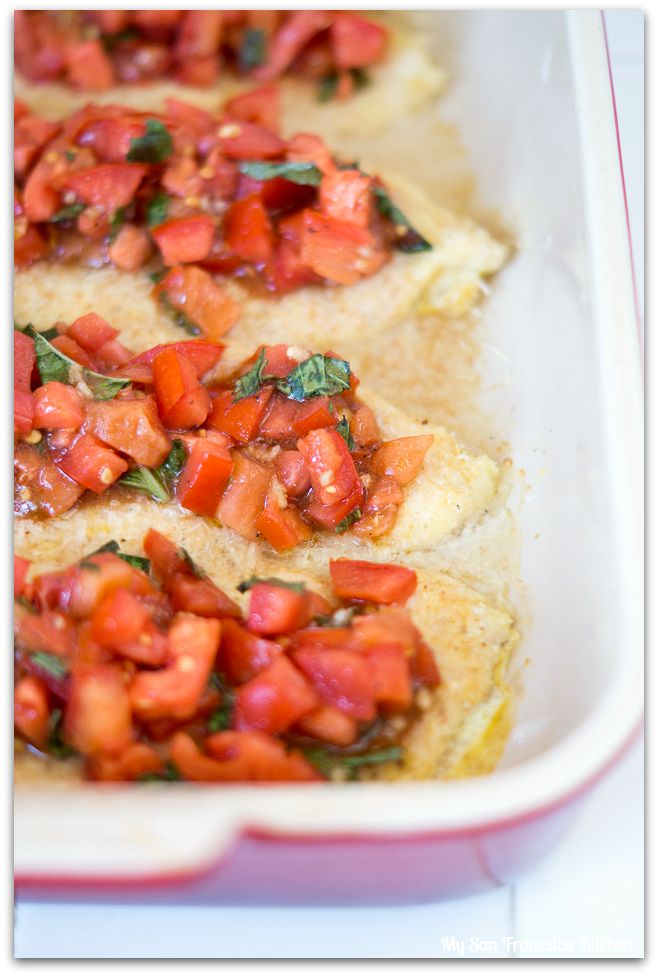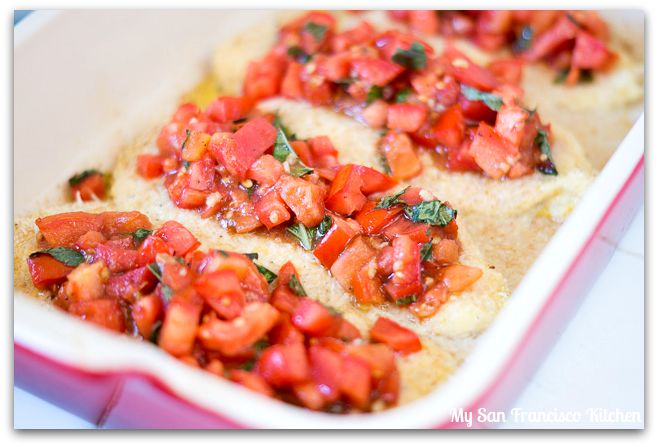 Bruschetta Chicken
Prep time:
Cook time:
Total time:
Ingredients
4 boneless, skinless chicken cutlets
1 egg, beaten
1/3 cup all-purpose flour
1/3 cup bread crumbs
1/4 cup freshly grated Parmesan cheese
2 tbsp olive oil
1 tbsp balsamic vinegar
2 roma tomatoes, chopped
2 garlic cloves, minced
4 tbsp shredded basil
1/4 tsp pepper
Salt, to taste
Instructions
Preheat the oven to 375 degrees F.
Grease a 13-inch x 9-inch baking dish.
Dry off the chicken cutlets and dip the chicken in the flour, followed by the egg and bread crumbs. Shake off the excess egg before dipping in the breadcrumbs.
Place the chicken in the baking dish, sprinkle with salt, pepper and Parmesan cheese, then cover with aluminum foil.
Bake for 7 minutes, then uncover and bake for another 5 minutes.
In the meantime, prepare the bruschetta mixture by combining the olive oil, balsamic vinegar, tomatoes, garlic, basil, pepper and salt.
Top the chicken with the bruschetta mixture and place back in the oven to heat through. Do not overcook the chicken or it will be dry. Chicken should read 165 degrees F on meat thermometer.
Makes 4