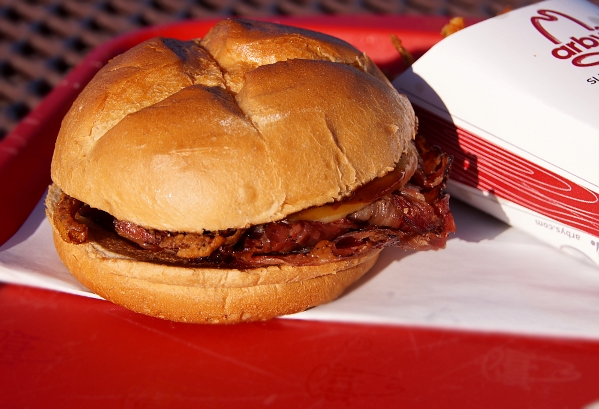 Arby's sent me a gift card to check out their new Smokehouse Brisket sandwich, so this past weekend we decided to head over and try it out. I only have one day off on the weekends for the next few weeks, which means it is filled with tons of chores – laundy, grocery shopping, cleaning… On my one day off I also have to plan the meals for the week and cook as much as I can so I don't have to make dinner when I get home late. After a long day at the hospital I come home pretty tired, so it is always nice to have something already prepared. The only downside is that it adds a lot of work to my only day off! It was really nice to take a break and go out for some sandwiches for dinner, especially because the weather was so nice! We sat outside and enjoyed the sun while eating our dinner, then after we watched some friends play tennis.
The Smokehouse Brisket sandwich is smoked for at least 13 hours, and topped with smoked Gouda cheese, crispy onions, BBQ sauce and mayo, and served on a toasted, bakery-style bun. I love BBQ sauce on my sandwiches, and it reminded me a little of my favorite slow-cooked BBQ chicken sandwich recipe, with a few extras. The carmelized onions were my favorite part, I always forget how much I love them. The Smokehouse Brisket sandwich was really flavorful! I usually prefer turkey wraps, but I would get this sandwich again.
Do you want to check out the new Smokehouse Brisket sandwich for yourself? I have a $10 giftcard from Arby's to give away to someone! Just leave a comment on this post stating why you love Arby's. The winner will be notified via email. Good luck! 🙂
This post brought to you by Arby's. All opinions are 100% mine.