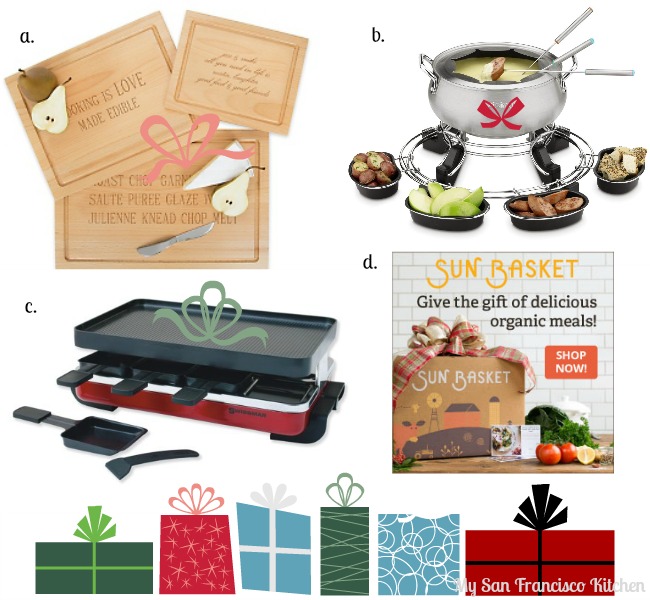 One more week until Christmas Day…are you ready? Have you finished all of your gift shopping yet? I don't know about you, but there are a few people in my life who always get me stuck when it comes to buying a gift. They seem to have everything they need or want, so it is always hard to think of a useful Christmas gift idea. For those people in your life who seem to have everything, here are five Christmas gift ideas that you can still get in time for Christmas Day!
Perfect for: the home chef; a family gift; friends who love to cook
Personalized gifts always make a nice gift that can be used for a long time. You can engrave your friend or family member's name or a special quote on these classic beechwood cutting boards.
Perfect for: the entertainer
This stainless steal fondue set is large enough for 8 people. With this fondue set, you can throw a chocolate fondue party with different fruits served in the dishes around the pot, or cheese fondue party with breads and veggies.
Perfect for: the busy parents; the holiday get-together host; the entertainer
This raclette grill makes dinner parties and entertaining easy, since everyone can cook their own meal and it serves as the entertainment at the same time.
Perfect for: the busy professional; cooking enthusiasts
Make someone's life easier with a Sun Basket delivery. Inside you will find 3 recipe cards, created by an experienced chef, and organic pre-packaged ingredients. No shopping or chopping required. All there is left to do is cook!
5. Cooking class (varies)
Perfect for: the amateur chef; couples
Instead of something tangible, why not give the gift of a fun experience? Search the internet for a location nearby that offers a cooking class. Most of the time they are themed, so you can tailor it to your friend's interest or let them pick for him/herself!
FTC Disclaimer: Some of the links in this post are affiliate links, meaning that I will get some of the profit if you choose to buy these products. All opinions in this post are honest and my own.