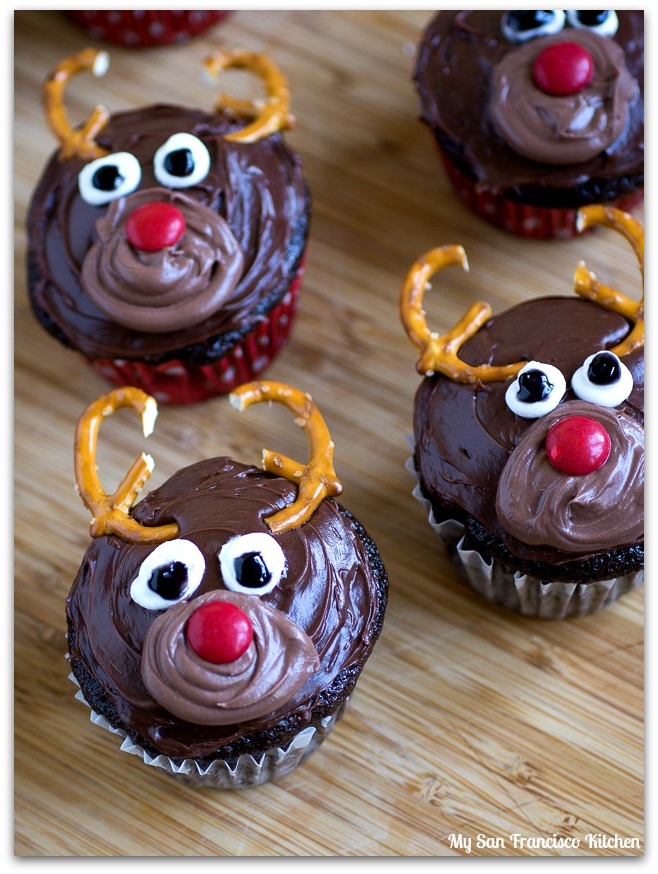 We had our Christmas Pot Luck at work yesterday, and when asked what I wanted to bring the first thing I blurted out was DESSERT! Desserts are second nature to me during the holiday season, due to many years of baking this time of year! I thought of making something out of my classic recipe collection, but in the end I decided to make something new. I already had an incredible chocolate cake recipe for the chocolate cupcakes, so it was just a matter of how to decorate them…
The other night after work I was hanging out with my friend and Rudolph the Red-Nosed Reindeer came on the TV – do you remember that movie from your childhood? Such a classic! I searched around Pinterest and found some variations of reindeer cupcakes that looked so cute, I just had to make these for my pot luck. I used pretzels for the antlers, different colored cake frostings for the face, and red M&Ms for the nose.
I wish you all a Merry Christmas! I can't believe it is already here…I wanted to bake so much more than I had time for this year, but that just leaves more ideas for next season 😉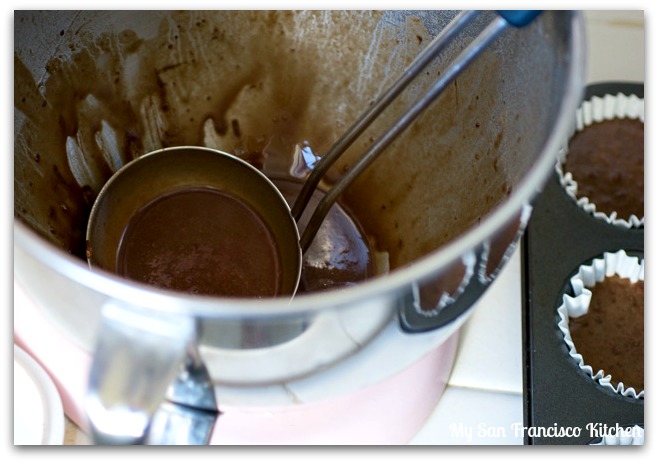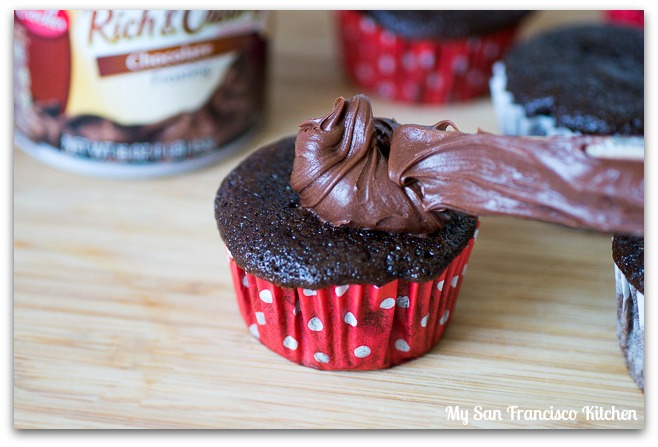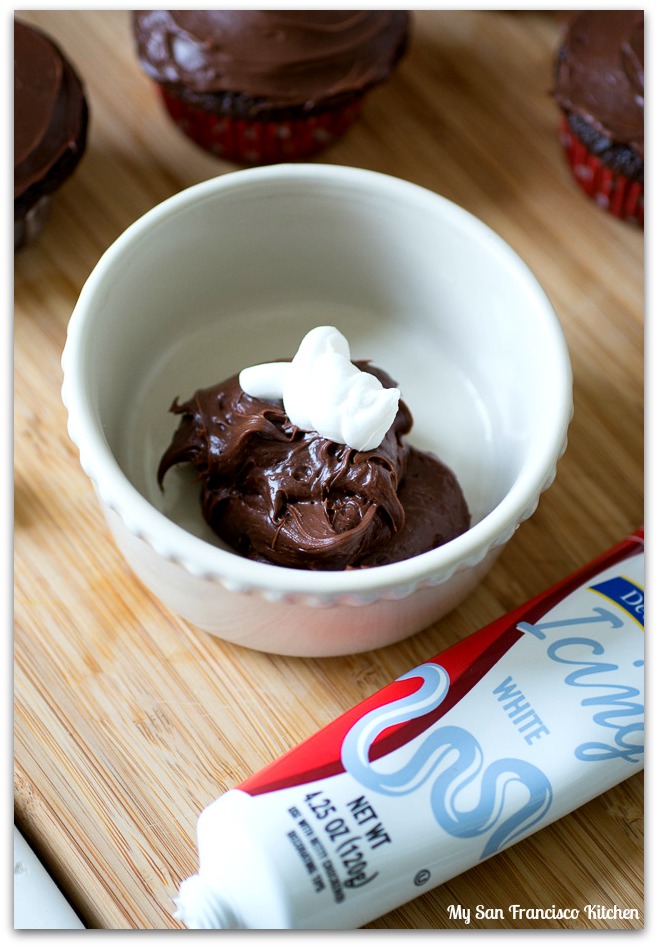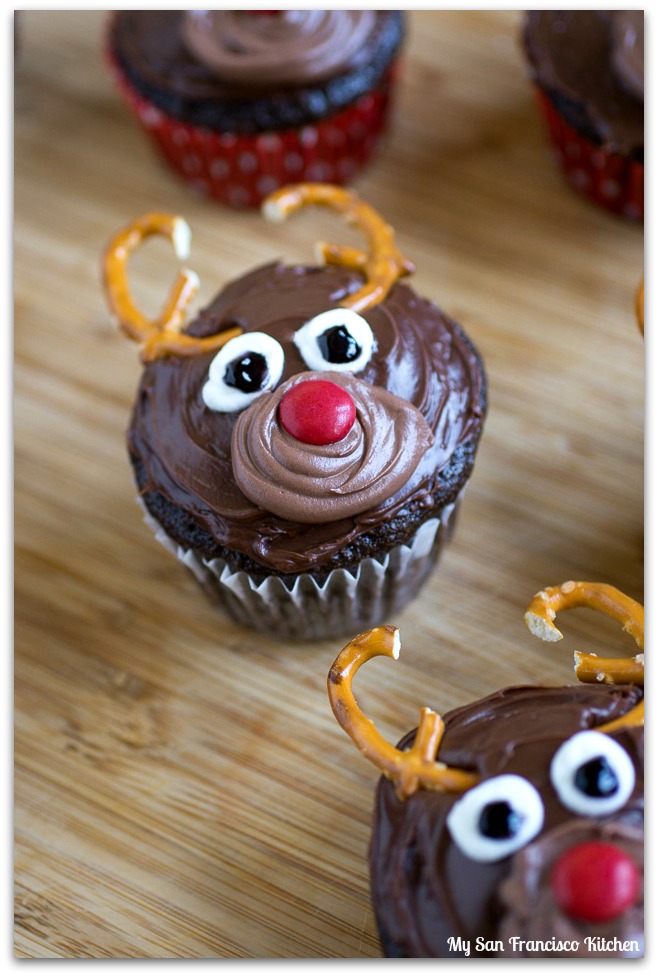 Rudolph Reindeer Cupcakes
Ingredients
2 cups all-purpose flour
¾ cup unsweetened cocoa powder
1¾ cups sugar
2 tsp baking powder
1 tsp baking soda
1 tsp salt
2 eggs
1 cup milk
½ cup vegetable oil
2 tsp vanilla extract
1 cup boiling water
1 tub of chocolate frosting
White and black cake decorating frosting tubes
18 red M&Ms
18 mini pretzel twists, cut in half
Instructions
Line 2 cupcakes pans with paper liners and preheat the oven to 350 degrees F.
In a stand mixer or with an electric mixer, combine all dry ingredients (flour to salt).
While mixing on low speed, add the eggs, milk, vegetable oil and vanilla.
Stop the mixer and add the hot water. Restart the mixer and beat the ingredients on low speed for 1 minute, until well combined.
Use a laddle to distribute the batter among the cupcake liners, filling each ¾ full.
Bake for 20 minutes, and test with a toothpick - if it comes out dry, they are done!
Cool for 2 minutes, then remove from the pan and set on a wire rack to finish cooling, about 1 hour.
Frost each cupcake with the chocolate frosting with a butterknife, then mix the remaining frosting with the white cake frosting to make a lighter brown color. Add a filled-in circle of the light brown in the lower half of each cupcake, then draw the eyes above it with the white and black frosting.
Add the M&M noses and pretzel antlers.
Makes 18 cupcakes