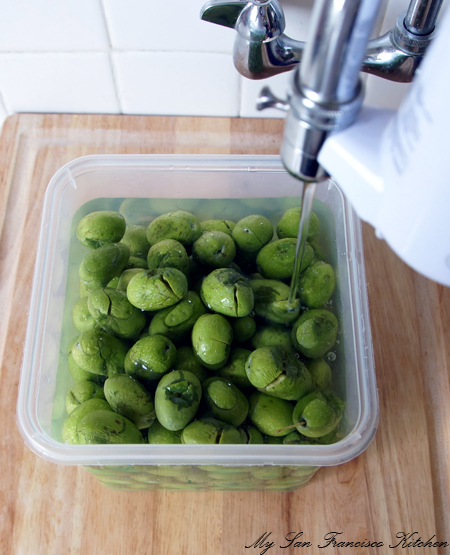 My husband LOVES olives, and although I have never attempted to cure my own olives at home, I decided to give it a try. Olives have many health benefits, including a high iron and fiber content. Right off the tree, olives taste pretty bitter. The curing process turns them into more eatable olives that you can use in countless recipes. Most of the olives in the US come from California, so you might see them around various farmers' markets if you live here. I got these wonderful fresh olives from Penna Gourmet Foods and started the curing process today. It will take several days and some patience until they are ready to eat, but I am excited to see the results! Check out their website for olives (usually available mid-Sept depending on the weather) and curing instructions because they offer a few different ways to do it.
How to Cure Fresh Olives: Mediterranean Style!
Ingredients
2.5 lbs fresh green olives
¾ cup 5% distilled or wine vinegar
3¼ cup water for brine solution, plus more for daily changing
5 tbsp salt
Spices
Instructions
Wash olives.
Crack each olive open with a hammer and place in an airtight container.
Fill container up with water, making sure all olives are submerged.
Change water daily for 10 days.
On day 11, prepare your brine solution by mixing vinegar, water and salt together.
Add brine solution to drained olives, and add your favorite spices as desired. Remember, spices take up to 3 days to absorb so start slow!
This sponsorship is brought to you by Penna Gourmet Foods who we have partnered with for this promotion.