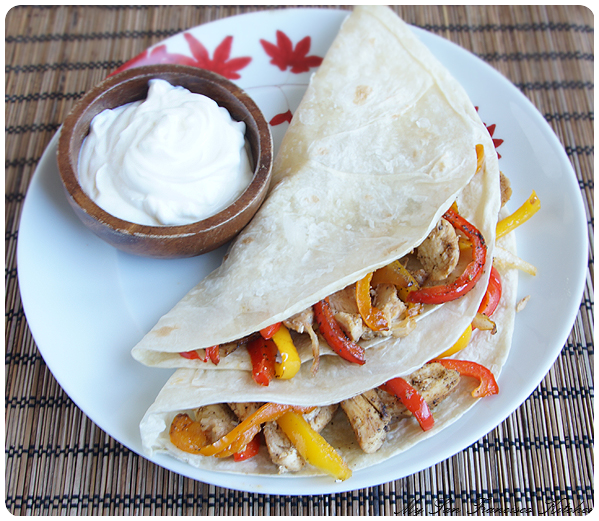 Home sweet home! Fabi and I got back to San Francisco today from our vacation (more on that later). After many nights of eating camping food, I was craving a home-cooked meal really bad. These tequila chicken fajitas are really easy to make, and deliciously flavorful! This is one of my favorite chicken marinades for fajitas, and the most fun 😉 I don't have a grill, but using a skillet will work just fine, or a George Foreman grill. Tequila chicken fajitas are a great dish to cook with friends during a Mexican Food Night! Try my guacamole and salsa recipes to go along with them. Sometimes I like to add a little cheddar cheese inside too, even though that makes it more like a quesadilla than a fajita. What is your favorite fajita recipe?

Tequila Chicken Fajitas
Ingredients
Marinade
3 tbsp olive oil
1½ tbsp ground cumin
1 garlic clove, minced
¼ tsp freshly ground black pepper
⅛ tsp cayenne pepper (use less if you don't like spicy!)
¼ tsp salt
2 tbsp fresh cilantro leaves, chopped
Fajitas
2 large boneless, skinless chicken breasts
1 ounce of your favorite tequila
½ red bell pepper
½ yellow bell pepper
½ orange bell pepper
½ yellow onion
Vegetable oil for frying
Flour tortillas
Instructions
Preheat oven to 400 degrees F.
In a mixing bowl, add all marinade ingredients above and whisk with a fork until well blended.
Slice the two chicken breasts in half, and submerge in the marinade, using a brush if needed. Feel free to add a little tequila here, but later you will use it to brown the chicken so it is not necessary just yet. Set aside.
Wash and slice bell peppers in thin strips, and onion into thin strips.
Heat 1 tbsp vegetable oil in a large skillet over medium heat and add bell pepper and onion strips. Turn heat to low, and simmer while stirring occasionally until onions are translucent and bell peppers are soft. Careful not to burn!
In another large skillet, heat a few tablespoons of vegetable oil over medium-high heat.
Place the marinated chicken breasts in the hot oil for about 1 minute and drizzle tequila over them.
Turn over and brown the other side for no more than 1 minute.
Transfer chicken breasts to a baking pan and bake in oven for about 10-15 minutes (juices should run clear). Alternatively, you can grill chicken breasts on a grill or George Foreman grill.
Slice chicken breasts into strips and add back into bell pepper and onion skillet, tossing everything together.
In a clean skillet, warm a flour tortilla over low heat and add fajita mixture and cheese.
Serve warm with sour cream, salsa, and guacamole.
I know it seems like I have disappeared the last 2 weeks, but I totally felt that way too during our vacation and it was kind of nice! No cell phones, no internet, no hair straightener (ok, well for MOST of the trip) – just beautiful countryside and clear views of the stars every night like I have never seen. We took a road trip through beautiful Utah and saw many national parks that I have always wanted to see. We took so many pictures, and its hard to choose just one from each place we visited, but I thought I would post one for each day of our trip.
Day #1: Yosemite {Dog Lake in Tuolumne Meadows, one of our hiking destinations}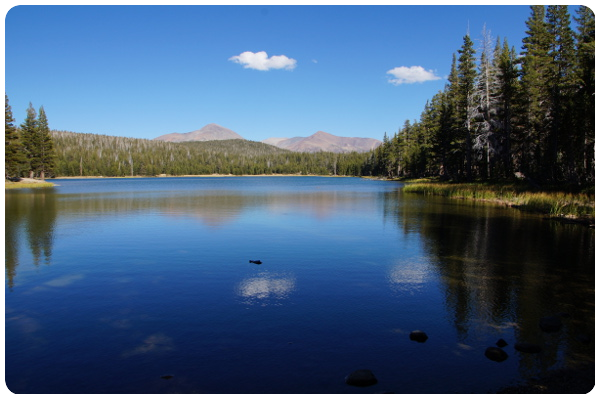 This post is sponsored by: