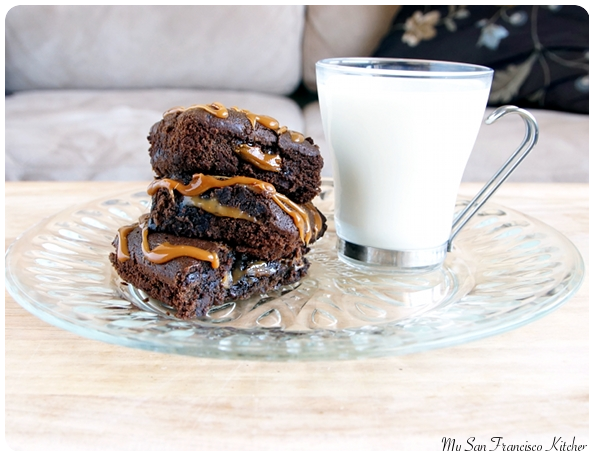 What is everyone up to this weekend? Today I made these gooey caramel brownies from scratch because I still had some caramel left over from these turtle cookies I made a few weeks ago. I have been trying to stick to a healthier diet, which unfortunately includes very little sweets (cookies, brownies, cupcakes, donuts) – which I LOVE. Ever since I have been eating a more vegetarian type of diet with less sweets, I lost some weight. OK, the  wedding stress probably had something to do with the weight loss too. I also unintentionally lost a few more pounds during our trip (12 days of hiking and camping food), so I figured it wouldn't hurt to splurge a little bit this weekend. After a few of these caramel brownies, I'm definitely going to the gym tonight. I haven't had so much sugar in so long, after eating the brownies my body went into shock! But wow these are good.
Its almost been 2 months since our wedding, and I still haven't been able to change my name! The LA county clerk's office is incredibly slow, but I finally got my marriage certificate and can take it to social security next week. My new name has been causing so many problems! I booked our hotel in Vegas last week under my new last name, forgetting that my ID still has my old last name. After a small altercation with the hotel manager he finally agreed to let it slide…phew! Driving almost 6 hours from the grand canyon and almost not being able to check in to our room was so frustrating. I'm glad it worked out in the end, and hopefully I can start using my new name soon!
What's your favorite brownie? Its hard for me to choose! Check out my recipes for slutty brownies, classic fudge brownies and peanut butter brownie cups.

Caramel Brownies
Ingredients
6 tbsp (3/4 stick) unsalted butter
¾ cup white sugar
2 large eggs
½ cup unsweetened cocoa powder
½ tsp salt
½ tsp baking powder
Pinch baking soda
½ tbsp vanilla extract
¾ cup unbleached all-purpose flour
¼ cup semisweet chocolate chips
Caramel squares
Instructions
Preheat oven to 350 F.
In medium bowl, add cocoa, eggs, salt, baking powder, baking soda and vanilla and whisk until all blended and smooth. Add chocolate chips on top, but do not stir in yet.
In a separate small bowl, microwave butter until melted (30 seconds). Add sugar, and microwave again for 30 seconds.
Pour over chocolate chips and whisk until blended. Its ok if not all are melted.
Stir in flour.
Use a spatula to transfer half of the batter to an 8x8 (or smaller) baking pan.
Cut caramel squares in half and evenly distribute over batter.
Top with the other half of the batter and smooth out with a spatula.
Let cool before cutting.
Melt a few caramel squares in the microwave or saucepan and drizzle over the brownies before cutting.
Enjoy warm or cold with a glass of milk.
Makes 6 thick brownies if you use a smaller pan, or 9 flatter brownies in 8x8.
Here is a photo from day 2 of our vacation!
Day #2: Cathedral Gorge State Park in Nevada {Really cool narrow caves you can walk through}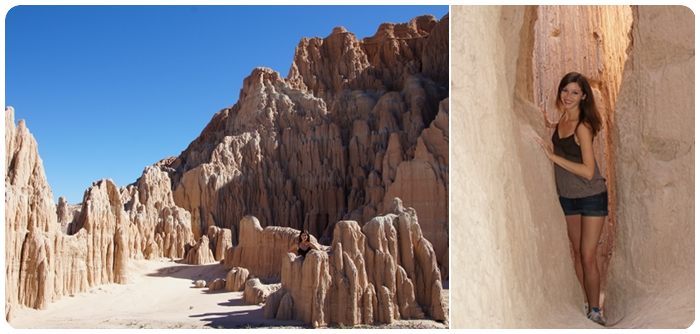 This post is sponsored by: