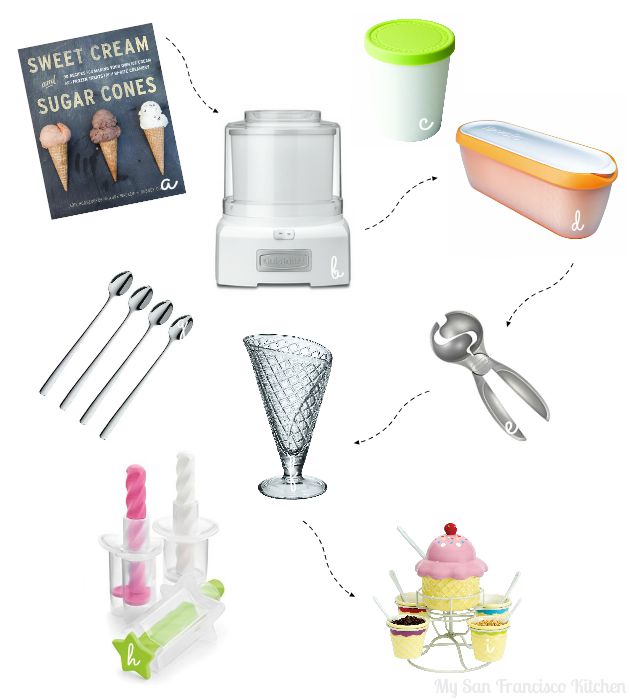 Happy Saturday everyone! Today's post is the first in my brand new series, "Trendy Kitchen," where I will be featuring my favorite products in relation to various cooking topics every week! Not only do I love to bake and cook, I love to shop. I am always searching for the coolest and most useful new gadgets for my kitchen, and staying on top of reviews to determine the best quality products out there. For each weekly topic, I will seek out products that are affordable, high quality, and stylish to share with you. I hope you find this new series fun and inspirational for your own kitchen!
So let's get to it! Ice cream parties aren't just for kids. During the summer months, they make a great social gathering idea for adults and kids alike! Do you remember your last ice cream party? Mine was back in college (eek it has been a while since then). A few times a month, my friends and I would have "sundae night" where we would pick a few of our favorite ice cream flavors and line up the toppings. Those sundae nights are some of my favorite memories now.
Here are a few products you will need to throw your own ice cream party. Remember, you can skip making the ice cream at home (a, b & c) and get straight to it with your favorite brand of ice cream and some toppings. For those of you who want to go the extra mile, I included my favorite ice cream recipe book from a very popular ice cream shop here in San Francisco, Bi-Rite Creamery, and what I think is the best affordable ice cream maker on the market. Don't forget the containers!
a. Sweet Cream and Sugar Cones: 90 Recipes for Making Your Own Ice Cream and Frozen Treats from Bi-Rite Creamery
A guide to making 90 flavorful handmade ice creams from Bi-Rite Creamery, including the smash hits Salted Caramel and Balsamic Strawberry.
b. Cuisinart ICE-21 Ice Cream & Sorbet Maker
BPA free ice cream maker that creates your favorite treats in 20 minutes or less. It makes up to 1.5 quarts and has a 3 year warranty. It comes in white or red.
c,d. Tovolo Sweet Treats Tub
& Tovolo Glide-A-Scoop Ice Cream Tub
Store your frozen creations with a 1 quart or 1.5 quart tub.
e. Good Cook Smart Scoop Ice Cream Scoop
I have gone through many scoops, and this is my favorite. The non-stick coating gives a perfect scoop when you open it up every time. Ice cream scooper…check!
f. Bormioli Rocco Gelato Dessert Bowls
These dessert bowls are perfect for your ice cream party with their fancy waffle design. Who needs to go through the trouble of making real waffles when you can eat your ice cream in a fancy waffle cone bowl?
g. WMF Manaos Bistro Ice Cream Spoon
No ice cream party is complete without bistro spoons. Their long shape is sleek, and goes perfectly with the waffle cone bowls above!
h. Cuisipro Mini Ice Cream Sandwich Maker
Add some fun by allowing your guests to make their own ice cream sandwiches! These mini ice cream sandwich makers come in three different shapes: a heart, star and circle.
i. Boston Warehouse Ice Cream Social Topping Spinner Set
Every ice cream party needs toppings, lots and lots of toppings! Serve them in style with this cute social topping spinner set. Some toppings you can serve include nuts, chocolate chips, sprinkles, marshmallows, brownie crumbs, cereals, fruits, and syrups.
FTC disclosure: Some links above may be affiliate links. If you choose to purchase these products, I will receive some of the profits. I have chosen to feature these products out of my own will, and all opinions on these products are my own. I am not being provided with compensation for featuring them in this post beyond the affiliate profits.