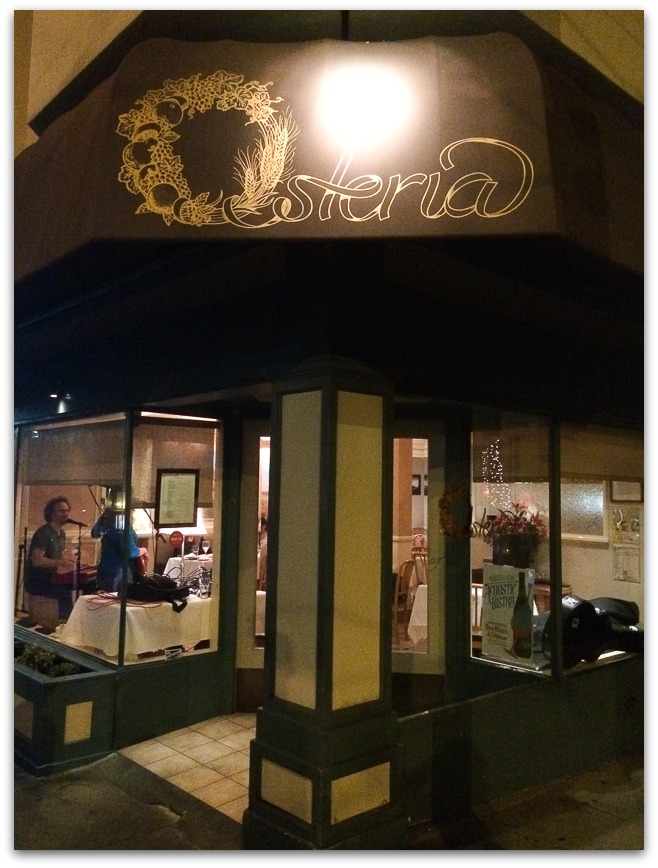 The other day, I was thinking about how I could change the blog up a little, and I remembered all of the emails I get each month asking for recommendations on where to eat when visiting San Francisco. I love this question, because it is one of the hardest I have ever been asked. There are just too many good spots in the city, and narrowing it down for one weekend is pretty tough. As a student, I tried to save money and we rarely went out to eat. I also love cooking so much, and had fresh food in the fridge most of the time. The past few months, we have been starting to explore the dining scene in the city a little more than usual, so I decided to start a new "mini blog" on this site called San Francisco Eats. Some of the restaurants will be places I frequent, and others new experiences for me. I can't wait to share them with you, so you can discover the many restaurants of San Francisco!
My first restaurant post is on Osteria, which is a quaint Italian restaurant in the Presidio Heights neighborhood of San Francisco. Fabi and I went to eat there the other night for our 2 year anniversary, since we have passed by before and always wanted to check it out. At night, the surrounding neighborhood is dark and the lights inside make it look so warm and inviting. In Italy, an "osteria" is place that serves simple food and wine – which basically described this restaurant well.
On Monday nights, they have live music from 7-10pm. Although we enjoyed the music, the couple next to us left after only 5 minutes because they complained it was "too loud". If you are looking for a more quiet dining experience, go on any other night except Monday.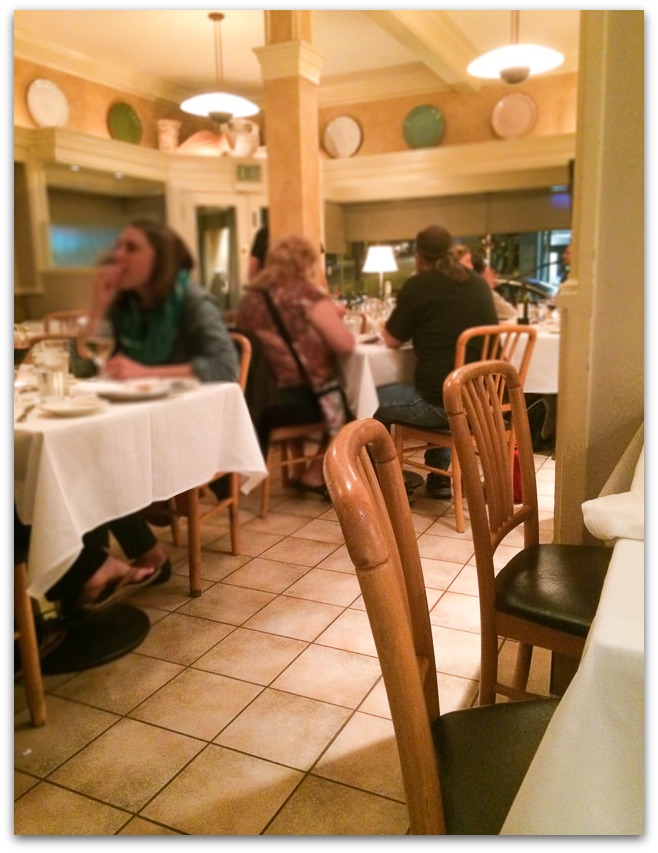 As soon as we arrived, the waiter showed us to our table and was very friendly. We were immediately brought olive oil, a baguette and ice waters. The appetizers were a little pricey, so we decided to skip them and go for the main course. Their menu had a good mix of salads, pasta dishes and Italian chicken and sea food dishes. I felt the prices were good, between $10-$20 for most dishes. I took the gnocchi, which was offered as pomodoro (tomatoes and basil) or gorgonzola (cream sauce and pine nuts). The waiter could tell I was having trouble decided between the two options, and offered to do "half-half" – how nice! I got to try both, and I found the pomodoro to be more flavorful than the gorgonzola. However, both were delicious.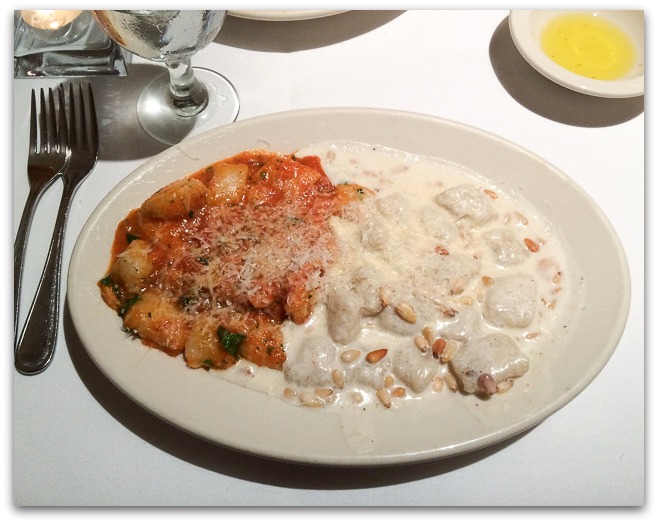 Fabi took the special of the day, which was a pasta with tomato cream sauce, sun-dried tomatoes, and salmon. I really liked his dish, too! The salmon was cooked PERFECTLY.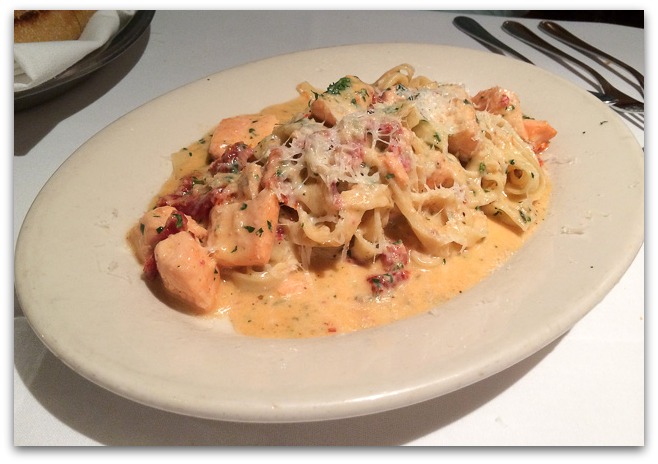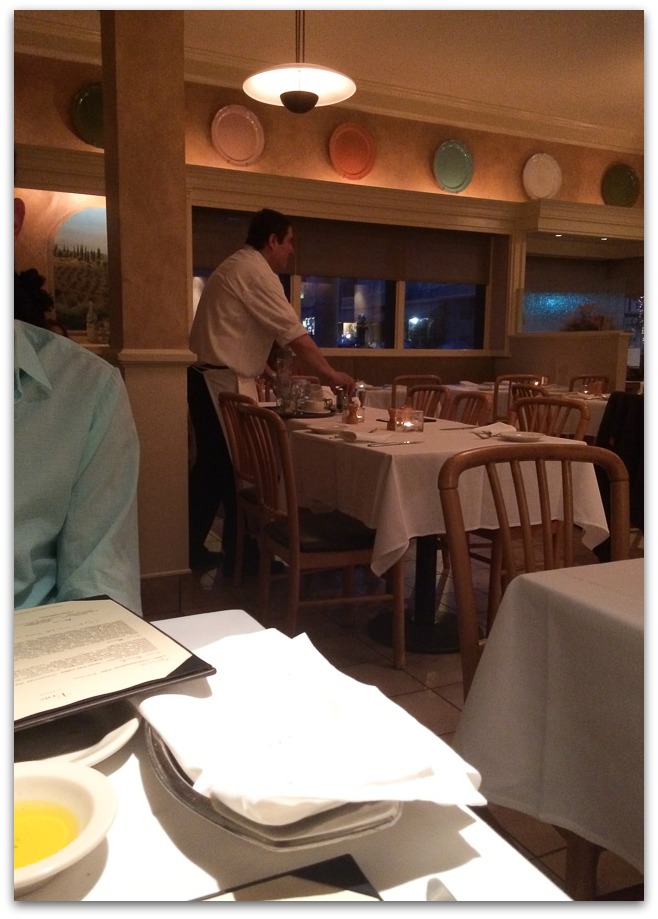 I can't comment on the wine since we both did not have a glass, but they had a large selection. The wines did seem a little pricey per glass to me. The atmosphere was great, especially with the live music (which was a tad bit loud, so you could not have a good conversation with your date, but fun to listen too). We had a very nice dinner here!
Stay tuned for our next dining adventure 🙂