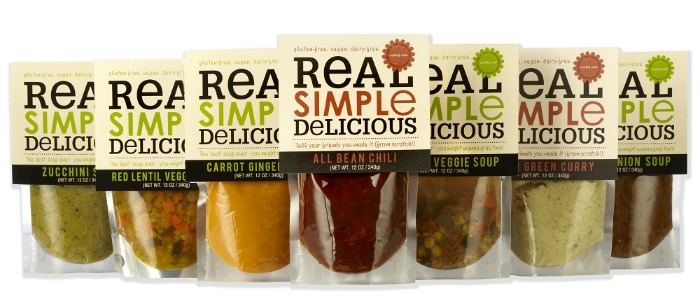 Remember how I went to the Annual Food Buzz Food Blogger Festival in San Francisco a few weeks ago? At the Taste Pavilion event I had the pleasure to try a few different soups from a local company, Cook! SF. They were so nice to send me a few of their flavors to try at home, and I am so excited to share their delicious soups with you from their soup line,  "Real Simple Delicious". Cook! SF has created soups that taste homemade, and the great thing is that you can actually recognize ALL of the ingredients on the label. They use fresh ingredients with no artificial additives. All of the soups are vegan, organic and gluten & dairy-free. Sometimes as a student it is hard for me to cook every single meal every day, but at the same time I can rarely find healthy packaged foods at the grocery store. This is why I am so excited to share their soups with you today!
When I received my soups, they were all still frozen and I was able to easily store them in my freezer until I was ready to eat them. I got to try the Zucchini, Thai Green Curry, and Red Lentil soups. My favorite is their Zucchini soup – I just love the flavor so much! Here are my thoughts on the three flavors I tried.
Zucchini Soup
This one was my favorite. When you think of zucchini, you usually think of a bland flavor, but this soup had a kick to it, which I loved! I later found out this is due to the poblano chile they add to it – yum. I usually can't tolerate spicy foods, but this soup wasn't too spicy for me. This would go great for lunch or dinner with a side of bread.
Thai Green Curry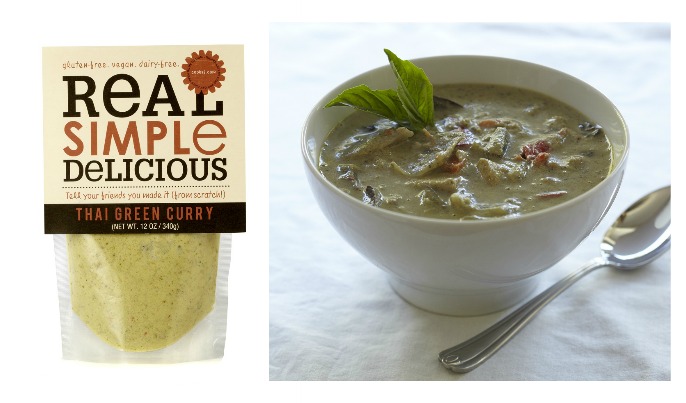 I really liked the texture of this one – it is packed with chunky veggies, such as mushrooms, eggplant, carrots, cauliflower, and onions. Everything tasted really fresh, like I had just made it myself. It already has tofu in it, but I simmered it with some chicken and served it over jasmine rice. I was surprised at how fast dinner came together when I didn't have to chop all of the vegetables and make the green curry from scratch myself 😉
Red Lentil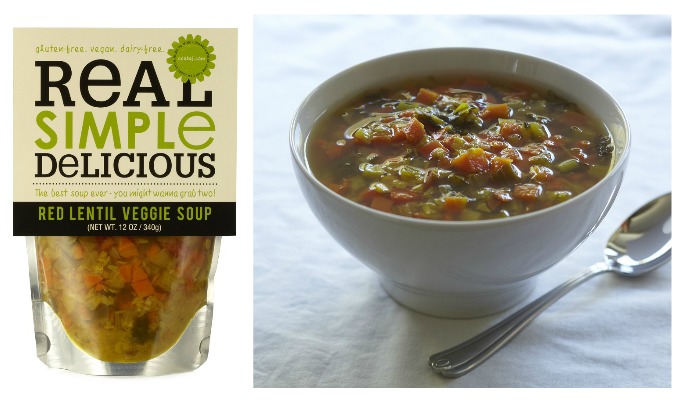 When I first opened this soup, I was confused because the name says "Red Lentil," but the lentils were yellow-brown! This soup ran a close second to my favorite, the zucchini soup, because it really reminded me of my grandma's homemade lentil soup. She would freeze them and send them with me back to college when I came home to visit for the weekend, and they would be a lifesaver during exam week. Now I live farther away, so I don't get to see her as often and have those delicious homemade lentil soups. When I tried the Real Simple Delicious Red Lentil soup, it was like I was having my grandma's soup again. It tastes very fresh, and what I loved most about this soup is that it is incredibly low in sodium! I still can't figure out how it has so much flavor, yet very little sodium. It must be all of those delicious herbs, spices, and garlic – yum!
You can find Cook! SF Real Simple Delicious soups at Whole Foods and a few other stores. See their website for more information!
Find Cook! SF Real Simple Delicious on Facebook and check out their blog.
Disclaimer: I did not receive any form of payment for the review of this product. All opinions are my own.