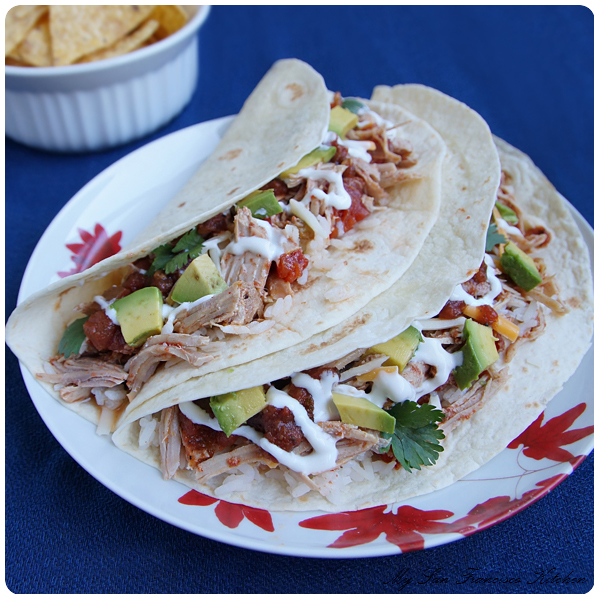 Aren't Fridays wonderful? The end of a long, productive week and the start of a relaxing weekend! Since it's Friday, I declared tonight "Mexican Night!" Growing up my family would have Mexican Night, usually on Friday nights, where my mom would make an incredible slow-cooked meat (chicken, beef, or pork), and put out every condiment you could ever want for toppings. We would gather around in the kitchen and make our own fajitas, tacos, or burritos. As you know, I LOVE LOVE LOVE Mexican food, and its really hard for me to pick just one dish to be my all-time favorite. If I had to choose, though, these slow-cooked pork tacos would be pretty high up on my list! The pork is so tender and flavorful after cooking in the crockpot, and it goes really well with salsa, sour cream and guacamole to make a complete Mexican dish. I like to serve them with a side of black beans and Mexican rice…MMM MMM! The best thing is that they are quick and easy to make-just toss the pork and seasonings in a crock pot and let it do the work for you until you are ready to throw those tacos together for dinner. These are really great for those long, busy days where you just don't feel like spending too much time in the kitchen, but still need to feed your hungry husband/kids (or yourself, of course!!).
What are you doing this weekend? Tonight we are going to see Skyfall, and if the weather is nice we plan to take a bike trip over the golden gate bridge and have a picnic somewhere. I just love Marin county, there are so many incredible views and it just has this "outdoorsy" spirit about it! San Francisco is a very fit city (you see people walking, running and biking pretty much anywhere you go in the city), but Marin county offers more hiking and longer bike tours. I'll let you know how it goes!
Have a great weekend <3

Slow-Cooked Pork Tacos
Ingredients
1 boneless pork sirloin roast (~2 lbs)
½ cup water
1 yellow onion, chopped
1 can Mexican stewed tomatoes
2 tbsp lime juice
2 garlic cloves, minced
1 tsp cumin
1 tsp chili powder
⅛ tsp cayenne pepper
½ tsp salt
Flour tortillas
Optional: shredded Mexican cheese blend, avocado, salsa, sour cream, guacamole, fresh cilantro
Instructions
Slice the pork sirloin into four pieces and add to a large crockpot.
Add all remaining ingredients and set to "high."
Cook for 4 hours, until pork is easily shredded with two forks.
Transfer the meat to a large plate and shred with two forks.
Add to the center of a warmed flour tortilla and top with you favorite toppings (see ideas above).
This post is sponsored by: