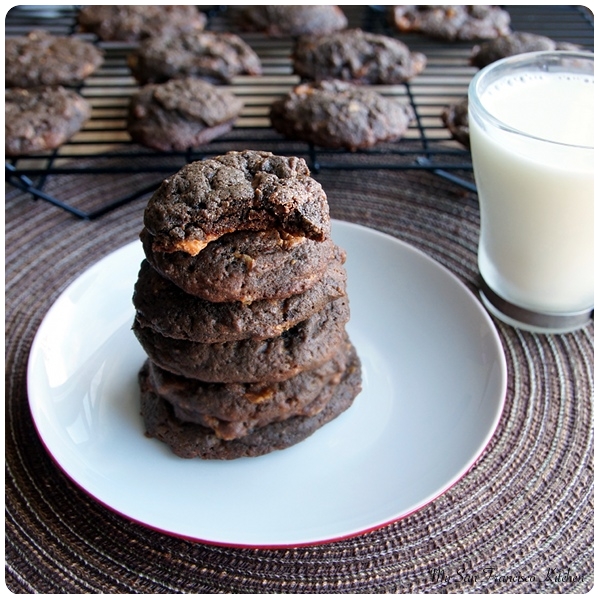 If you are like me, your Halloween candy was gone in 3 days… However, I did save a king-size Butterfinger because I was craving some of these chocolate Butterfinger cookies! These chewy chocolate cookies are filled with crispy Butterfinger chunks in every bite. Yes, I am completely aware that by adding a candy bar to the cookies they become twice as fattening, but these are too good to resist! I have to save them for either 1) Bad days as my comfort food (they truly are the perfect remedy!) or 2) A reward for an extra challenging workout! I only make half a batch (otherwise I would eat them all myself over a few days!), but you can double it to make more – you just need 2 king size Butterfinger bars instead of one, and double the rest of the ingredients below.
Sooo our bike trip did not happen this weekend. It has been SO cold in San Francisco the past few days. My husband says I am a "spoiled California girl" (it gets much colder in Germany), and that this is just "mild" weather. To me, it's just FREEZING. We did go on a really nice run last night down to Crissy Field, almost all the way to the Golden Gate Bridge! It was my longest run, ever…as in, my entire life. We ran just over 6 miles. When I first started running after high school, I could not even run more than 6 minutes on the treadmill. If you told me back then I would run 6 miles for an hour a few years ago, I would have laughed and said you must be talking about someone else. I am living proof that anyone can train to run as long as they want to with dedication. These small accomplishments feel so great, and I can't wait to finish the Half Marathon!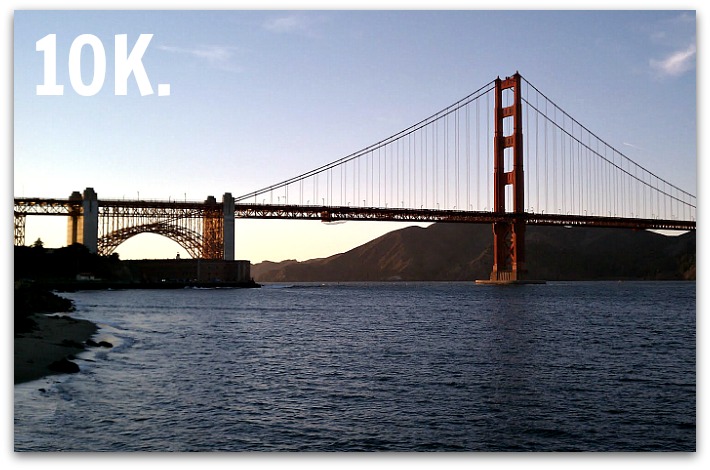 Chocolate Butterfinger Cookies
Ingredients
½ cup butter (1 stick), room temperature
½ cup white sugar
1 egg
1 tsp vanilla
1 cups all-purpose flour
⅓ cup unsweetened cocoa powder
¼ tsp baking soda
⅛ tsp salt
1 king-size Butterfinger bar
Instructions
Preheat oven to 350° F (175° C).
In a standalone mixer (can also use electric beaters), beat the room temperature butter, sugar, eggs, and vanilla until creamed together with paddle attachment.
In a separate bowl, whisk together the flour, cocoa, baking soda, and salt.
Add flour/cocoa/baking soda/salt mixture a little at a time into butter/sugar/eggs/vanilla mixture by beating at low speed until well blended.
Crush the Butterfinger bar with the bottom of a butterknife into chunky pieces.
Using a teaspoon or cookie batter scooper, drop rounded batter onto cookie sheets, leaving an inch around each cookie drop.
Place into oven and bake for 8-10 minutes. Do not over-bake or cookies will be hard.
Let cool 2 minutes or more before transferring to a cooling rack to avoid the cookies falling apart.
Makes 16 cookies
This post is sponsored by: