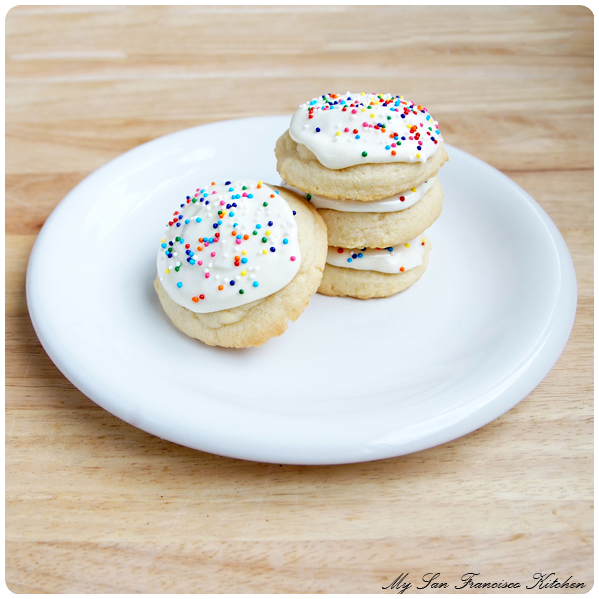 Sugar cookies!! These sugar cookies have to be my all-time favorite kind of cookie. They are thick, buttery, soft, chewy…amazing. They are really fun to make because you can decorate them with any frosting and sprinkles you want. This time I made them with cream cheese frosting, but I love making them with my vanilla frosting recipe as well. Unlike traditional sugar cookies, the dough for these does not need to be refrigerated. Don't you hate waiting hours for the dough to be chilled? Also, these guys are super soft and fluffy…I personally like that better than thin, hard sugar cookies. Instead of frosting them, you can also roll the balls of dough in sugar before baking. I hope you love this recipe as much as I do! XoXo

Soft Sugar Cookies
Ingredients
⅓ cup shortening
⅓ cup unsalted butter, room temperature
¾ cup white sugar
1 egg
1 tsp vanilla extract
1 and ¾ cups all-purpose flour
1 tsp baking powder
½ tsp salt
Frosting & sprinkles for decorating
Instructions
Preheat oven to 350 degrees F.
Cream together shortening, butter and sugar in a standalone mixer or bowl with electric beaters.
Add vanilla and egg and continue mixing on low for 1 minute.
In a separate bowl, whisk together salt, baking powder and flour.
Gradually add flour mixture while continuing to mix on low until everything is well blended.

Use a cookie scooper or teaspoon to scoop out round balls of dough and drop onto an ungreased cookie sheet.

Bake for about 10 minutes - use your finger to check if they are done by pressing lightly on a cookie, it should be a little firm when done.
Cool completely before frosting and decorating.

Makes 24 cookies
Here is a photo from day 6 of me and Fabi's vacation to the National Parks!
Day #6: Lake Powell {Horseshoe Bend}