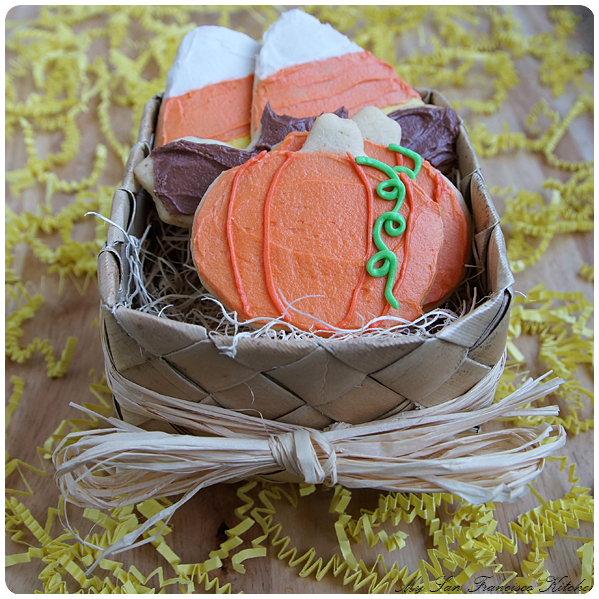 Halloween is one week away! Today was my day off, but instead of using it to study I made these Halloween sugar cookies. Yesterday I had a midterm for pharmacology & pharmaceutical chemistry, so I kind of needed a mini vacation from school. I love that we have Tuesdays off this quarter, because right after Mondays it feels like it is the weekend again =) Back to the grind tomorrow *sigh*. At least I can bring some of these delicious sugar cookies to get me through the day! This sugar cookie recipe has been in my family a long time, and my mom and I would always make them for every holiday. Here is a really helpful tip when rolling out the sugar cookie dough: Flour is your friend. Use lots of flour! You can get really creative with how you decorate them, and if you don't like using a lot of frosting you can also drizzle ganache over them – YUM. I haven't been able to get back down to socal to see my family in forever!! I miss them 🙁
OK, so tell me, what are your plans for Halloween and what costume will you be wearing? I didn't get a costume this year, but maybe somebody can inspire me to dress up =)

Halloween Sugar Cookies
Ingredients
Cookies
1 cup all-purpose flour
6 tbsp unsalted butter
⅓ cup granulated sugar
⅛ tsp salt
1 egg
½ tsp vanilla
Frosting
1cup confectioners' sugar
2 tbsp shortening
2½ tbsp milk
½ tsp vanilla
Food coloring
Instructions
Cream butter, salt and sugar in a standalone mixer with paddle attachment on medium speed.
Add vanilla and egg and blend.
Add flour, and use a spatula to help scrape the dough from the sides while mixing on low until everything is well blended and fluffy.
With floured hands, gather dough into a flattened ball and wrap in wax paper.
Refrigerate for at least 1 hour.
Preheat oven to 325 ºF.
Roll chilled dough onto a floured surface with a floured rolling pin ¼ inch thick.
Cut out Halloween shapes with floured cookie cutters, and quickly transfer to an ungreased baking sheet using a spatula or peel off carefully with your fingers.
Sprinkle baking decorations on top if desired.
Transfer to a wire cooling rack and let cool 1 hour before frosting.
Frosting
Mix confectioners' sugar, shortening, milk, and vanilla with a hand mixer on medium speed or standalone mixer with whisk attachment until well blended. Separate into different bowls and stir in a few drops of food coloring as desired.
Makes 18 cookies
This post is sponsored by: