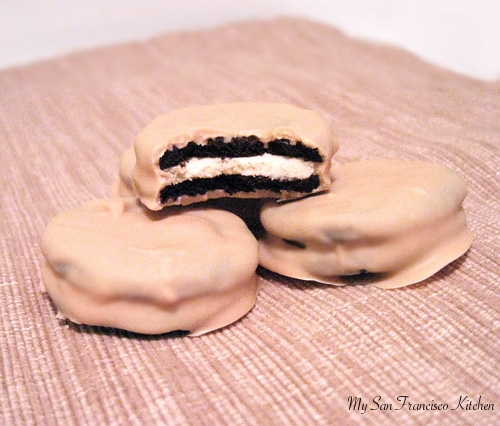 After a long day studying and working, I couldn't wait to wind down in the kitchen. This may be weird to some, as working in the kitchen is probably the last place some people would want to be after a long day. Being in the kitchen takes my mind off of all of the other things going on right now with school and work, so I find it really relaxing! Sometimes I randomly have really weird cravings…today at work I was craving white chocolate dipped oreos, which I haven't had since I was like 12! I just so happened to have white chocolate laying around, and since I am not a huge fan of it I decided to coat some Trader Joe's "oreo imitation cookies" called Joe-Joe's (I can't tell the difference!) in melted white chocolate…yummmm. The best part is that if you have a Little Dipper or a fondue pot, melting the chocolate is really easy and they freeze in 5-10 minutes so it makes a really quick snack or dessert when you don't feel like spending a lot of time in the kitchen.

White Chocolate Dipped Oreo™ Cookies
Ingredients
8 Oreo cookies
1½ cups white chocolate (chips or bar pieces)
Instructions
Melt white chocolate pieces in a Little Dipper, fondue pot, or microwave in small increments until melted.
Using a spoon, spoon melted chocolate over the oreos until fully covered.
Place on a piece of wax paper.
Place in freezer. For best results, let freeze at least 30 minutes before serving.
Get your own Little Dipper! They are really great for melting chocolate (believe me, I have burned chocolate many times while trying to melt it :()
This post is sponsored by: