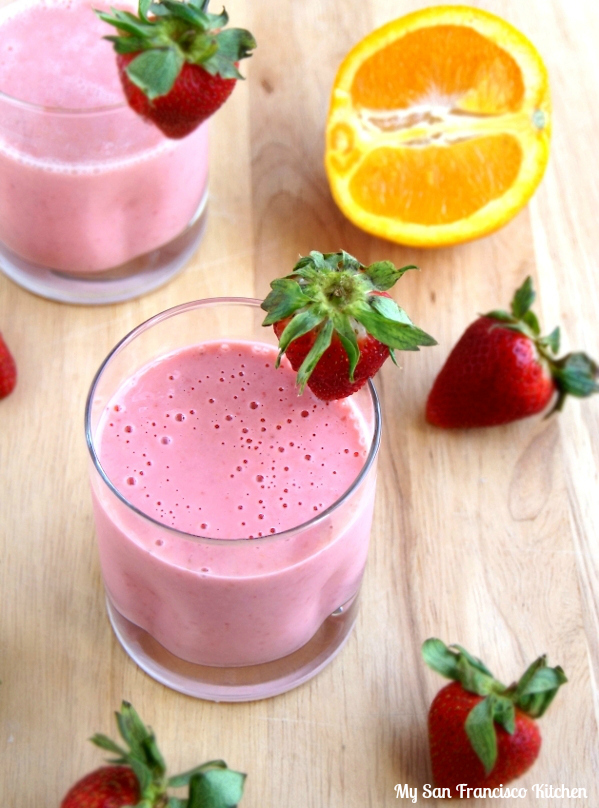 The other night after work, Fabi brought me home a HUGE pack of fresh organic strawberries he picked up on his way home. I have mentioned on here a million times that strawberries are my favorite fruit, so I was ecstatic to see a huge box of fresh strawberries come through the door! After a few days, I realized the box was a little too big for the two of us to finish within a few days before they go bad, so it became a challenge to find ways to use them up towards the end. Today I used some to make this fresh strawberry orange smoothie. This smoothie recipe reminds me of this smoothie place in the mall we had growing up, and my mom, brother and I would always get a strawberry smoothie. I could always tell there was oranges inside, and I loved the taste. They are so good! This strawberry orange smoothie is the perfect breakfast to start your day, since it is light and won't weigh you down and make you sluggish.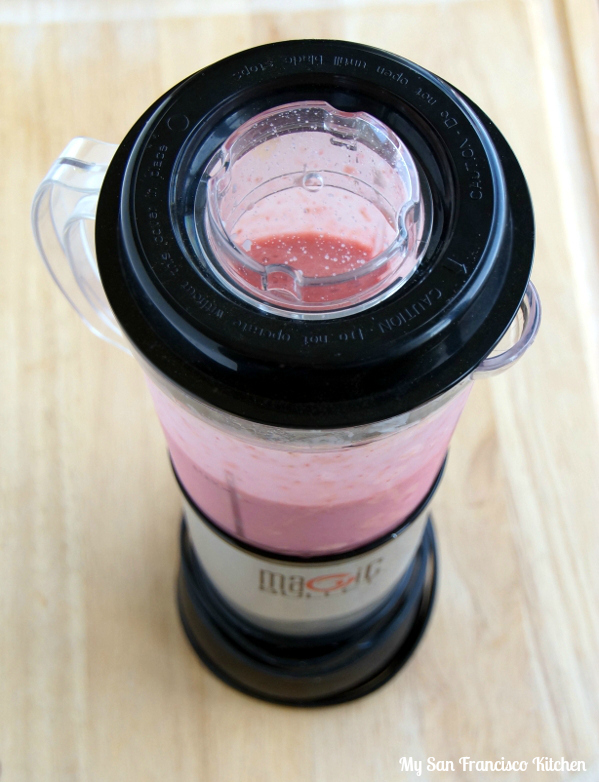 Strawberry Orange Dream Smoothie
Ingredients
½ cup plain, non-fat Greek yogurt
¼ cup organic soy milk
¼ cup orange juice
½ cup fresh organic strawberries, hulled
½ cup frozen organic strawberries
½ orange, peeled
1 tsp honey
Instructions
Place all ingredients in a blender and blend until everything is chopped up and smooth.
Makes 2 smoothies
Did you know that April is national soy foods month (http://bit.ly/13Vm8jV)? I recently started incorporating more soy products into my diet since I went more vegetarian (not fully there yet…). I still LOVE the texture of Greek yogurt in my smoothies, so I haven't completely let that go yet. Instead of using milk, I use soy milk now. Soy foods are packed with protein and fiber, and are a tasty way to reduce calories, saturated fat and maintain a healthy weight.  Many soy products like veggie burgers cook and thaw faster than traditional meat sources so that means more time and convenience—who couldn't use more of both? 😉
If you want to learn more about soy foods, here is a message from SANA:
The Soyfoods Association of North America (SANA) provides information about the health benefits and nutritional advantages of soy. SANA offers fun recipes and convenient ways to incorporate soy into meals for everyone – from athletes to families. SANA is dedicated to spreading the word about soy, especially during National Soyfoods Month in April!
This sponsorship is brought to you by the Soyfoods Association who we have partnered with for this promotion.