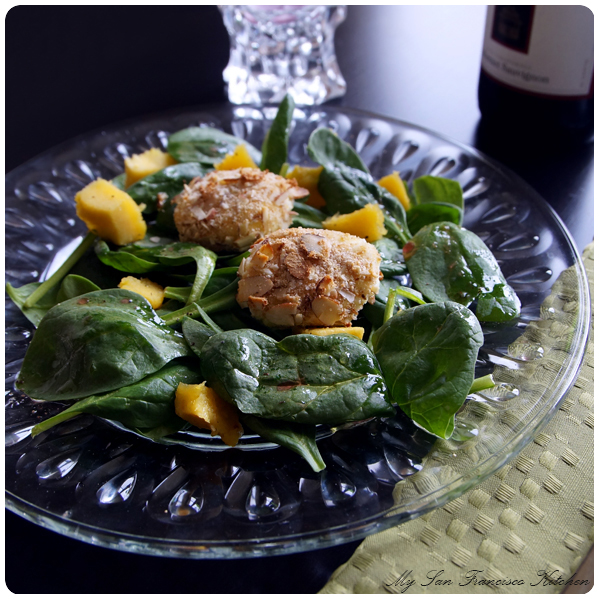 Happy Friday everyone!! Lately I have been experimenting with new salad recipes (the possibilities are endless!), and I decided to try a copycat version of a salad I tried at a gourmet restaurant recently – an almond crusted goat cheese spinach salad with sweet dumpling squash. I would have liked to try it with butternut squash, but I had this cute little sweet dumpling squash in my table centerpiece for weeks and I have been trying to figure out how to use him! The flavors actually went together very well, and I loved how this salad turned out. It is easier to make these almond crusted goat cheese balls than you might think! I was scared they would melt/explode/etc. in the toaster oven, but they came out PERFECT. I think the freezing beforehand part is crucial to doing it right. For the dressing, I would recommend a champagne vinaigrette, but since I didn't have any on hand I just shook up some olive oil, red wine vinegar, Dijon mustard, salt, pepper and poppy seeds and it worked great as well! I think this salad adds a little touch of "gourmet" to your dinner menu.
This weekend Fabi & I are going to a Halloween party (still haven't figured out costumes…any DIY ideas out there??) and taking a day trip to Monterey. I just love it down there! It is supposed to be really nice so I am looking forward to a break from the rain and cold SF weather we have been having this week. What are your plans for Halloween weekend?
Be sure to check back Monday, I have a very exciting giveaway lined up for you all!
XoXo

Almond Crusted Goat Cheese Salad
Ingredients
1 small goat cheese log
1 egg
¼ cup flour
¼ cup slice almonds
¼ cup plain bread crumbs
Salt and pepper
1 sweet dumpling squash
Organic spinach salad
Champagne vinaigrette or dressing of choice
Instructions
On a plate, mix together sliced almonds, salt, pepper and bread crumbs. Use the bottom of a butterknife to crush the sliced almonds in smaller pieces.
In a small bowl, beat the egg and a tsp of water.
Slice the goat cheese log into small circles. If it falls apart, use your hands to mold into nice circles.
Coat the goat cheese circles in flour, then dip in the egg and coat with the sliced almond mixture, pressing good into the goat cheese so it sticks well.
Place onto a plate and put in the freezer for at least 30 minutes.
In the meantime, slice the dumpling squash in half and remove seeds and pulp.
Pierce the skin with a fork several times, and place cut-side down on a baking tray.
Bake at 350 degrees F for 40 minutes.
Slice into squares and toss with rinsed spinach salad and dressing.
After the goat cheese is done chilling, bake at 400 degrees F for about 5 minutes, keeping an eye on it - once it turns a golden brown or the cheese starts bubbling out a little bit, remove immediately and serve on top of the salad.
Makes 6 crusted goat cheese circles
This post is sponsored by: