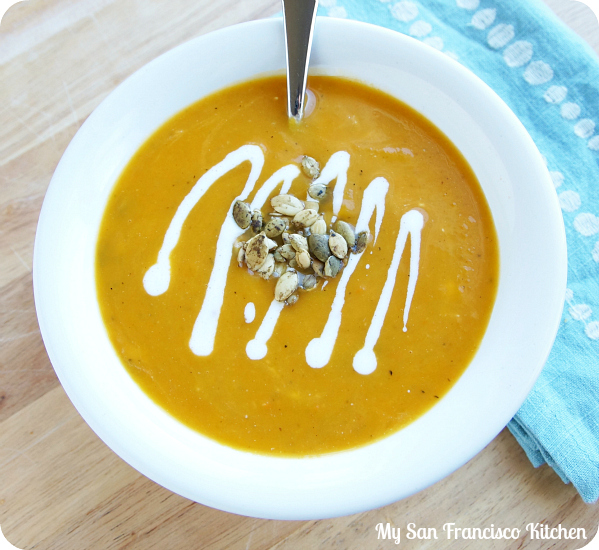 Homemade butternut squash soup made from scratch is one of my favorite winter soups to make and enjoy. The preparation is very easy if you can find already cubed butternut squash – I get mine from Trader Joes in the produce section. Butternut squash is also known as the winter squash, and it goes well in salads or as a side on its own, but my favorite way to use it is in this soup. I love how adding a little jalepeño gives this soup a nice flavorful kick to it, without making it too spicy. I used a little cream for the topping, along with smokey pumpkin seeds from NatureBox.
Are you guys ready for spring? I am!! I am getting tired of this chilly weather, and ready for more sun (I am as pale as a ghost!). Last night my husband and I went to a cooking class, which was a lot of fun!! I put a pic on Instagram, and took more of the food, but my phone hasn't been working so well lately and they seemed to have disappeared! I hope they show up again so I can post a few. We made chicken jambalaya, chicken tetrazzini, rolls, roasted garlic cauliflower, and a geniose cake – everything was so delicious!

Butternut Squash Soup
Ingredients
4½ cups cubed butternut squash (2 lbs)
2 tbsp olive oil
½ onion, chopped
2 garlic cloves, chopped
2 medium carrots, chopped
1 tbsp chopped jalapeño
½ tsp cumin
½ tsp black pepper
2½ cups chicken broth
¼ cup half-and-half
¼ cup NatureBox smokey pumpkin seeds, for topping (www.naturebox.com)
Instructions
Heat oil in a large pot over medium heat.
Add onions and garlic, and sauté for 7 minutes uncovered while stirring occasionally.
Add carrots, jalapeño and butternut squash and stir.
Add cumin and black pepper, then the chicken broth.
Cover and bring to a boil, then reduce the heat to medium and cook for 25 minutes.
Use an immersion blender to purée, or transfer to a blender then back to the pot.
Stir in half-and-half and serve immediately.
Top with smokey pumpkin seeds.