Until now, I haven't owned an iPad stand. Can you believe it? You would think that with all of the cooking I do in my kitchen I would have bought one a long time ago. A few years have gone by since I bought my iPad and still no iPad stand. I have spent thousands of hours in my kitchen with my iPad looking at recipes, somehow managing to fit it onto a not-so-ideal space in my kitchen. My iPad usually ends up on top of an empty dish drying rack or stashed on top of the refrigerator in between checking recipe instructions since I don't have anything to prop it up, and it usually always gets dirty. I am surprised it has survived so far.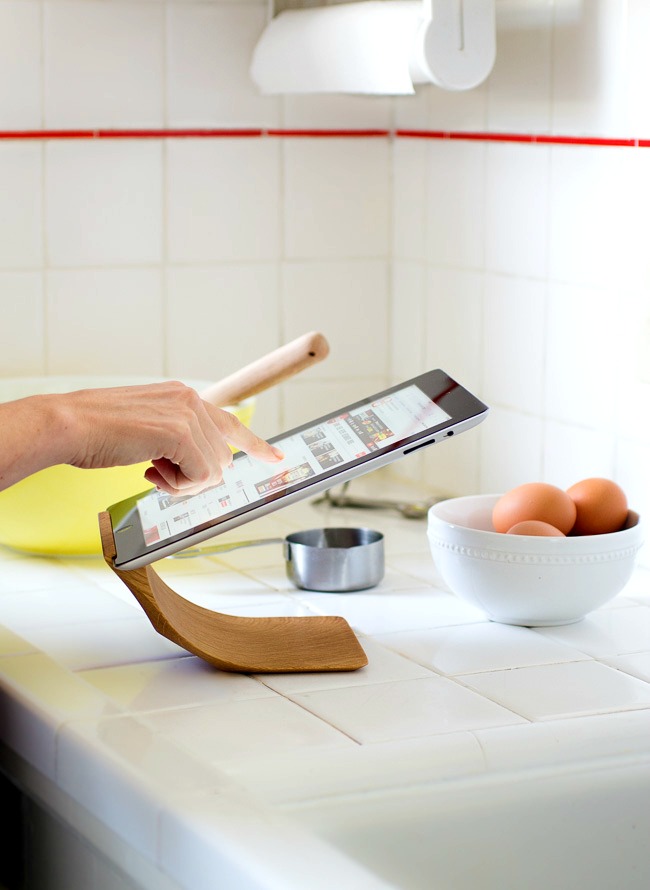 When looking for an iPad stand for my iPad, there are a few things I had in mind: minimalist design, yet stylish and highly functional on any surface. I also wanted one that was lightweight to carry around with me when I travel. It had to be small enough to fit in my kitchen, yet sturdy enough to handle browsing through recipes while I am cooking.
The Yohann iPad stand, designed by Berend Frenzel in Switzerland, is everything I dreamed of in an iPad stand. The sleek design adds a modern touch to my kitchen, and it is stripped of everything bulky and unnecessary for an iPad stand to be functional. Yohann iPad stands are made of high quality materials, and comes in either wood (cherry, maple, oak, or walnut) or lacquer (black or white). The wood is grown from sustainably grown regional trees.
I chose the oak (photo below) version, and I love how the natural wood look adds a warm touch to my kitchen.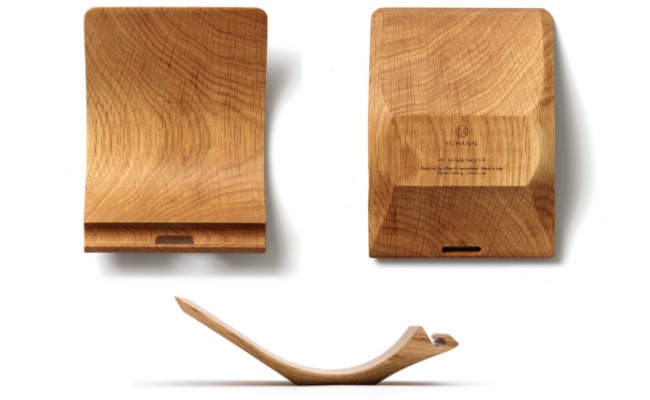 My favorite feature of the Yohann iPad stand is that it offers 3 unique positions for the iPad, in horizontal and vertical view (6 positions total). It also works very well on soft surfaces, like a duvet or your lap while lying on the couch. It is very light, and won't feel heavy on top of your lap at all. After all of that time spent in the kitchen, it is really nice to bring your iPad with you to the couch and relax. Why not watch a movie on your iPad on the couch while eating your meal? With Yohann, your iPad can go anywhere you go! When I am using my iPad to look up recipes, I like it in the flat position so it is easy for me to look straight down on it and navigate through recipes (see photo below). However, once I have found a recipe and just need to reference it, I like to stand it all the way in the most frontward position in the corner of my counter to glance at it every once and a while. The design is just beautiful. Yohann was designed in Switzerland and made in Germany and Italy.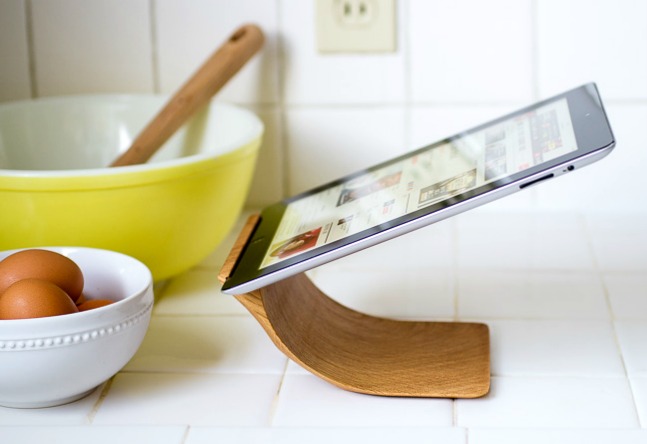 If you are like me and have been putting off buying an iPad stand and getting it dirty in the kitchen all the time, or just looking to upgrade to a sleek, modern and highly functional stand, you should definitely consider Yohann.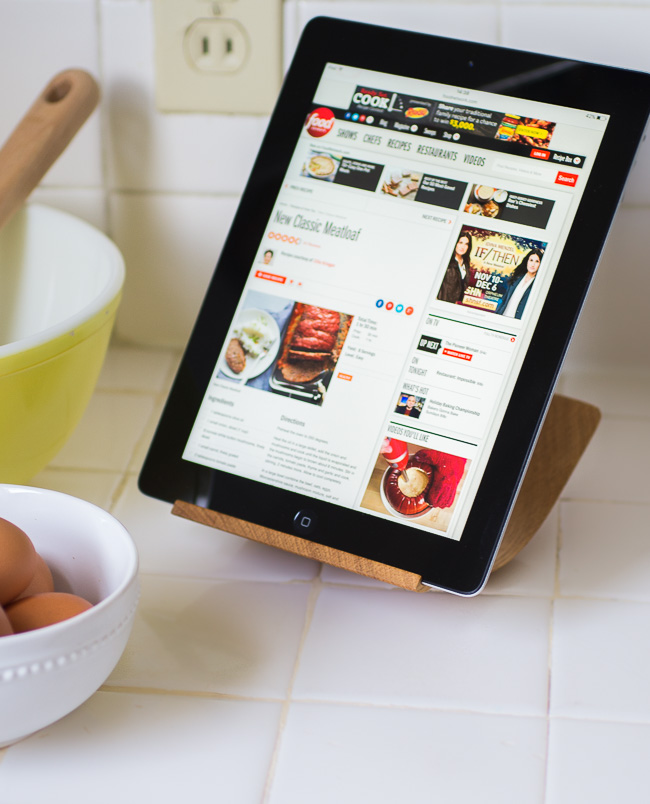 The creators of Yohann would like to send one lucky reader an iPad stand of their choice! To enter, please visit Yohann and subscribe to the email list and tell us you've done so via the Rafflecopter below. Additional entries through the Rafflecopter widget are available. The more entries you get, the better chance of winning!
Enter by Sunday, November 22, 2015 via the Rafflecopter widget below for your chance to win. Anyone can enter, international shipping ok. Winner will be randomly chosen on 11/23/15 and emailed for shipping information. If there is no response from the winner within 48 hours, another winner will be chosen.
Please note: You MUST be subscribed to the Yohann email list in order to win!
Good luck!
This post is sponsored by Yohann. All opinions are honest and my own.