Freshly chopped apples are spiced with cinnamon and nutmeg, rolled up in a sweet dough sprinkled with cinnamon, and baked in the oven to mouth-watering goodness.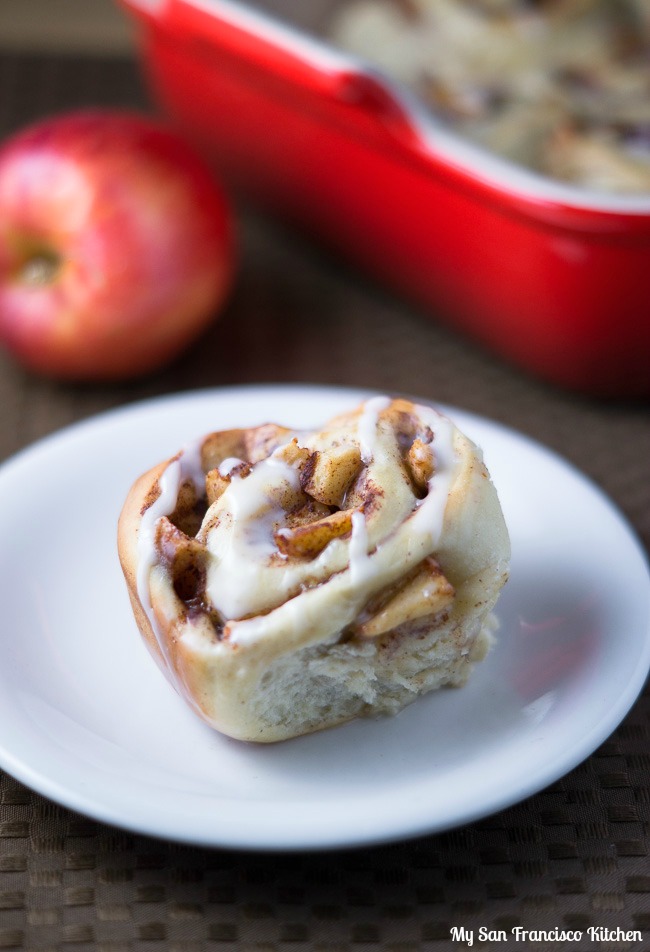 These cinnamon rolls though…
They are my weakness!
I made a batch of these beauties for Thanksgiving.com the other day and could not stop eating them. I love baked apples, and I love cinnamon rolls, so the two together are incredibly dangerous to have in this apartment. They smelled amazing too! I cook the chopped apples in a pot with a little water to make them soft first, and finish cooking them rolled up in these cinnamon rolls in the oven.
My favorite breakfast treat is a big cinnamon roll and coffee. Speaking of coffee, I have been off it for 1 year now! Can you believe that?? I can't. I still miss it just as much as the day I quit (when I found out I was pregnant with L). Occasionally I will get a decaf coffee drink to pretend, but it is never quite the same as a nice hot cup of strong coffee.
These cinnamon rolls are an easy brunch item. The sweet glaze is optional. I actually find the apples make these cinnamon rolls sweet enough, but the glaze sure does look pretty drizzled over the top! If you don't have anyone to share these apple cinnamon rolls with (or just want to keep them all for yourself), you can freeze them and bake them a few minutes in the oven until they are warm again.
Check out the step by step recipe here: http://www.thanksgiving.com/recipes/brunch-breakfast/baked-apple-cinnamon-rolls/