This week's Trendy Kitchen post is focusing on smart kitchen tools that use innovative technologies. When searching for tech kitchen gadgets for this post, I was surprised at how little is still out there despite the internet being around for more than 2 decades. I did find a few interesting kitchen gadgets out there that will make your kitchen smarter, and your life a little easier! Many companies are currently working on wifi-connected kitchen appliances and gadgets, so hopefully we will see them out on the market in the near future.
Yes my friends, the day is near when you will be able to turn on and preheat your oven or check what is inside of your refrigerator from anywhere!
Until then, here are some ways you can tech-out your kitchen with what is currently available on the market.
LIGHTING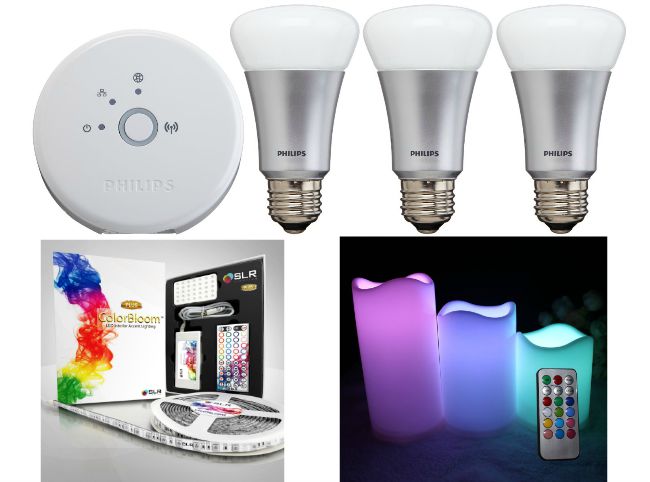 A smarter kitchen starts with some fancy LED lighting that you can control with your phone, am I right? We have Philips Hue Personal Wireless Lighting everywhere in our home, and I love being able to set a different ambience in every room – especially the kitchen. You can change the colors and dimming all with the swipe of a finger using your phone as the remote. The Phillips Hue lighting system is connected via wifi. You can buy the bulbs, and it also has a separate LED light strip you can buy.
If you are looking for just a light strip to add in your kitchen, for example, under your cabinets for some extra lighting, I also came across COLORBLOOM® 300 Multi-Color Changing LED Kit on Amazon for much cheaper.
Don't forget about your dining table! Check out these Flameless Remote LED Candles that change color at your command.
APPLIANCES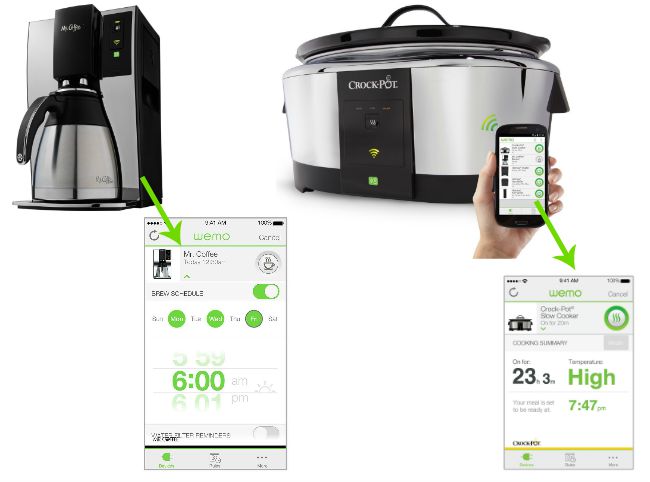 Lately there have been a few wifi kitchen appliances popping up on the market, although not as many as I would expect to be out there by now. Two nice wifi kitchen appliances I came across were the Mr. Coffee Smart Wifi-Enabled WeMo 10-Cup Optimal Brew Coffeemaker and the Crock-Pot Smart Wifi-Enabled WeMo 6-Quart Slow Cooker. You are probably wondering what you can do with this wifi enablement. For the Mr. Coffee coffeemaker, you basically have more control over your brewing schedule. You can schedule different brew times on different days of the week with your phone app, and get notifications when your coffee is ready. For the Crock-Pot slow cooker, you can change the temperature or turn the appliance completely off from wherever you are on the app. How many times have you come home too late and have found an overcooked or burnt piece of meat in your Crock-Pot?! With the wifi enabled slow cooker, this will happen no more! Ehhh where have you been all my life?
GADGETS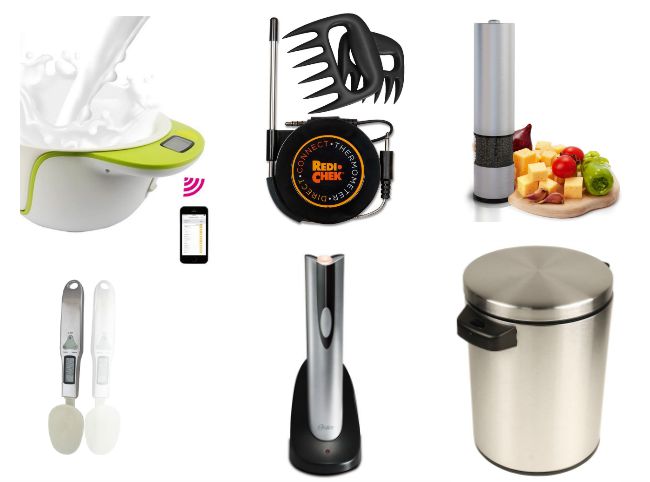 Never over- or under-cook your meat again with the Maverick Redi-Chek Direct Connect Kitchen Thermometer. It isn't wireless, but you can directly connect to your phone for an accurate temperature reading. The app will then calculate the cooking duration for you – pretty neat huh?
Measure your ingredients accurately with a digital measuring spoon and digital measuring bowl. The spoon and bowl can measure both liquid or dry ingredients, and displays the measurement on an easy-to-read LCD screen. The bowl comes with a free app that helps you with conversions and has a calorie counter tracked from your measurements.
Impress your guests with this electric wine bottle opener and electric salt or pepper grinder mill. These two gadgets will make your life easier in the kitchen and while entertaining.
Lastly, this 1.3 gallon Infrared Touchless Automatic Motion Sensor Lid Open Trash Can will save you from cleaning up your trashcan after opening it with dirty hands.
I hope you find some of these hi-tech kitchen gadgets useful in your kitchen, and I am definitely looking forward to the future of wifi-enabled kitchen appliances and gadgets!
FTC disclosure: Some links above may be affiliate links. If you choose to purchase these products, I will receive some of the profits. I have chosen to feature these products out of my own will, and all opinions on these products are my own. I am not being provided with compensation for featuring them in this post beyond the affiliate profits.