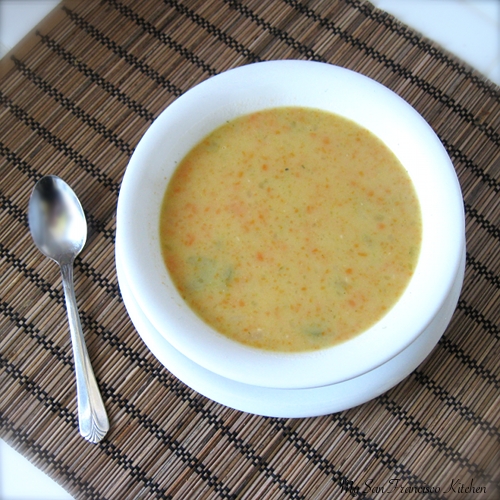 Follow me on Instagram @thecookingrx for more healthy, easy recipes!
I have to share this soup recipe with you – it is my absolute new favorite. For this carrot, celery and potato cream soup you only need a few ingredients and it is really easy to make. I promise. I love making soups for lunch, because after breakfast I get busy with something and when lunchtime rolls around I don't want to be in the kitchen cooking for hours and then cleaning up. With this soup recipe, you will be done cooking, eating, and cleaning in under 1 hour. You're welcome 😉
I recommend getting an immersion blender so you don't have to transfer your soup back and forth to a blender – just stick it in the soup and blend to however creamy you want your soup.
UPDATE: I now use a Thermomix® TM6 to cook all of my soups (I love this kitchen appliance so much I now sell them as a Thermomix® USA consultant!). I love that you can chop, sauté and purée the soups all in one bowl, and that you have access to over 60,000 recipes via wifi on the built-in touch screen display. So cool!! If you are interested in learning more, send me a message.
Have a great weekend! XoXo
Carrot, Celery & Potato Cream Soup
Ingredients
2 tbsp unsalted butter
5 medium carrots, chopped
½ yellow onion, chopped
2 garlic cloves
5 medium celery stalks, chopped
2 large potatoes
6 cups chicken broth
½ cup half and half
2 tsp oregano
1 tsp pepper
1 tsp parsley
Instructions
Heat butter in a large stock pot over medium heat.
Wash and chop celery and onion and toss into pot.
Chop garlic cloves in half and add in. Simmer for 7 minutes covered.
Wash, peel, and chop carrots and potatoes and add into pot.
Add 6 cups of chicken broth and seasonings. Cover and bring to a boil.
Boil for 20 minutes.
Taste to make sure vegetables are tender, then remove from heat and cool for 5 minutes uncovered.
Purée in a blender in portions until all is used and add back to pot. Soup should have a nice texture.
Heat over low and stir in half and half. Add more seasonings if desired.
p.s. You have to try these garlic knots with it!
This post is sponsored by:


p.s. You have to try these garlic knots with the soup! They are amazing 🙂
Disclaimer: I am a Thermomix® consultant and sell them as an independent business. "THERMOMIX," "VORWERK," "COOKKEY," and "COOKIDOO" are a registered trademark of VORWERK (or its affiliates). VORWERK does not support, authorize or endorse this site. I also participate in the Amazon Affiliate network.