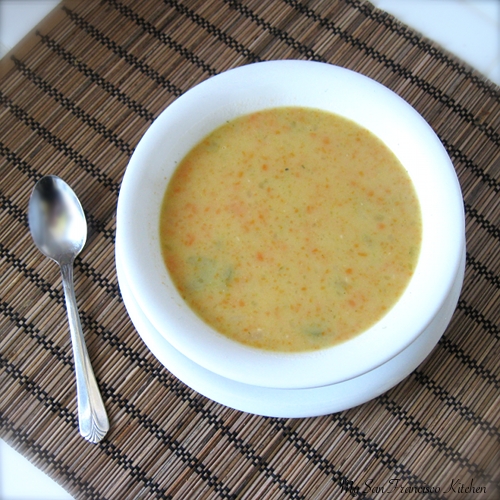 I have to share this soup recipe with you – it is my absolute new favorite. For this carrot, celery and potato cream soup you only need a few ingredients and it is really easy to make. I promise. I love making soups for lunch, because after breakfast I get busy with something and when lunchtime rolls around I don't want to be in the kitchen cooking for hours and then cleaning up. With this soup recipe, you will be done cooking, eating, and cleaning in under 1 hour. You're welcome 😉
Have a great weekend! XoXo
p.s. I am getting married in 7 days!

Carrot, Celery & Potato Cream Soup
Ingredients
2 tbsp unsalted butter
5 medium carrots, chopped
½ yellow onion, chopped
2 garlic cloves
5 medium celery stalks, chopped
2 large potatoes
6 cups chicken broth
½ cup half and half
2 tsp oregano
1 tsp pepper
1 tsp parsley
Instructions
Heat butter in a large stock pot over medium heat.
Wash and chop celery and onion and toss into pot.
Chop garlic cloves in half and add in. Simmer for 7 minutes covered.
Wash, peel, and chop carrots and potatoes and add into pot.
Add 6 cups of chicken broth and seasonings. Cover and bring to a boil.
Boil for 20 minutes.
Taste to make sure vegetables are tender, then remove from heat and cool for 5 minutes uncovered.
Purée in a blender in portions until all is used and add back to pot. Soup should have a nice texture.
Heat over low and stir in half and half. Add more seasonings if desired.
This post is sponsored by: