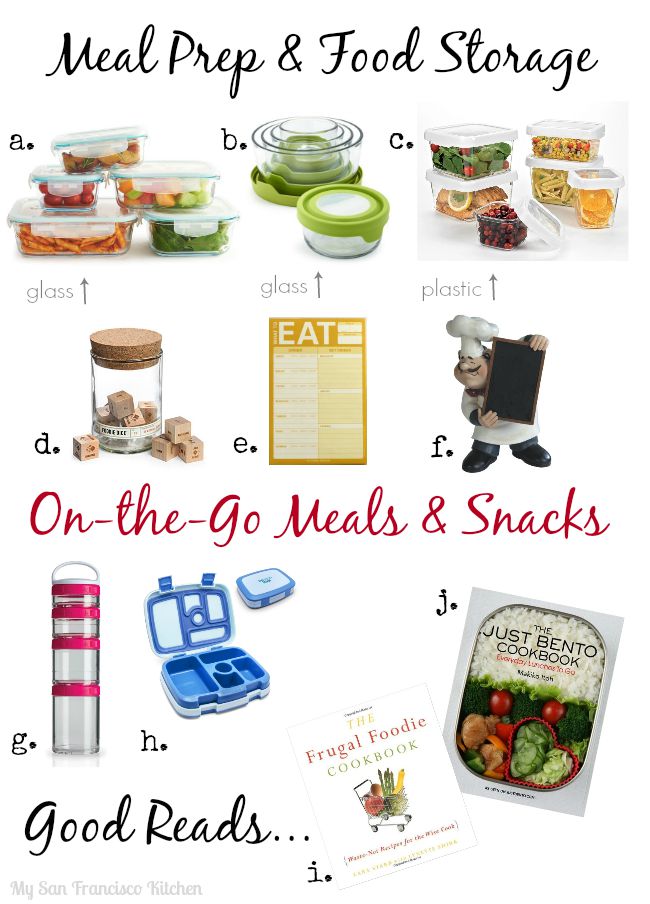 After so many years of taking part in the excitement of the back-to-school season, it is only the second year that I am not going back to school too. Many of my friends now have kids that are going to school for the first time, and I know the time will pass quickly before my baby is going to school too! I wanted to put together a few helpful tips for getting your meal prep organized during this busy back-to-school time.
One of the most important things to own in your kitchen are nice quality, durable storage containers. Most people have a preference when it comes to choosing glass or plastic. Glass is a little heavier, and harder to transport than plastic, but in recent years there have been many safety concerns over the use of plastic. Many times plastic leeches food more than glass, and doesn't last as long. The plastic containers I feature in this post are BPA-free. Storage containers can be a little expensive, but it is worth the investment because you will use them every day! You can use them to prep meals by storing chopped fruits and vegetables, putting together complete meals that are ready for the microwave or oven, or for storing leftovers. Above are two of my favorite glass storage containers, and one plastic brand that I like.
In addition to storage containers, you may want to write out your meal plan for the week. Meal prep makes grocery shopping easier, since you will now what ingredients you need for the week. I am still trying to get this down, and have noticed that when I plan my meals for the week in advance, I end up making less trips to the grocery store. I found a cute chef chalkboard you can write your daily menu on, and for weekly planning you can use a white board or a pre-made paper pad.
Having trouble coming up with new meal ideas for the week? Let foodie dice decide for you! Don't worry, if you don't like the first roll, you can roll again.
When packing food for travel, like school lunches, it is important to find containers that are leak proof. I also like lunch containers that have pre-formed pockets, like bento boxes. This helps keep lunches organized.
Finally, there are two books that I recommend to help you with your back to school meal planning. The Frugal Foodie Cookbook has many great tips on prepping meals with little waste, and The Just Bento Cookbook has awesome bento-style lunch recipes to send your little ones off with.
—
Meal Prep & Food Storage
a. Sur La Table Glass Storage Containers
b. Anchor Hocking Round Glass Storage Containers
c. OXO Good Grips LockTop Rectangle Containers
d. Foodie Dice
f. Bistro Chef With Cooking Menu Chalkboard
On-the-Go Meals & Snacks
g. BlenderBottle GoStak Twist n' Lock Storage Jars
h. Bentgo Kids Children's Lunch Box, Leak-proof
Good Reads
i. The Frugal Foodie Cookbook: Waste-Not Recipes for the Wise Cook
j. The Just Bento Cookbook: Everyday Lunches To Go
FTC disclosure: Some links above may be affiliate links. If you choose to purchase these products, I will receive some of the profits. I have chosen to feature these products out of my own will, and all opinions on these products are my own. I am not being provided with compensation for featuring them in this post beyond the affiliate profits.