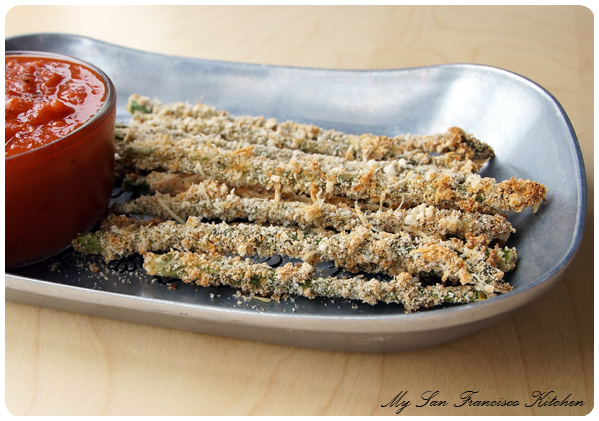 I just found my new favorite way to eat asparagus – baked asparagus fries! Sooo good. They are perfectly crunchy and go great with marinara sauce. I can imagine many other dips would go great with these asparagus fries as well…ranch? lemon-garlic dip? MMM! I love making baked zucchini fries, so I figured, why not try it with asparagus? These are so easy to make and are a fun way to eat your veggies! I personally think they taste just as good as fried versions, and they are much healthier & diet-friendly. They go great as a side for lunch or dinner, or you can make them for a fun, healthy appetizer. All you need is a bunch of fresh asparagus, flour, an egg, bread crumbs, Parmesan cheese, salt and pepper.
This weekend is the Nike Women's Marathon in San Francisco, but unfortunately I was too late when I tried to sign up because it filled up SO FAST! There will be about 20,000 runners participating. I was really bummed, because I finally convinced myself I could do it. I have a long history with running – in the beginning, it was a hate-relationship. In P.E. class running was my LEAST favorite activity. In high school, I told myself over and over I just wasn't born a runner, and it just wasn't my thing. In college, it became more of a love-hate relationship because I found I really liked getting outside and having "me" time, but my body still seemed to fight it. I couldn't run more than 1 mile without giving up… Still I kept at it and little by little I found I could run father and farther. Eventually, my body started craving it, and when I didn't run for a while I felt bad. Now I finally LOVE running because I got a lot better at it by training myself and it is the best "me" time I can get these days (besides baking of course!). It is so good for relieving stress and anxiety, especially when it comes to grad school stress. One of my goals in life is to complete a half-marathon (who knows, maybe a marathon as well!). There is one coming up next February in SF, maybe I will get up the courage again to sign up for that one!!
Good luck to everyone running in the marathon this weekend! XoXo

Baked Asparagus Fries
Ingredients
Bunch of fresh organic asparagus
1 egg
¼ cup flour
½ cup plain bread crumbs
¼ cup Panko bread crumbs
¼ cup freshly grated Parmesan cheese
Salt and pepper
Instructions
Preheat oven to 375 degrees F.
Wash and dry asparagus very well, and chop off the hard ends.
Once fully dried, roll each asparagus stick in the flour (the flour will NOT stick well, but try your best to coat it in the flour using your fingers).
Mix bread crumbs, Parmesan cheese, salt and pepper well on a large plate.
Whisk the egg with a fork well, then pour over the asparagus on a plate.
Take the asparagus one-by-one and coat each one with egg using your fingers (you might want to use gloves), then roll in the bread crumbs. Another way to do it is place the egg-coated asparagus on top of the bread crumb mixture and sprinkle bread crumbs on top of it with your fingers, then pat all around it before transferring to the baking sheet.
Transfer to a lightly greased baking sheet (you can use cooking spray).
If you find the egg is making the bread crumb mixture too wet so it isn't sticking anymore, start a new mixture with the same ingredients as before and another plate and continue rolling.
Bake for 15-20 minutes, or until asparagus are golden brown.
This post is sponsored by: