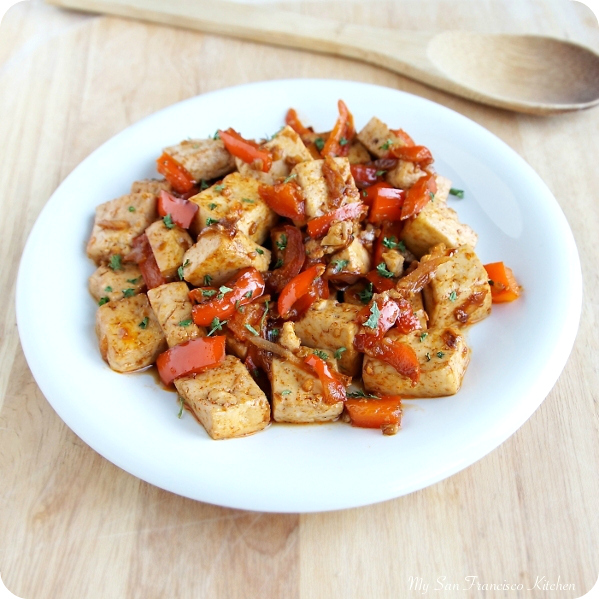 Happy Friday!! After a busy week at school, I am thrilled that it is finally the weekend. Today was such a long day at school, and I made the mistake of not eating lunch before my physical assessment workshop so during most of it all I could think about was FOOD. OK, usually all I think about is food… but this afternoon was especially bad. In the middle of learning how to do a neurological examination, I was dreaming of making dinner when I got home. My mind was stuck on this incredible spicy tofu appetizer I shared with my friend at lunch the other day, and how badly I wanted more of it. On my way home, I looked at their menu and found a few ingredients they used in the dish listed underneath it. I used those as inspiration, and added whatever I thought would taste good to the tofu! It came out a little different, but just as good. It is so flavorful, and I love the addition of garlic! If you don't like spicy, omit the cayenne pepper – then it isn't very spicy at all. This spicy garlic tofu is a great vegetarian dish for any night of the week, especially because it only takes 20 minutes or less to make!

Spicy Garlic Tofu
Ingredients
2 tbsp olive oil
300g organic firm tofu, cubed (about 2 cups)
½ red bell pepper, chopped
¼ cup finely chopped red onion
4 cloves garlic, minced
1 tbsp soy sauce
1 tbsp fresh lemon juice
1 tsp rice vinegar
½ tsp brown sugar
1 tbsp paprika
½ tsp crushed red pepper flakes
¼ tsp cayenne pepper
Parsley for garnish
Instructions
In a large skillet, heat olive oil over medium heat.
Add chopped red onion and bell pepper and simmer for 5 minutes, stirring occasionally.
Add minced garlic and cook for 2 minutes.
Add tofu and drizzle soy sauce, vinegar and lemon juice over the top. Stir.
Add paprika, cayenne pepper, crushed red pepper flakes and brown sugar.
Cook for 10 minutes, stirring occasionally.
Serve hot and garnish with parsley.
Makes about 2 cups
This post is sponsored by: