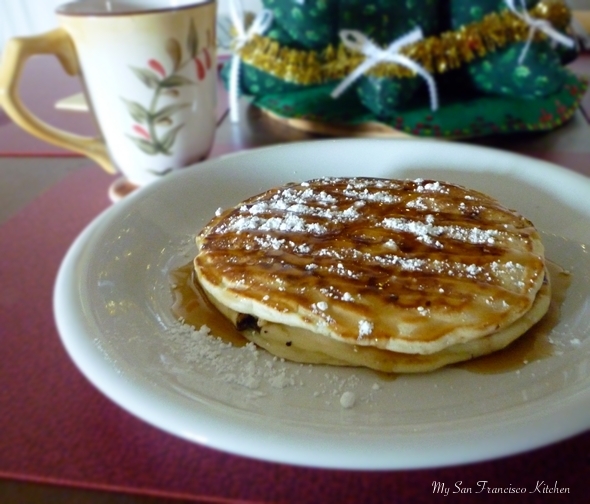 One of my favorite childhood memories is making pancakes with my Grandpa on Sundays. For a long time now, I have been searching for the best chocolate chip pancake recipe from scratch, and after many trials and errors, I have finally created the PERFECT chocolate chip pancake recipe, fluffy with just the right amount of sweetness-I'm talking better than IHOP :)! These are easy to make with ingredients you probably already have in your kitchen.

Best Chocolate Chip Pancakes!
Ingredients
3 tbsp butter, melted
1.5 cups all-purpose flour
3.5 tsp baking powder
½ tsp salt
1.5 tbsp granulated sugar
½ tsp vanilla
1.25 cups milk
1 egg
2 tbsp water
½ cup semi-sweet chocolate chips
Instructions
In a 1 liter glass measuring cup or large bowl, microwave 3 tbsp butter until melted (~45 seconds).
Add flour, baking powder, salt, and sugar and stir together with a whisk.
Add vanilla, milk, egg and water and whisk for about 3 minutes. It is important that the mixture is very well blended with no lumps in the batter.
Heat skillet over medium heat. Spray with nonstick cooking spray, and pour about ¼ cup mixture into center of heated skillet.
Immediately add ~10-15 chocolate chips on top, and wait until holes form in the batter. Check the bottom with a spatula to make sure the pancake does not burn. If it burns before done cooking (holes in batter), lower the heat a little.
Once holes form in the batter, flip the pancake and cook for about 2 minutes. Both sides should be browned.
Garnish with powdered sugar and syrup and enjoy!
Makes 6 medium sized pancakes.