These ricotta cookies are decorated with cream cheese frosting and Christmas sprinkles on top. They are soft and cake-like with a hint of lemon, and perfect for giving away as a gift for the holidays!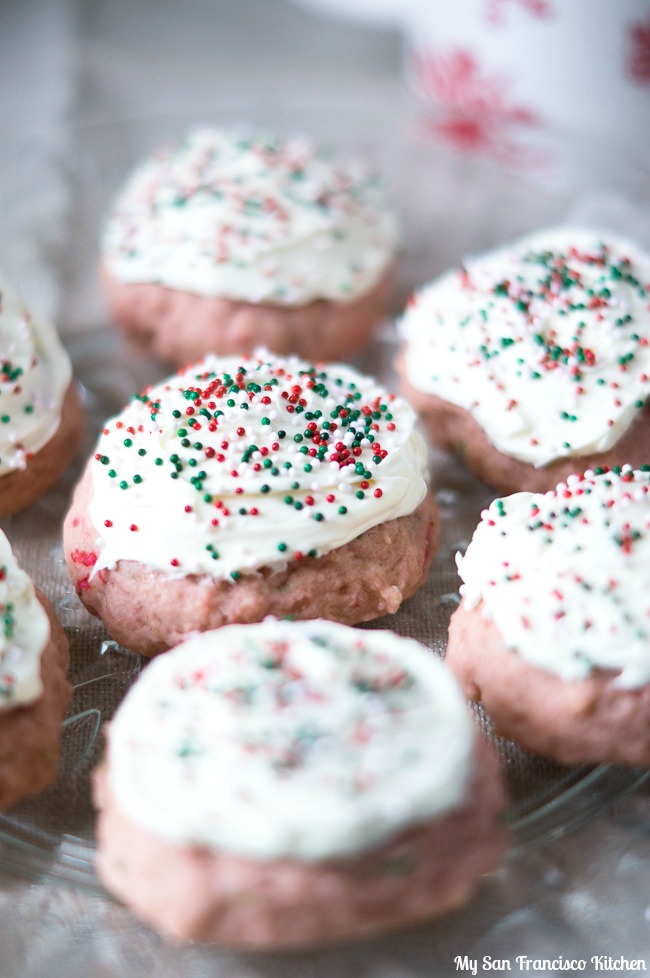 Tomorrow is Christmas, tomorrow is Christmas!
I always get a little sad the day before Christmas, because it signals the end of the year's holiday baking season. This year I didn't do too much baking because I have been taking care of my 6 month old baby, and was so surprised when I found out my mom made all of my childhood favorites for me to enjoy! Snowball cookies, sugar cookies, chocolate peanut butter balls, fudge and toffee. She is the best. I only wish I could have helped her make all of the goodies! One thing I miss doing during the holidays… 
One kind of Christmas cookies I did make this year were these Christmas ricotta cookies. I bought a large tub of ricotta cheese for this slow-cooker vegetarian lasagna, and had some leftover. What is a girl to do with a lot of leftover ricotta cheese? Since I was already in the holiday baking mood, I decided to use it to make these ricotta cookies. I didn't want it to go to waste 😉
Ricotta cookies are soft and cake-like, and just perfect for a thick layer of frosting on top. Oh, and don't forget the sprinkles! You can decorate frosted ricotta cookies however you want. For these ricotta cookies, I used whipped cream cheese frosting and Christmas sprinkles. If you are wondering why these ricotta cookies are pink, it actually was not planned!! It was one of two holiday baking mess-ups I had this year…you see, I added the Christmas sprinkles into the cookie dough, thinking it would look pretty with red and green sprinkles inside of a white cakey cookie. Once I added them and turned on the mixer, the dough immediately turned pink! I guess some of the coloring from the red sprinkles mixed into the dough and colored it pink. Oops. In the end, they still tasted good, and the color didn't matter so much anymore. Next time I won't try that little sprinkle trick and keep them a white color, since I think they will look prettier and more Christmas-y.
I wish you and yours the happiest of holidays this season 🙂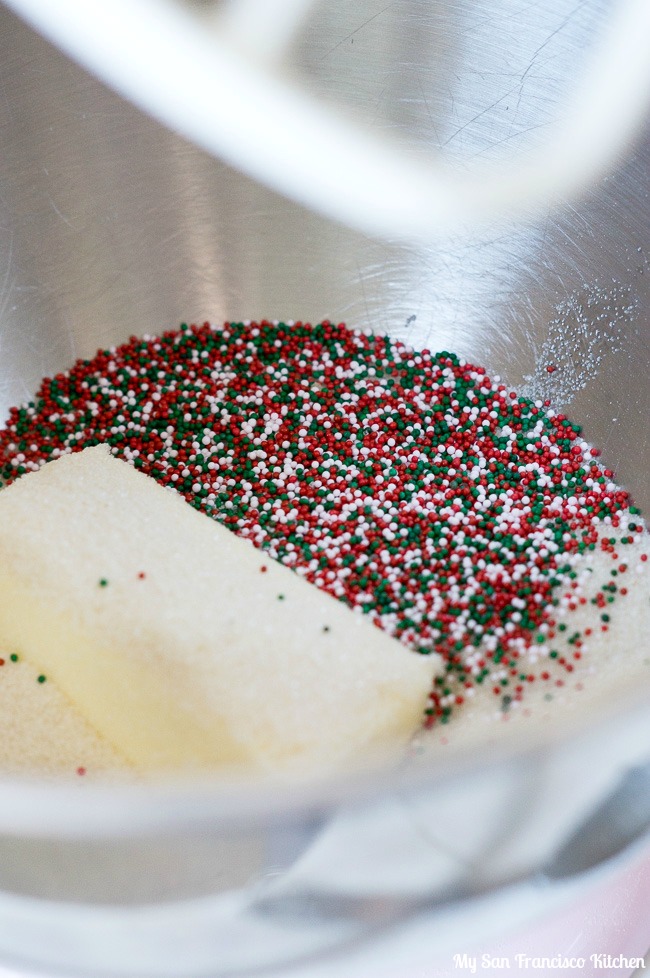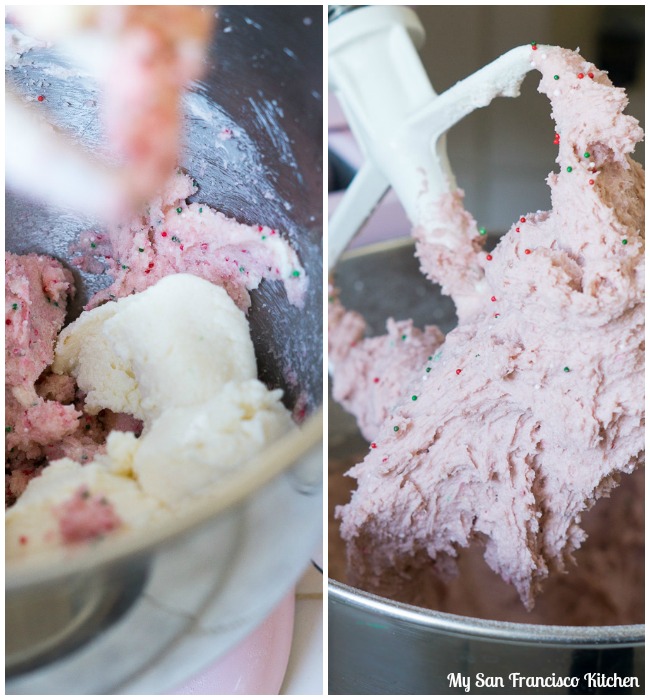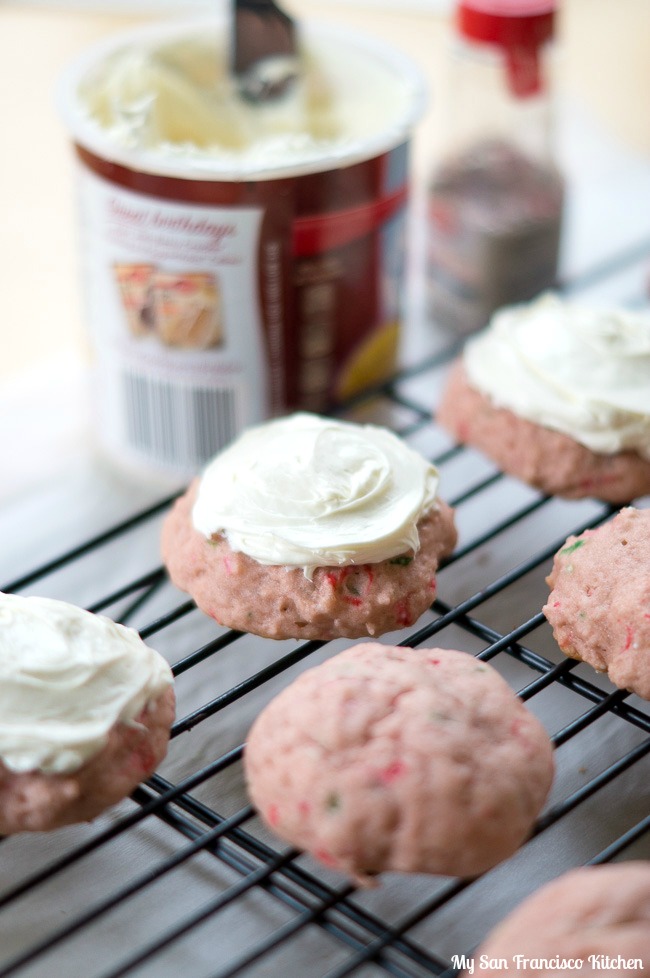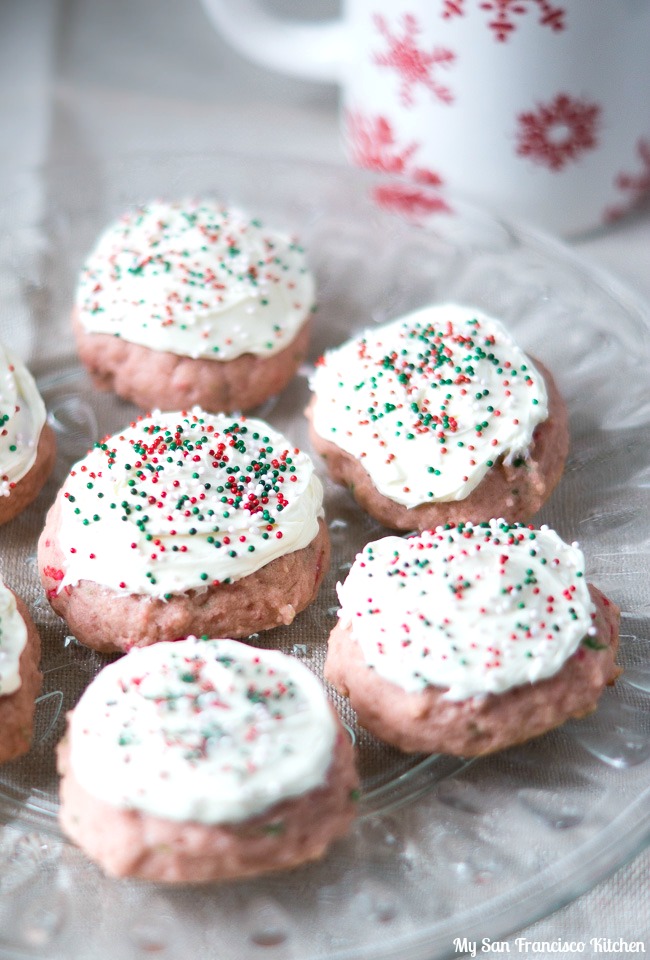 Christmas Ricotta Cookies
Ingredients
½ cup (1 stick) unsalted butter, room temperature
1 cup sugar
1 tsp lemon zest
1 cup ricotta cheese
1 egg
2 tsp vanilla extract
2 cups all-purpose flour
1 tsp baking soda
¼ tsp salt
Cream cheese frosting and sprinkles for decoration
Instructions
Cream together the butter, sugar and lemon zest in a stand mixer with paddle attachment (or with an electric mixer).
Add the ricotta cheese, egg and vanilla extract while mixing on low speed.
In a separate bowl, whisk together the flour, baking soda and salt.
Slowly add the flour, alternating with some sprinkles if desired, until it is completely mixed in.
Chill the dough for one hour in the refrigerator, wrapped in a ball in plastic wrap.
Preheat the oven to 350 degrees F.
Form 1-inch balls with your hands and place on a baking sheet lined with parchment paper (or nonstick baking sheet).
Bake the cookies for 15 minutes, until firm to the touch and golden on the bottom.
Cool the cookies completely before frosting and decorating with sprinkles.
Makes 18 cookies