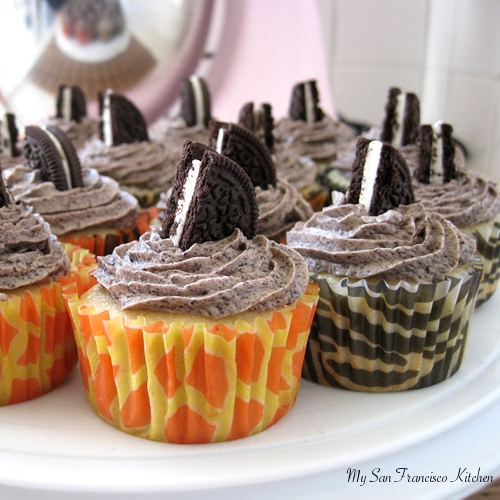 Wow was today one of those "am I off yet?!" workdays. But, this isn't a pharmacy blog so I won't rant about my awful day at work! Coming home to these amazing cookies and cream cupcakes I made from scratch for everyone at work made everything so much better. I put on my sweats, clipped my hair up and sat on the couch to eat a big, fat yummy cupcake and everything was right in the world again. I made them with my homemade vanilla cupcake recipe. What's your favorite comfort food?? XoXo

Cookies 'n Cream Cupcakes
Ingredients
Cupcakes
1 cup unsalted butter, softened
2 cups granulated white sugar
4 eggs
2 tbsp vanilla extract
3 cups all-purpose flour
1 tsp baking powder
½ tsp salt
1⅓ cups cold milk
Cookies 'n Cream Frosting
½ cup unsalted butter, softened
3 cups confectioners' sugar
1 cup ground Oreo cookies + extra cookies for decorating
2 tbsp half and half (sub milk)
½ tsp vanilla extract
Instructions
Cupcakes
Preheat oven to 350 degrees F.
Whisk together flour, salt, and baking powder in a large bowl and set aside.
Cream butter and sugar together in a standalone mixer with paddle attachment (or electric hand mixer).
Add eggs, one at a time until blended.
Add vanilla and beat on medium just until blended, then turn to low speed.
Add flour mixture a little at a time until all of it is blended in. Mixture will be very thick.
Add cold milk and set mixer to "stir" setting, or the very lowest setting possible.
Once you have a homogenous mixture, use a large spoon to scoop batter into a prelined cupcake pan, filling each cup ⅔ full.
Bake about 25 minutes, until toothpick comes out clean.
Remove immediately and place onto a cooling rack to cool before frosting.
Frosting
Grind Oreo cookies in a food processor until fine.
Cube butter and place in standalone mixer bowl.
Using the whisk attachment, whisk butter, vanilla, and 1 cup of sugar and 1 cup finely grounded up Oreo cookies together on medium speed until smooth.
Add remaining sugar and 2 tbsp half-and-half.
Whisk on medium to high for a few minutes until frosting is smooth.
Add frosting to a cake decorating bag fitted with desired tip (do not choose one that is very narrow, such as a narrow star tip, because the cookies make the frosting have a thicker texture and you will have trouble squeezing it out).
Chop cookies in fourths and top frosted cupcakes to finish.
Makes 2 cups
Nutrition Information
Serving size:
1
Calories:
331
Fat:
12g
Sugar:
33g
This post is sponsored by: