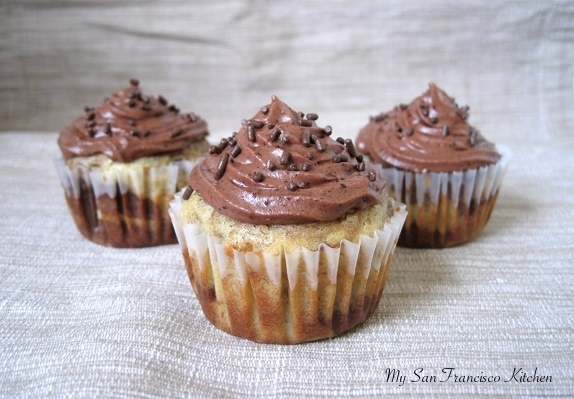 With the complete intention of coming directly home and studying for tomorrow's midterm and preparing for my presentation so I would have some time to go running before dark, I somehow woke up on the couch with papers everywhere and Trader Joe's Peanut Butter Puffins crumbs all over me…don't judge me. Definitely needed a study break, and of course instead of running I chose to make these delicious banana chocolate swirl cupcakes! Now I reallllly need to go to the gym tomorrow. For the base I used Gina's Banana Cupcake Recipe from the FoodNetwork, and came up with my own additions for the chocolate batter to swirl in. They take a little more patience than normal cupcakes do, but they look so pretty! Try them with this chocolate frosting recipe.

Banana Chocolate Swirl Cupcakes
Ingredients
1 cup all-purpose flour
½ tsp baking powder
½ tsp baking soda
¼ tsp salt
1 stick butter, softened
½ cup sugar + ½ tbsp
¼ cup sour cream
1½ tsp vanilla extract
2 large eggs
2 large ripe bananas, peeled, and mashed
2 tbsp unsweetened cocoa powder
Instructions
Preheat oven to 350 degrees F. Line muffin pan with paper cupcake liners.
Combine the flour, baking powder, baking soda, and salt in a medium bowl and set aside.
In a large bowl, cream butter and ½ cup sugar with a standalone mixer with paddle attachment or hand-held mixer until combined.
Add sour cream and vanilla extract.
Add the eggs, 1 at a time.
Add the dry mixture a little at a time until well blended.
Add the bananas, careful not to over mix.
Transfer half of the batter into a separate bowl, and add ½ tbsp sugar and the cocoa powder and mix with a spoon.
Using a teaspoon, add 4 small amounts of the banana batter leaving a little space in between. Then, add 4 small smounts of chocolate batter to fill the spaces. Repeat, but drop banana batter on top of chocolate and chocolate on top of banana (see photo for clarification).
Insert a butterknife in the center, and start swirling knife (keeping it inside) while turning around the whole cupcake once or twice.
Bake about 20 minutes, until toothpick comes out clean.
Transfer cupcakes to a wire rack and let cool before frosting.
Frost with your favorite frosting and decorate with toppings.
Makes 8 cupcakes (more if you don't eat most of it...)
See this post on Weekend Potluck:
This post is sponsored by: